As it stands, only a few players should be locks to make the Buffalo Sabres' roster next season. Although, it will be next to impossible for Jason Botterill to uproot the entire lineup this summer like many have clamored for.
No matter how many armchair general managers scream, "Cut them all!", this isn't a video game. Changes will be made, but under-performing players with restrictive contracts are difficult to move. Like it or not, Tim Murray left the team in more disarray than people realize, and Botterill has a lot to mop up in order to make his team competitive again.
Let's take a look at the players who will likely don the blue and gold next season and those who may not.
The Untouchables
Let's face it, there are two types of untouchables on the Sabres roster. Jack Eichel is one who earned this status based on an elite skill set. He is the only player on the team who is essential to the Sabres' sustained success moving forward. Every other player on the roster could be dealt for the right price, though a few are considered "untouchable" for different reasons.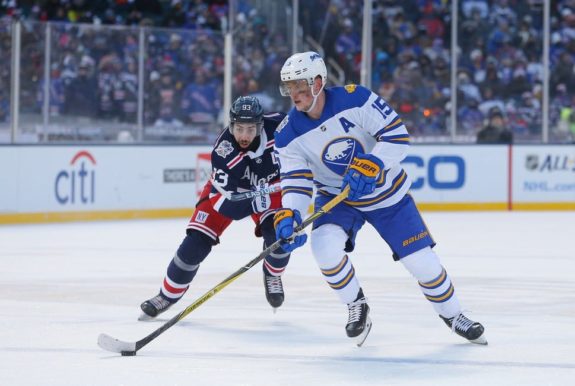 One player who is guaranteed a roster spot due to an essentially untradeable contract is veteran winger, Kyle Okposo. The 29-year-old is far from terrible but his $6 million cap hit over the next five seasons is restrictive, to say the least. He has shown signs of improvement after suffering a near career-ending concussion at the end of the 2016-17 season. Since Jan 1, he has posted 20 points in 26 games. The Sabres brass will have to hope that his recent play is a sign of things to come. For better or worse, they're stuck with him for the foreseeable future.
Defenseman Zach Bogosian is in a similar contract situation, however, since arriving in Buffalo as part of the Evander Kane trade, he has done nothing to show progress. Over the past three seasons in Western New York, he has battled several long-term injuries causing him to miss 91 contests. With a deal that locks him down through 2019-20, Bogosian may be a compliance buyout candidate at the end of next season but for now, expect him to be back in the fold next year.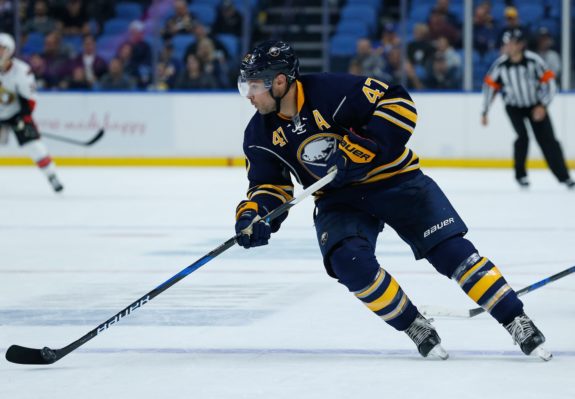 Though he isn't necessarily untouchable, Marco Scandella is also likely to return next season. Since coming over from the Minnesota Wild via trade this offseason, he has been forced into the top-pairing.
With the emergence of Brendan Guhle on the horizon, and if the Sabres can add another top-four defenseman, Scandella will be bumped down the depth chart and into a better-suited position. A trade offer would have to blow Botterill away in order to convince him to deal one of the few vocal leaders in the locker room.
Sabres' Unrestricted Free Agents
The Sabres have a long list of soon-to-be free agents to assess over the last 17 games of the season. Of the seven unrestricted free agents on the docket, there are only one or two that Botterill will re-sign, most notably up-and-coming defenseman, Casey Nelson.
Leading up to the 2017-18 season, Nelson had fallen down the organizational depth chart to the point where most lineup prognosticators didn't consider him a potential call-up let alone a roster regular. As the sixth Rochester Amerks blueliner recalled to Buffalo this season, Nelson has been by far the most impressive. In 21 games with the Sabres this year, he has posted six points, eating big minutes at even-strength as the team's best two-way defenseman.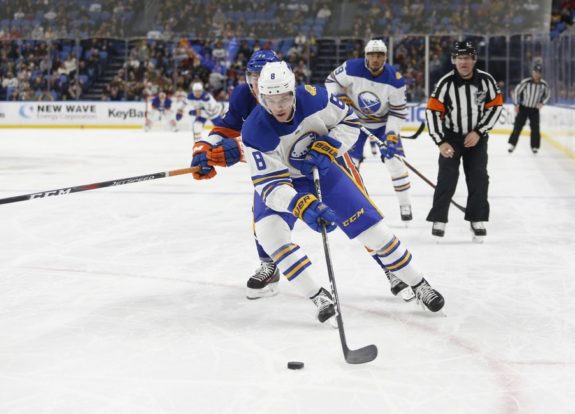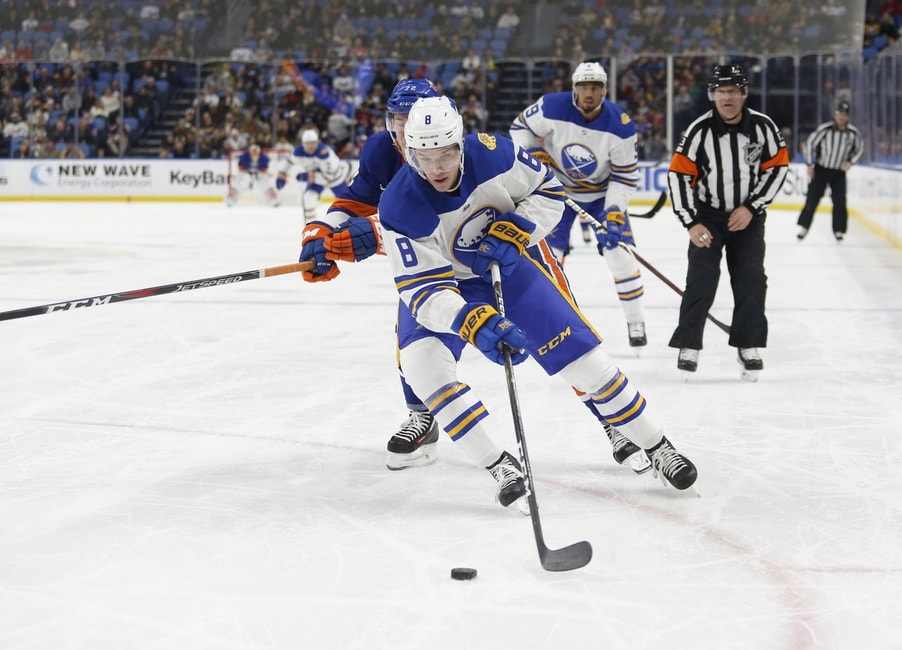 Nelson's contractual demands will be modest. As a 25-year-old who only recently cemented himself in the NHL, his anticipated value on the open market will not force the Sabres into a long-term, expensive offer. Botterill would be crazy not to retain him on a short-term deal in the neighbourhood of $2.5 million per season.
The remaining players set to hit the open market are a relatively uninspiring group. Benoit Pouliot could be retained on another one-year deal but certainly not for more than the $1.15 million he is making now. Veteran journeymen Justin Falk, Jordan Nolan and Jacob Josefson are as good as gone, which leaves only Josh Gorges and Chad Johnson.
Say what you will about Gorges but he has been a steady, responsible presence on the blue line this season. If he is willing to take a significant pay cut from his $3.9 million salary, don't be surprised if he is brought back to serve as a safety valve on the bottom pair.
As for Johnson, backup goaltenders are a dime a dozen, easily obtainable for cheap on the open market. Fans shouldn't be opposed to seeing him back with the team, serving strictly in a reserve role, but tears won't be shed if he moves on.
Sabres Restricted Free Agents
Here's where things get a little more interesting. It's anyone's guess as to which young players on expiring contracts Botterill will factor into the long-term complexion of the roster.
The most important player on the list is the hot-and-cold, Sam Reinhart. For the better part of two seasons, fans have speculated that the former second-overall pick could be made available via trade but it never happened. Reinhart has been red-hot lately posting 21 points in as many games after struggling to hit the scoresheet through the first half of the season.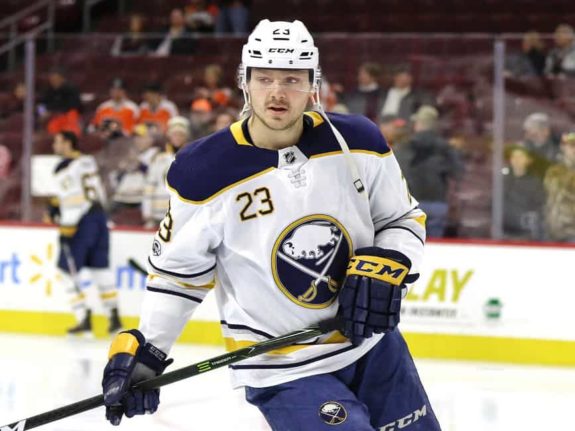 Regardless of his recent explosion, Botterill would be wise to retain him on a bridge deal rather than a long-term contract. There is still the possibility that the Sabres brass will deal his rights as part of a larger package but the anticipated return would not justify the move. Either way, Eichel's best buddy and wingman is the highest priority RFA on the list and should receive an extension.
The most controversial player on the Sabres roster this season is goaltender Robin Lehner. It's been a while since the fan base has been so viciously divided on the adequacy of one particular player. On paper, the 26-year-old netminder has hovered around the league average but numbers don't tell the whole story. Lehner's weaknesses have been made apparent over the past two seasons and he has shown no signs of improvement.
He still can't make a save on a breakaway to save his life and his inability to seal the post is downright comical. Pair that with brutal positional awareness and it's understandable why a good chunk of the Sabres faithful want to see him shipped out. With fellow Swedish netminder Linus Ullmark ready to assume a starting role in the NHL, the odds of Lehner being retained are very low. Look for Botterill to attempt to deal his RFA rights before letting him hit the open market.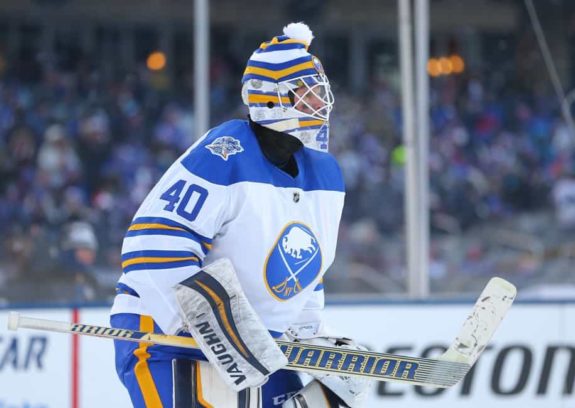 Another somewhat polarizing player on the RFA list is defenseman Victor Antipin. The organization should be ashamed of how badly they've handled Antipin this season. After transferring to the NHL from the KHL, the 23-year-old blueliner has frequently been a healthy scratch in favour of fringe-level journeymen who have underperformed in his place.
His game is far from perfect. He has a tendency to overpursue which leads to poor positioning. However, his upside as a puck-carrier should have kept him in the top-six for the entirety of what quickly became a lost season.
Regardless of whether or not Botterill makes him an offer to return, it's uncertain whether or not he would even be interested. He's been rewarded with more ice time recently but it may be too little too late; add another name to the long list of players the Sabres franchise has alienated over the past decade.
The two remaining RFA toss-ups on Botterill's agenda are forwards Scott Wilson and Nick Baptiste. Since coming over via trade from the Detroit Red Wings this season, Wilson has been well worth the price of a fifth-round draft choice. His 10 points in 32 games aren't something to write home about but he has been a steady presence on the penalty kill while filling in throughout the lineup. At the end of the day, he is a steady, reliable bottom-six player who should be retained for the right price and there's a reason Botterill brought him to Buffalo in the midst of a losing season.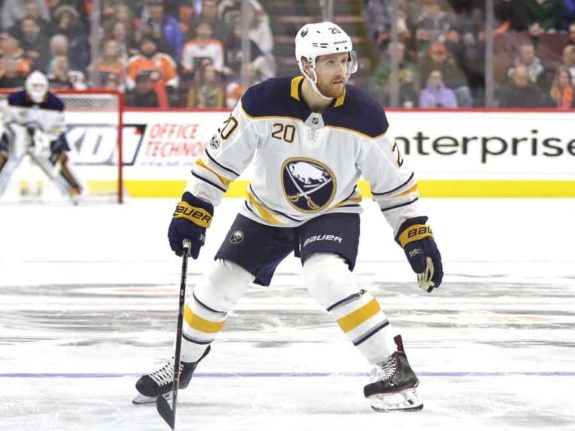 Baptiste's situation is a bit more tricky. When the Sabres selected him 69th overall in 2013, fans expected him to factor into the team's long-term plans. Five years later, the 22-year-old has struggled at both the AHL and NHL level. At his best, Baptiste is a speedy, goal-scoring presence in the middle-six. At worst, he is a minor league role player. It remains to be seen whether or not management has seen enough to give him another contract.
Dark-Horse Trade Candidates
To be clear, anyone not named Jack Eichel is a trade candidate. That's what happens when your team has been in the league basement for the better part of a decade. Botterill will listen to offers but there are a few players in particular whose names have surfaced more than once since last summer.
On a team full of under-performing first round picks, Zemgus Girgensons has been one of the most disappointing. Since being voted into the 2015 NHL All-Star game, thanks in large part to his home country of Latvia, the 24-year-old has regressed. With a paltry 11 points in 59 games this season, he is on pace for the lowest output of his career.
Girgensons is signed through 2018-19 at a reasonable cap hit of $1.6 million. Unless he is used as a sweetener in a bigger package deal, he'll be back with the Sabres next season. Regardless of his struggles, he has the tools to regain his trajectory as a strong, third line scoring contributor. If they can pair him with a center who can complement his elite speed then his production will increase.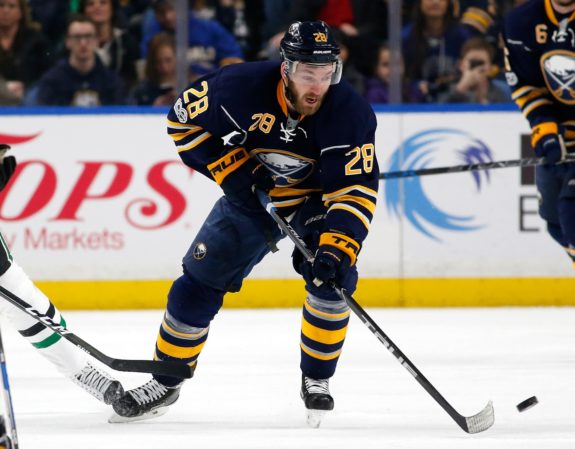 Another former first-round pick who has quickly fallen out of favour with the fan base is defenseman Rasmus Ristolainen. In what might be the most criminal misuse of a player in franchise history, the 23-year-old has been forced into a role for which he isn't suited.
Ristolainen ranks third in the NHL in average time-on-ice per game behind Ryan Suter and Drew Doughty. Two consecutive coaching staffs have tried to turn a strong second-pairing defenseman into an all-purpose shutdown player. His growing fatigue is made evident by an increased number of unforced errors in the defensive zone.
That said, his trade value is likely still high. If Botterill can acquire a king's ransom for him this offseason, he should pull the trigger. If the organization continues to insist upon running Ristolainen into the pavement year after year, expect more of the same from him. A trade might be what's best for both parties.
The darkest of the dark horse trade candidates is veteran center, Ryan O'Reilly. By no means has he underperformed, however, the ridiculous seven-year, $52.5 million contract Tim Murray signed him to is incredibly restrictive for a player who consistently produces 50-60 points per season. On a contending team, he is the perfect second line center and capable on special teams. But therein lies the problem. The Sabres aren't a contending team. Not even close.
Jeremy White of WGR 550 reported that Botterill received inquiries about O'Reilly at the trade deadline.
Not 100… we know the Sabres have taken calls on O'Reilly. I bet that's still happening, and that Stastny trade (combined with @RussoHockey saying the feeling in MIN is that STL is about to do something big) https://t.co/meMI8cJJE7

— Jeremy White (@JeremyWGR) February 26, 2018
If those talks can continue in the offseason and the Sabres are offered a young, top-four defenseman in exchange for O'Reilly, they would be crazy not to take it. The combined $13.5 million cap hit for O'Reilly and Okposo is hurting the team. It's part of the reason why they were forced to deal Evander Kane for pennies on the dollar instead of signing him to an extension.
More likely than not, O'Reilly will be back in Buffalo next season but if the right offer comes along, don't be surprised to see Botterill jump at it.
Rounding out the list of unforeseen trade candidates is defenseman Jake McCabe. Thought to be a Housley favorite leading up to the start of the 2017-18 campaign, the 24-year-old has regressed since being separated from Ristolainen, who he was paired with all last season. Now on injured reserve for what looks to be the remainder of the season, Botterill may attempt to deal him this summer.
In what has become a talent evaluation year for the franchise, it's safe to say very few players made the dean's list and the front office will have their work cut out for them. Fans should expect a relatively large cast of new characters next season whether it be in the form of Amerks ready to make the jump, trade acquisitions, or free agent signings. Stay tuned.