Heading into the third period on Sunday in Colorado, the Nashville Predators were in a rare position: they were in the lead. It's been a repetitive storyline. The Preds start slow, go down a couple goals in the first period, and chase the rest of the game. Objectively speaking, it's a problem. Generally speaking, you'd like to be winning.
The team's saving grace is that, when chasing a lead, they are essentially unstoppable. The win against the Avalanche was the Predators' eighth consecutive victory, tying a franchise record in what is shaping up to be a record-setting season.
According to the standings, Colorado isn't a massive obstacle for a team like the Predators. However, they are a deceptively difficult opponent this season and have more fire than they have in recent years. Led by Hart candidate Nathan MacKinnon and captain Gabriel Landeskog, the team has lost just eight games in regulation at home.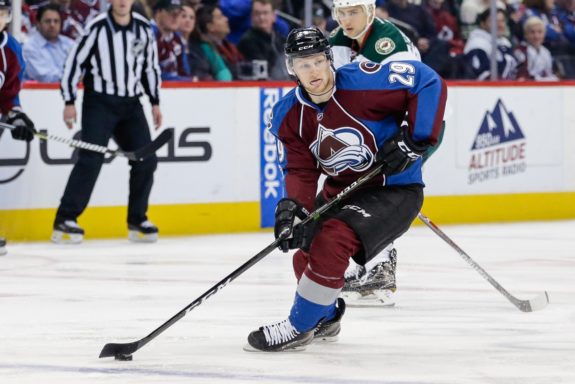 With seventeen games remaining, a late-season push could have the Avs in the playoffs. It's an impressive situation considering where they were this time last year, setting a franchise low in a regular season.
After a cardiac road trip for Predators fans, Denver's team posed a real challenge for the visitors.
Watson & Co. Lead the Charge
The most positive aspect of the Predators' recent performances is the contribution from depth players. Even after some lineup shuffles during the week, the offensive production from the third and fourth lines has been top-tier. With the addition of Mike Fisher and Ryan Hartman to the roster, all but the team's elite starters will have to jockey for a spot in the lineup each night.
One player trying to make room for himself is Miikka Salomaki, who excels in physical, shutdown role but is less likely to make the highlight reels. He sat for a few games recently but is taking advantage of the ice time he does receive. Yesterday, the Avalanche produced just two shots on goal with Salomaki on the ice – exactly what you need from depth forwards.
One player who is less likely to sit out is forward Austin Watson. Known locally as the guy who blocks all the shots, Watson is cunningly effective. He won't be winning the Selke Trophy anytime soon but he does personify that type of player: tough, courageous, and relentless. In the past two seasons, he's become one of my favorite players on the Predators. If you need a penalty killed or a defensive push in the dying seconds, there is no better option than Watson.
Yesterday, he continued his recent trend of impressive performances. Here's a look at how his line, as well as the rest of Nashville's forwards, performed yesterday: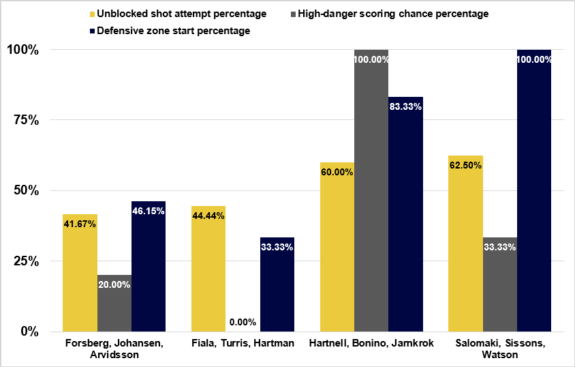 Nashville's top two lines produced mediocre possession numbers. Despite the majority of their faceoffs being taken in the offensive zone, the first line allowed the Avs to produce four times as many high danger chances. The second line fared even worse, unfortunately. In spite of the friendliest zone start ratio of any Predators line, they did not produce a single high-danger scoring chance at five-on-five.
The third and fourth lines are where the magic happened. They faced weaker opposition than the top six forwards, but the numbers they produced were dominant. Nick Bonino's line faced an overwhelmingly defensive assignment, but stopped Colorado from producing any high-danger chances at five-on-five. The fourth line, incredibly, did not take a single faceoff outside of the defensive zone. Despite this disadvantage, they held the edge in unblocked shot attempts.
Turris & Forsberg Provide Firepower
In spite of the possession numbers, Nashville's top two lines were large contributors in yesterday's victory. Kyle Turris made a somewhat rare appearance as a goal scorer in the second period, improving his season point total to 37. Turris' passing ability combined with Kevin Fiala's scoring touch have provided the Predators with a lethal second line combination this year.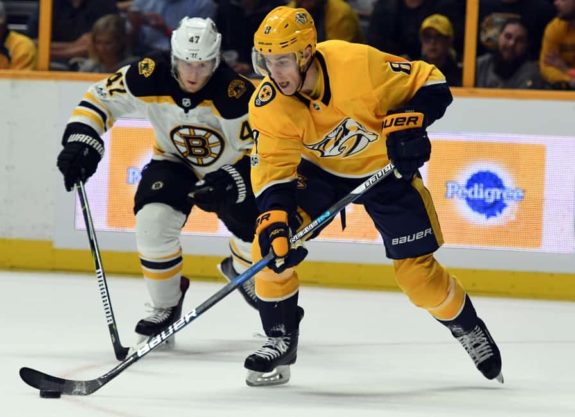 Yesterday, however, Fiala played his worst game of the season (don't worry, everybody has bad days) but it's reassuring to see Turris taking matters into his own hands when Fiala is struggling and with Craig Smith sidelined.
Representing the first line, Filip Forsberg again flexed his clutch scoring muscles. After a blue line clapper from Ryan Ellis tied the game with time nearly expired (he does that frequently), the Predators faced another overtime period on the road. Extra time has produced some real heroes for Nashville this year, including Calle Jarnkrok and Viktor Arvidsson. However, when the Predators absolutely need a goal, there's really only one man for the job.
ICYMI: The #Preds won their eighth consecutive game thanks to this @EASPORTSNHL overtime winner from Filip Forsberg. 🔥 pic.twitter.com/ihsX0GDTVL

— Nashville Predators (@PredsNHL) March 5, 2018
I imagine that video will be shown on repeat to the Avalanche players this morning. There's making things look easy and then there's what Forsberg did to seal the victory.
The Road Ahead
Yesterday's win was reassuring. Not only did the victory pull the Preds within a point of the league lead, it represented how resilient the team is. In recent games, the Predators have gone down by a goal or two early on before mounting a comeback. It's impressive to erase a two-goal deficit twice in a single game. It's another matter, though, to concede the lead so late in a game and still win the two points.
At this point, the postseason is all but guaranteed for Nashville. After last year's Conference Championship, anything less than another return to the Cup Final will be a disappointment. To get there, a team must be resilient, have a deep roster, and find creative ways to win games.
In nearly every game this season, the Preds have proven their roster depth while games like yesterday's contest against Colorado show how creative the Predators can be. Facing new situations and unfavorable odds, the team stole a victory from a divisional opponent.
You can't count them out of any game. It would be a statistical miracle, but the Nashville Predators may never lose again.
Born and raised in Nashville, TN. I love hockey and applying analytics to better understand player trends and team performances. I am a co-host of Between the Pipes Podcast, which discusses hockey in general.
No fighting after clean hits!