The Buffalo Sabres have plummeted to last place in the NHL, losing seven of their last eight games. Though the 2017-18 campaign hasn't gone how blue and gold supporters expected, Kyle Okposo's improved play as of late has them breathing a sigh of relief. After an awful start, it seems that his game has finally recovered from the health scare that put his career in question at the end of last season.
Just four days before the Sabres' season finale, the story broke that Okposo, who had been sidelined with an undisclosed injury since Mar. 27, was hospitalized in the Neurosurgical ICU at Buffalo General Hospital. Fans anxiously awaited updates on the severity of the illness. For that brief stretch, the sport itself became secondary. The attention of both the Buffalo and NHL community shifted toward the well being of a father, husband and teammate.
Concussion Nightmare
Following what he referred to as a "routine hit" in practice, Okposo's mental health began to deteriorate. Lacking sleep for days, he held himself out of the Sabres lineup. His symptoms persisted and he was later diagnosed with a concussion. After checking himself into the hospital, he reacted negatively to sleeping medication that he was prescribed and was placed in intensive care when his condition worsened.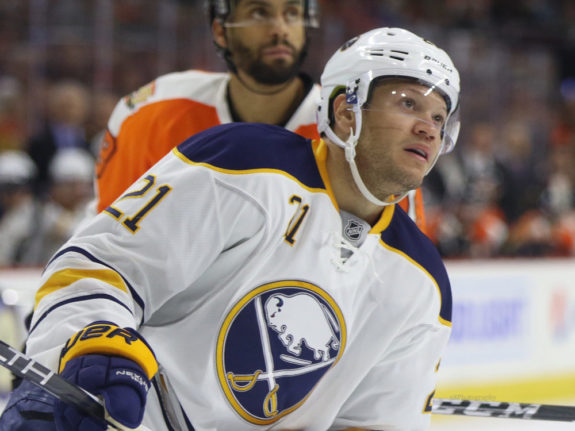 When he was finally released from the hospital after a three-day saga, fans and media members speculated as to whether or not he would ever play again. With very little available information about the incident, many feared the worst for the 29-year-old all-star. That uncertainty lasted until July 24, when he released a statement revealing the details of the nightmarish ordeal, thanking fans and colleagues for their support.
"When I turned my phone on, I had 500 messages waiting for me," said Okposo. "Current players, former players, former coaches – everyone reached out. Even now, fans see me in Minnesota or Buffalo and say, 'I'm just really glad you're doing OK.' It's overwhelming, and it makes me proud to be a part of the hockey community."
Days before the press release, fans were elated to hear that he planned to participate in "Da Beauty League", a Minnesota based summer hockey tournament. Fellow NHL veterans Zach Parise and Brock Nelson also participated, staying in shape for the upcoming season.
To that point, it was the most solid indication to the hockey community that he would return to action for the Sabres in 2017-18.
Tough Start to the Season
Though he was healthy enough to dress on opening night, Okposo needed time to re-calibrate his play. With two points in his first 10 games to start the year, it was clear that while he had recovered physically from his illness, the possibility of another concussion loomed large in his mind. After struggling to get going, he spent time on every line in an attempt to kick-start his production and rebuild confidence. As the Sabres continued to nosedive in the standings, the veteran winger called upon himself to be a leader in the locker room and do his part to right the ship.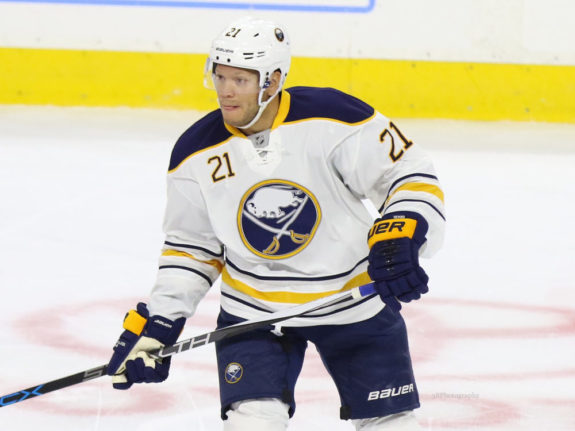 On Oct. 20, he was benched in the third period of a 4-2 loss to the Vancouver Canucks. In his post-game interview, Okposo expressed frustration with his personal performance.
"I have to play better," he said. "Just have to make some plays, move my feet. Do the things I know make me a good hockey player. It's his (Phil Housley's) decision, obviously, you want to play and be out there. He obviously has that right, and I have to prove it. Nothing is given to you."
With a $6 million cap hit through 2022-23, he felt the pressure to regain his scoring touch from a season ago where he participated in his first career NHL All-Star game. With 11 points in his first 26 games, he was on pace to produce the lowest point-per-game output of his career.
Related: Sabres Lacking Leadership
Okposo's Recent Hot Streak
From a business standpoint, Okposo's contract was starting to look like an albatross after his rocky start. Fans remained sympathetic through his struggles on the ice but feared that the franchise would be stuck with a player who would never fully regain his scoring prowess.
With almost half the season in the books, there was still a great deal of doubt, but since the beginning of December, a switch has gone off. Not only does he appear to be back to his normal self, with 11 points in his last 12 games, he's earned himself a promotion to the first line.
In four games flanking Jack Eichel's right side, he has registered seven points. Throughout the season, Eichel's line mates have changed virtually every game and it appears that he and Okposo have a new found chemistry to build upon for the remainder of the season.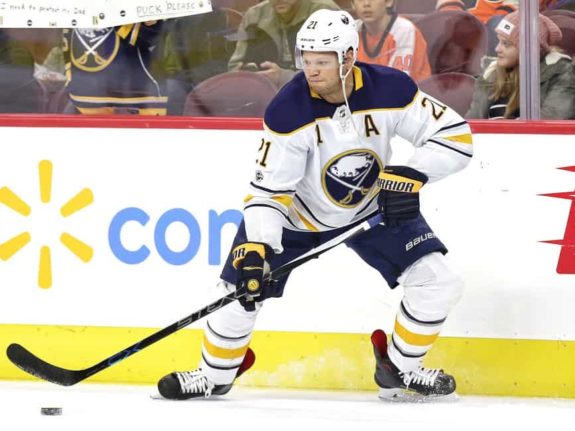 As the likelihood of an Evander Kane trade grows by the day, Okposo will need to continue to produce at his current clip if the Sabres expect to make any progress. After the trade deadline passes, he will be the best remaining winger on the Sabres roster entering 2018-19. With so much cap space tied up in the forward ranks, Jason Botterill isn't likely to add another expensive winger via trade or free agent signing.
Despite his recent uptick, he remains well aware that there is work left to be done.
"I really want to get back to the level that I know I'm capable of and being an elite player," he said. "I feel like it's been a trying year for me mentally but there's some things I've really liked about my game in the last 20 and I'm really looking forward to keep getting better. I want to get to the place where every night I'm helping my team out."
For better or worse, his production is a key component to the Sabres success moving forward. It remains to be seen whether or not this hot streak is an apparition or a sign of things to come. If he can continue to help anchor the top line and power-play unit, Okposo's recovery will go down as one of the great comeback stories in Buffalo sports history. Until then, the veteran forward is taking things one game at a time as his team tries to emerge from the league basement.
A passionate supporter and lifelong fan of the Buffalo Sabres. Former Admin and Staff Writer at buffalohockeycentral.com.