Coming into Saturday's third installment of the Battle of Ontario, the Leafs had lost each of their last four games. Three of those featured blown third-period leads, which have once again become an issue for the team after being its Achilles heel for much of last season.
Looking at the glass half-full, the team had earned points in three of those four games (the only exception being a 4-3 loss at home to Ottawa on Jan. 10), and seven of ten dating back to Dec. 28. That wasn't good enough for goaltender Freddie Andersen, who called out his mates after their loss to Philadelphia on Thursday that saw a two-goal lead evaporate in the third period.
We've got to figure out who wants to commit to playing for the team…We have to come with a different attitude. We played well enough for two periods and we've got to find a way to keep the foot on the gas the whole game.
Auston Matthews agreed with his goaltender's remarks, saying, "…he's absolutely within his right to be upset because we've left him out to dry too many times over this course of games."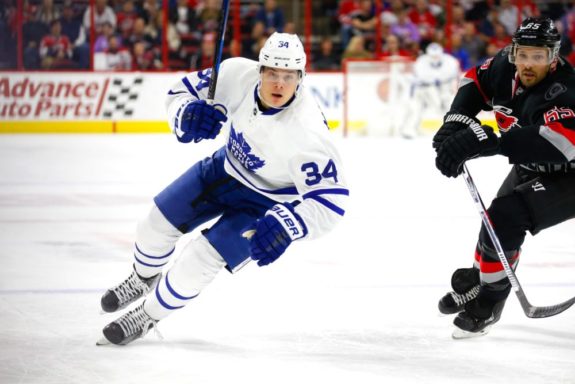 So, would they heed the message– on Hockey Day in Canada – in a game that should never be hard to get up for?
Leafs With an Inspired Start
Early on, at least, the answer to that question would be yes. The blue and white carried the play early on, heavily out-chancing and out-shooting the Senators. The shots were 12-4 in the opening frame, and the Leafs would be the ones to crack the scoreboard first.
They would get possession off an attacking zone faceoff and, after a Jake Gardiner point shot, a scramble ensued where Matthews played the puck to a wide-open Zach Hyman who spun and deposited it past a sprawling Craig Anderson into a yawning cage to put the visitors in front.
That lead would carry through the remainder of the period. Toronto held a 1-0 lead after 20, and had to be very impressed with their start coming off another tough loss in Philly on Thursday.
A Different Story in The Second Period
However, the Leafs were unable to carry that strong start forward into the second, a period that Ottawa has really struggled in this season. The hosts would tie it up on an Erik Karlsson power play marker from the faceoff circle to the left of Andersen, who had it sneak in under his glove.
Then, on off a turnover, the Senators broke out, and after jumping into the rush, Cody Ceci found Mike Hoffman streaking down the left side. He snapped one from the top of the circle on the blocker side of Andersen, who didn't even have enough time to go down. That made it 2-1.
And then late in the frame, on a Leafs' power play, the Senators would add to their lead. The Senators gained the zone, and with when three Leafs converged on the puck-carrier, Zack Smith found Tom Pyatt, who was able to beat Tyler Bozak to the outside and beat Andersen bar-down to put Ottawa up a pair.
So, despite the shots being 24-12 in favour of Toronto after 40, the Leafs looked destined to drop their fifth straight game heading into a matchup with the red-hot Colorado Avalanche – winners of nine straight games.
Leafs Were Down, But Not Out
Early in the third, though, the Leafs got back to within a goal. After a nice breakout pass from Jake Gardiner to Hyman, he played one to the front of the net that hit Ceci's stick and laid there for Matthews, who was streaking to the net and tapped it home to make it 3-2.
The Leafs would then tie it on the power play just 1:38 later. Gardiner picked up his third assist of the night finding Mitch Marner through the middle, and he burst past Johnny Oduya and made a sweet curl-and-drag move – almost identical to that of the move featured in the trailer to NHL 18 – to out-wait Anderson and put his club back on even terms.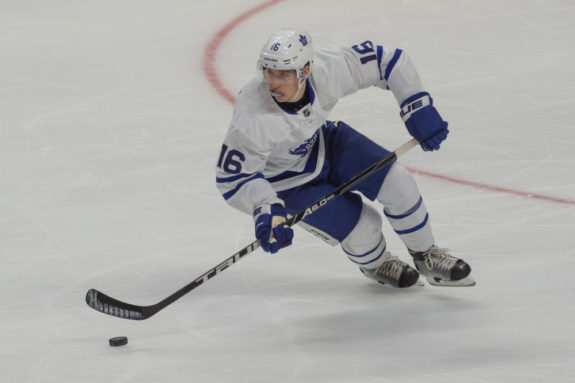 They weren't done there, as 4:37 after the tying goal, Connor Carrick would pot the go-ahead tally. After Nazem Kadri gained the zone and played it off Andersen's glove, Leo Komarov chased it down and got it back to Kadri, whose feed in front missed Leo but went right to Carrick. He sifted to the middle, changing the angle, and wristed it through traffic and past the Ottawa netminder to put the Leafs back on top.
They would then hunker down for the remainder of the period, surviving a late flurry by Ottawa and pick up what seemed, after two periods, to be an unlikely 4-3 win, avenging their loss to Ottawa by the same scoreline on home ice ten days earlier.
Andersen's Message Received?
The Leafs outshot Ottawa 33-18 for the game. Those 18 shots against are well below their average of 30.7 shots allowed per game, which is an interesting statistic when you consider Andersen's comments and how much the team has depended on him to keep them in games. It was a solid defensive showing overall for a team that has struggled to limit opponents' chances of late, and it shows their goaltender (although, again, in a very small sample size) a commitment to playing better in front of him on a nightly basis.
But it wasn't just Andersen who stepped up in an attempt to spark his team. Patrick Marleau, perhaps unsurprisingly, also did the same after the second period of Saturday's game. Although not vocal very often, when he is, there's usually a reason for it, as Matthews told reporters after the game.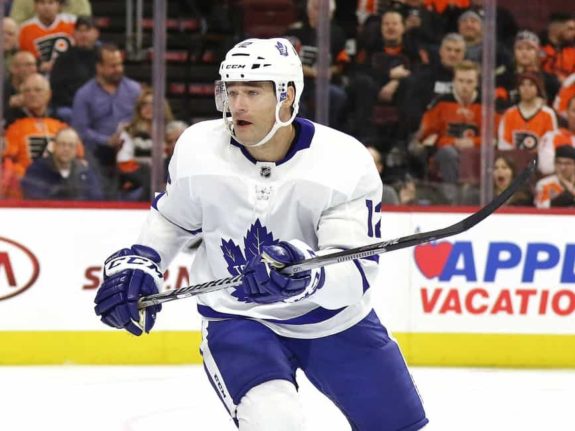 The veteran leadership of guys like Marleau and Andersen is what all young teams need. That game is a pure example of why even teams who are in the infancy of a rebuild – which could technically be argued the Leafs still are, despite all their success – have veteran guys sprinkled in throughout their lineup. Connor Carrick said postgame the importance of playing for everyone in the room is what needs to drive this team.
Connor Carrick on Patrick Marleau's 2nd intermission speech:

"The message was enough's enough. We really need to execute for each other & make sure we're making positive plays. And I think there was a sense of urgency in the third, kind of a bite or hunger."

— Mark Masters (@markhmasters) January 21, 2018
Clearly, both messages were received.
Carrying it Forward
As we've mentioned, Colorado will be a very tough test for a Leafs club that has still not figured it all out quite yet. Yes, Saturday night's win was huge, and will hopefully galvanize the group. But a one-game sample is much too small a serving to see whether or not the words of Andersen and Marleau stay etched within the locker room for a stretch of games.
The key is to sustain – to allow this game to be a changing force in their season. The team plays three games in the next four nights, starting tomorrow at home against the Avs. They then head out on the road for a difficult back-to-back against Dallas and Chicago.
Dallas is currently fifth in the Western Conference, and are 7-2-1 in their last ten games. Chicago sits 12th in the West, but are only six points out of sixth. The middle of the pack in the West is extremely bunched up, so you can't let Chicago's 12th-place positioning fool you.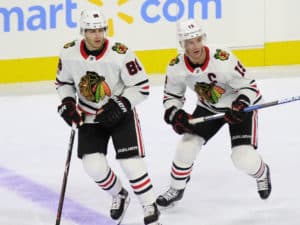 Not to mention the back-t0-back on the road in one of the more hostile environments in the game, they also have Patrick Kane and Jonathan Toews, along with youngsters like Alex DeBrincat and Thomas Jurco and a defence corps that happens to include Duncan Keith and Brent Seabrook. Putting it mildly, despite Chicago's struggles this season, this game will not be easy.
That said, the importance of this three-game stretch cannot be understated. They need to win – and most importantly, play well – two of these three games, at a minimum, in order to really conclude that they are back on the right track. They need to continue playing relatively solid defence, limit the breakdowns, and start putting more pucks in the back of the net.
Points are great, but wins are what really matters. If you can't string together a win-streak of four or five games, all this talk will have been for nothing. The old saying, "actions speak louder than words," speaks very loudly here for the Leafs. All the right things have been said, and at least to this point, they have been heard. Now the key is to execute, sustain strong levels of play, and ensure those words have value going forward.
Currently in school looking to become mildly proficient at journalism (preferably in sports). Lifelong Leafs fan; excited to cover my boyhood team at a high level.
Hopefully you like my stuff – if not, that's your loss