WASHINGTON- Working alongside Make-A-Wish Mid-Atlantic, the Washington Capitals made this weekend one to remember for New Jersey native William Cody.
The 14-year-old was diagnosed with leukemia in 2016 and is currently in treatment, going through the maintenance phase. Though he is technically in remission, he is still undergoing chemotherapy treatment, which should end in July 2019. His wish was to become a Washington Capital, and the organization easily made his dream come true.
The Capitals signed Cody, who plays forward on his local hockey team in Morristown, New Jersey, to a three-day contract during Washington's game against Montreal Friday.
"Will, like all the other young men and women who have been in the Make-A-Wish program, are just so brave, so much fun…" Capitals owner Ted Leonsis told WUSA9. "It's just remarkable to see us able to have this young man, make his wish come and I think he does as much for us as we do for him."
On Friday the #Caps signed @WishMidAtlantic's William Cody to a three-day contract. Cody joined the Caps for practice today and will be announced as a member of the team's starting lineup on Sunday prior to #CapsFlyers.
More Info: https://t.co/Op5yMdUT1C pic.twitter.com/orDFmDIyFz

— CapitalsPR (@CapitalsPR) January 20, 2018
Cody came to Capitals practice Saturday and was presented with a stall, Capitals gear and a jersey, featuring the number 37, which he wears with his youth team. After suiting up, he joined the team on the ice at the end of practice and helped Chandler Stephenson lead the stretch. After that, Cody got to participate in drills and skate with the team, including his favorite player, Alex Ovechkin. Cody also got a signed stick from goaltender Braden Holtby.
"It's obviously really special. It's really cool," forward Jay Beagle said of Cody joining the team this weekend. "Every time we get a kid in here whose dream is to be a Washington Capital, it's always special to hang out with them and spend time with them and kind of make that dream come true, it's a lot of fun."
Cody not only got to skate with the team at practice but also joined the team for Sunday's game against the Flyers. He walked to the dressing room with the team and watched warm-ups from the bench. He was also presented with a stall during the game and got to skate out onto the ice to start the game. He was also named to the starting lineup Sunday, as Trotz told the young forward just a day before.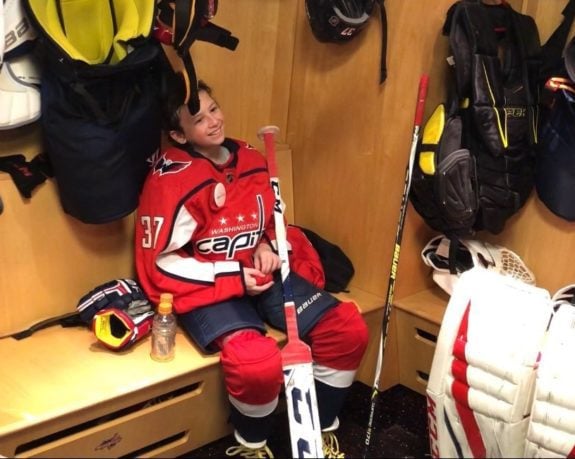 This weekend marks the second time this season that the Capitals have partnered with Make-A-Wish Mid-Atlantic this season. In early November, Washington granted 11-year-old Dariush Namin's wish. Namin, who was also diagnosed with leukemia in 2016, attended the Capitals' Nov. 2 Hockey Fights Cancer Awareness Night game against the Islanders.
Cody received a huge ovation from the crowd at Capital One Arena when he was announced as a member of the starting lineup Sunday. He got to stay and watch the game, and though Washington fell 2-1 in a hard-fought effort, he did see Ovechkin score his league-leading 29th goal of the season on the power play.
According to winger Brett Connolly, it was huge that the organization was able to grant Cody's wish, and that he was happy to help make his wish come true, especially as a professional athlete.
"Obviously we're very fortunate in our positions," Connolly said. "Anytime you can put a smile on someone's face or benefit someone, we're more than welcome to do that, y'know, it's great to do that kind of stuff and see some kids happy or whatever it is so we're very fortunate to be [where we are] and whenever we can give back, we're willing to do that."
Sammi Silber covers the Capitals beat for The Hockey Writers and is an NHL contributor with Sporting News. She has also contributed to USA TODAY College, Huffington Post, FanSided and the Nation Network. Silber has written four books and recently worked on graphics for the film, The California Golden Seals Movie.