It was less than three years ago when Dylan Strome was selected by the Arizona Coyotes with the third-overall choice in the 2015 NHL Entry Draft. However, in that short period of time, Strome's perception as a player has seemingly transitioned from that of a top prospect to, rather, a long-term project.
And, following a handful of unsuccessful stints at the NHL-level with the Coyotes, many would be quick to conclude that Strome's newfound distinction is justifiable. In fact, Strome managed just one point in seven games last season and has notched just one point in another 11 contests this campaign.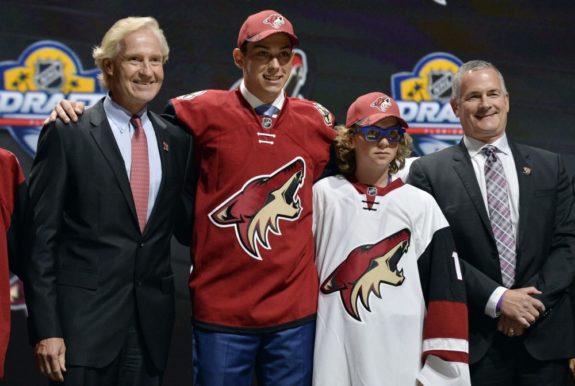 Yet, despite these underwhelming offensive totals, there are two crucial tidbits regarding Strome which are important to keep in mind.
First of all, Strome is just 20 years-of-age.
Secondly, Strome currently finds himself in the midst of his first full season of professional hockey, meaning the youngster has a wealth of information to discern and experience to gain against considerably stiffer competition.
However, despite his relative inexperience within the professional ranks, Strome's broad skill set has already allowed him to enjoy considerable success. And, so much so, in fact, that he should already be considered one of the best players in the American Hockey League.
Surprised? Let's take a closer look.
A Persistently Progressing Pup
Hype and anticipation have long followed Strome.
Since his days skating for the Toronto Marlboros of the Greater Toronto Hockey League, Strome has been widely regarded as an excellent on-ice talent boasting plenty of room to grow. Nabbed by the Erie Otters with the second-overall selection in the 2013 OHL Priority Selection, Strome's strong two-way game and natural offensive abilities led to a sparkling major-junior career.
In fact, in the 219 regular season OHL games he played, Strome netted a whopping 114 goals and 354 points, good for a point-per-game mark of 1.62. However, it was in the postseason where Strome truly shone, as he added 89 points in 69 playoff contests en route to an OHL championship, a Memorial Cup berth, and the Stafford Smythe Trophy in 2016-17.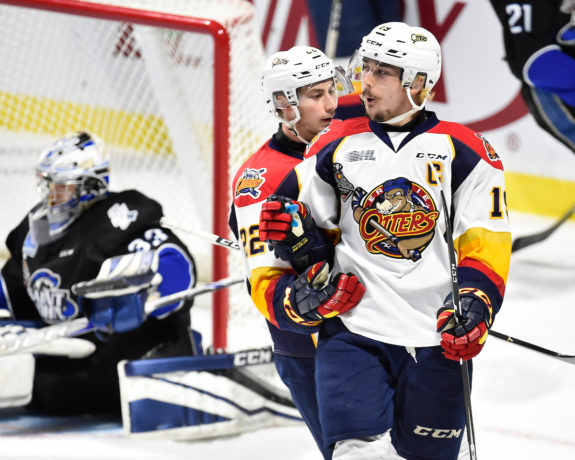 So, when Strome's name was called by the Coyotes in the 2015 NHL Draft, his sudden ascension to the NHL came to be expected rather than anticipated.
However, Strome's transition to the NHL-level did not transpire as smoothly as many would have liked.
After being returned to the OHL following a brief stint in Arizona to open the 2016-17 campaign, Strome, as previously mentioned, once again failed to generate a significant impression through his first 11 games with the Coyotes in 2017-18. As a result, Strome was again returned to the AHL's Tuscon Roadrunners in order to garner critical ice time and develop confidence within the professional ranks.
Poised and Ready to Pounce
Although most professional players are quick to interpret a demotion to the AHL as a significant step in the wrong direction, Strome has instead perceived the move as a clear opportunity to prove himself and further progress his impressive bounty of skills.
Not surprisingly, Strome has done exactly such during his time thus far with the Roadrunners, taking the AHL by storm owing to a consistent level of elite play. In fact, through Strome's opening stanza in the NHL's primary developmental league, the youngster had netted an incredible 17 goals and 39 points in a mere 28 games played.
Dylan Strome beats the clock with a wrap-around goal in the @RoadrunnersAHL win. 😱 pic.twitter.com/EOwiFte8jJ

— American Hockey League (@TheAHL) January 6, 2018
At that particular point in time, Strome's goal total ranked amongst the highest in the AHL, while his incredible point-per-game mark of 1.39 stood substantially greater than any other player eligible for the distinction. Further, add in the fact that Strome is devastatingly successful in the faceoff circle as well as a player who commands puck possession, and the youngster once again beams bright with the potential of a first line centre at the NHL-level.
Promote Him, or Develop Him?
Strome's shocking success this season at the AHL-level quite obviously begs the question of whether or not Arizona should re-call their top prospect to round out the 2017-18 campaign.
If the Coyotes were to once again call upon their skillful youngster it would surely be a worthwhile cause, as Strome would be able to garner greater experience against incredibly talented competition who are physically intimidating foes. Further, he would be provided with the opportunity to cast aside the negative vibes which he surely attained through his two prior lacklustre NHL appearances.
Yet, despite the clear positives awaiting Strome in Arizona, the case to keep the organization's most valuable asset in the AHL for the remainder of the 2017-18 season is much stronger.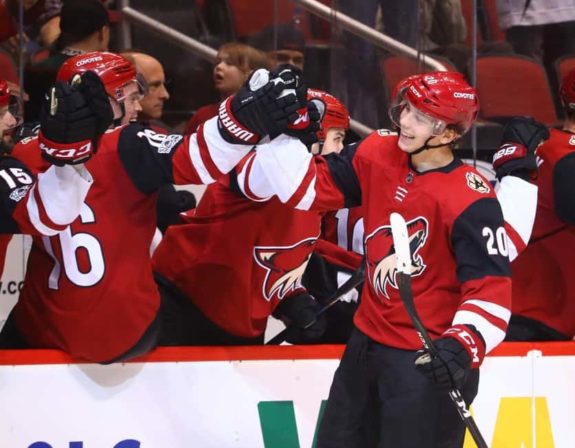 In Tuscon, Strome has and will continue to be afforded with every possible opportunity to improve his already impressive game. With the Roadrunners, Strome will continue to log a massive amount of ice time per game and in a variety of situations, particularly on the power play, where he, alongside Nick Merkley, have been nothing short of devastating thus far.
Further, and perhaps most importantly, Strome will be able to lay a foundation of positivity in Tuscon, as his continued success and impressive level of production will bode well for the youngster's confidence in both the short and long term.
With the Coyotes in struggling mightily in 2017-18 and a playoff berth certainly out of the question, calling upon Strome and forcing him to meddle within a calamity of despair could very well hinder his progression as an individual. Sure, he will have to learn how to deal with his fair share of failure at the NHL-level, however, at the moment there is no viable reason to disrupt the immense success which Strome has enjoyed at the AHL-level.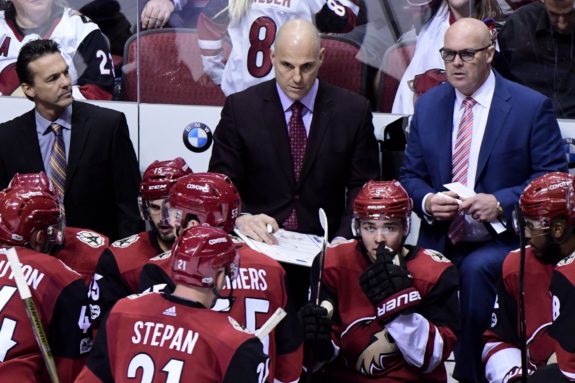 As mentioned long ago and worth re-emphasizing, Strome is just 20 years-of-age. Given his particular set of skills, the young playmaking centre will undoubtedly enjoy a tremendously long and prosperous NHL career, so why rush him?
The best option for the Coyotes at this point in time is to sit back, relax, and watch Strome's continued domination of the AHL, as it truly has been magnificent to behold.
Brett Slawson is a four-year veteran of The Hockey Writers who covers the Toronto Maple Leafs, NHL prospects, and the OHL's Mississauga Steelheads.
Contact Brett on Twitter @brettslawson92, or by email at brett_slawson@hotmail.com.