As the San Jose Sharks prepare to take on the Anaheim Ducks in their opening round playoff series, there is no shortage of questions. But some questions are more critical than others, and we'll explore three of them here.
Is Paul Martin the Right Choice?
The Sharks appear to have benched rookie defenseman Joakim Ryan to start the series. Veteran Paul Martin has replaced him in the lineup. The two have similar styles and both have the important skill of knowing how to compliment their partner.
Their partner is Brent Burns, the most dynamic player on the team. Getting the best out of Burns is essential to the Sharks and their playoff chances.
By any measure, Ryan was a pleasant surprise this season. A bit old for a rookie, the 24-year-old came with a mature and refined game. He made few mistakes, was rarely out of position and seemed to have an instinctive understanding of the play in front of him. Not much went behind him. About the worst which can be said, is he can be muscled off the puck at times and one might want more offense from him.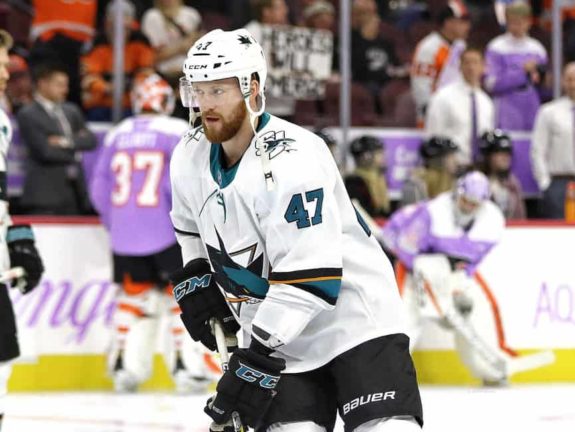 After being sent to the penalty box in two of his first three games, Ryan went 50 games before getting sent to the box again. Over the last 59 games, Ryan committed only one stick penalty and had one delay of game, a grand total of four penalty minutes. This isn't the sort of discipline you get from an ordinary rookie. Nor is common for a rookie to lead the Sharks in plus-minus, but Ryan did this, too.
Martin has two full seasons as Burns partner, and for close to a season and a half, Burns was the best player in hockey. Martin, however, missed most of this season. He started the season poorly, playing the first two games before being pulled. Not fully recovered from an ankle injury, Martin sat out for an extended period. He did play one game for the Sharks in the middle of the season, but he was placed on waivers. He went unclaimed (his large salary being an issue for other teams) and joined the San Jose Barracuda, the Sharks AHL team. Even with the Barracuda, Martin's play was up and down. However, an injury to Ryan in mid-March opened the door and Martin has taken advantage. He's added two assists and is plus-7 since his return.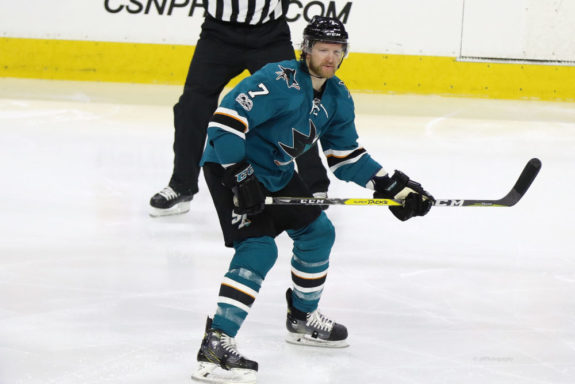 Some describe Martin as the "Burns whisperer" – the one player who 'gets' Burns so perfectly that he becomes a much better player. I'm not convinced Martin is the better partner at this point, but all signs indicate Sharks head coach Peter DeBoer is going with him. Ryan's health may be an issue in this decision, too. Initial reports suggested he'd be fine by the end of March, but without his return, there is no confirmation.
Should Martin prove himself again and help lift Burns game, this will be one of the best calls of the playoffs.
Can Joe Thornton Return … and Be Effective?
The Sharks, including Joe Thornton, have spoken a lot about his potential to return. They just manage to convey nothing useful when they speak. He's been skating for a few weeks, but this is not enough to say he's ready to skate in the Stanley Cup playoffs.
The reality is Thornton wasn't all that effective when he played this season, save for one area. His minus-9 is a career worst. But before the MCL injury which derailed his season, Thornton was money on the power play. In the last 25 games the Sharks played with Thornton, they put up a ridiculous 25 power play goals. Shortly after Thornton went out, the Sharks power play began to sputter and it hasn't been right since. What does Thornton do which makes the power play so dangerous? One look at the video (5 minute mark) below tells the story. An on the tape pass between four defender's sticks. Hall-of-Famers make that pass, mere mortals, not so much.
For the Sharks, it'll be smart, albeit a bit awkward, to have Thornton on the fourth line if he returns. He can use the sheltered minutes to return to game shape. He'll get his share of mismatches as well. But the big benefit, especially against a team which gets into penalty trouble like Anaheim, comes from being able to play Thornton major minutes on the power play. It'd be a mistake to put Thornton out on a top line coming off this injury.
The influence of the power play is hard to overstate against the Ducks. This is a team which doesn't fear taking penalties (fifth most minors and third most majors). The Sharks struggling power play doesn't give the Ducks much to fear. If Thornton can turn this around and force the Ducks to become more cautious at even strength, this is a big win for the Sharks.
Can Vlasic and Braun Slow Down Getzlaf?
Ryan Getzlaf is the Ducks best player. The future Hall-of-Fame centerman started the season injured, but returned with a vengeance. He posted 61 points in just 56 games and finished plus-20. His 50 assists in just 56 games is in a class of its own. Nine NHL players posted 90 or more points this season; only three of those players had more than Getzlaf's 37 even strength assists even though all nine played at least 80 games.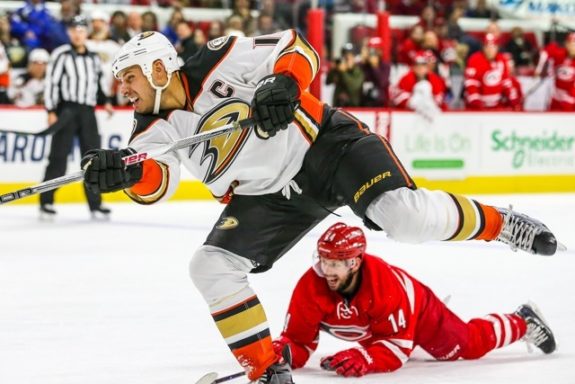 On the other side are the defenders he'll face. Expect the Sharks shutdown defensive pairing of Marc-Edouard Vlasic and Justin Braun to join Getzlaf on the ice at every opportunity. No doubt Ducks head coach Randy Carlyle will attempt to get Getzlaf on the ice against other Sharks defenders, but this approach only goes so far. When Getzlaf goes over the boards, expect Vlasic to go right along with him.
No doubt DeBoer told Braun and Vlasic to get themselves on the ice when they see Getzlaf going onto the ice. Consider it a standing order, all series long. No doubt Vlasic and Braun didn't really need to be told, they already knew.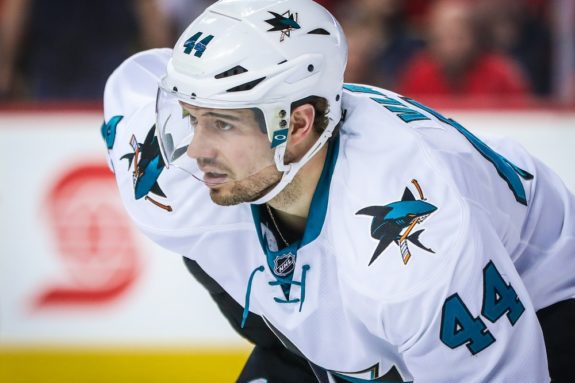 Last season, Vlasic and Braun combined to largely eliminate Connor McDavid as a factor in their playoff series. Getzlaf, though, is a different player. Unlike McDavid whose open ice skills and speed makes him uniquely dangerous, Getzlaf is a powerful set-up player with terrific vision and a great passing touch. Getzlaf is strong on the puck and works well in tight quarters. If this sounds a lot like Joe Thornton, well, it's because they are similar. Battling Getzlaf is more of a wrestling match, while slowing McDavid is more of an anticipation game. If McDavid is a nightmare to defend in transition, Getzlaf is among the few who thrive in a set offense.
Factor in Logan Couture as well. He is the Sharks best defensive center and he'll also need to play into this. The best way to slow Getzlaf is to win face-offs and keep the puck away from him. That task is likely to fall to Tomas Hertl, the Sharks better face-off man on Couture's line. It'd be helpful if DeBoer could put a face-off winning right-hander with Hertl and Couture, but other than Joe Pavelski (who's got his own line to run), the Sharks really don't have one.
The Ducks have enough depth scoring to stay in games, but probably not enough to win a series. If the Sharks shutdown defensive pair can live up to their billing and slow down Getzlaf and his linemates, the team's chances improve greatly.
Zeke's Notes
Players often play at less than fully healthy in the playoffs. This may include Ducks goalie John Gibson, who has had an excellent season. Late in the season, Gibson was hurt, but it's expected he'll be in net for the series opener. It's worth noting – bringing a goalie back a bit too quickly can prove problematic.
Earlier in the season, Sharks goalie Martin Jones was playing as well as any goalie in the game. Over a 15 game stretch, Jones allowed scores on just six percent of shots on goal he faced. Late in the 15th game, a 4-0 shutout over the Winnipeg Jets, Jones was injured. It was considered nothing too serious and he missed about a week. But in the half dozen appearances following his return, Jones wasn't good. He gave up goals at twice the rate (12 percent) as he did prior to the injury.
While there is no reason to believe Gibson's injury will prove problematic, it's something to watch carefully. If Gibson plays but is off his game, it will be a big advantage for the Sharks.
ZEKE is a native of the DC area where he witnessed the birth of the Capitals franchise. After graduating from Cornell University, which had seen hockey glory before he arrived, he moved west to San Jose. There he witnessed the birth of the Sharks franchise. His wait to witness a Championship from any of these teams finally ended in 2018.