With the team locked into the playoffs and only a pair of games remaining, its time to pass out the THW awards for the San Jose Sharks. It's a bit unusual for a team that has done as well as the Sharks to have no one considered for any of the major NHL awards. The Sharks' success has been a team effort. Still, a few individuals stand out.
Most Valuable Player: Logan Couture
Candidates: Brent Burns, Logan Couture, Marc-Edouard Vlasic, Evander Kane, Joe Pavelski
The Sharks' most valuable player is not a clear-cut choice, but ultimately, it goes to Couture. When the team needed a player to carry the team, it was Couture. Kane is an intriguing possibility, as the team was markedly better from the day he arrived, including the eight-game win streak which clinched the playoff berth. Without Kane, it isn't clear if the Sharks make the playoffs. Without Couture, however, they absolutely don't. Vlasic had another strong season and came in second. Burns led the team in ice time and assists, and he led the league in shots by a defenseman by a ton. But he was a liability far too often, and his minus-18 rating is disqualifying.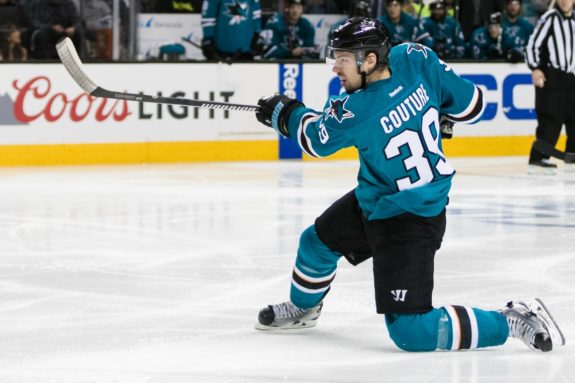 By definition, the most valuable player is a player, but general manager Doug Wilson deserves credit for making moves that upgraded the team. While he let Ryan Carpenter go for nothing (disappointing since one would think he'd at least draw a late-round pick), his acquisitions of Kane and Eric Fehr have been big positives. Both came on favorable terms, too. Wilson's willingness to sit tight on a lot of cap space is also worthy of mention. Paying full value for Joe Thornton might seem foolish but may pay dividends this offseason. And he wisely didn't overbid for Patrick Marleau's services. Marleau's departure opened the door for acquiring Kane and perhaps a premium free agent in the summer.
Most Improved: Timo Meier
Candidates: Chris Tierney, Timo Meier, Kevin Labanc, Justin Braun, Mikkel Boedker, Barclay Goodrow 
The Sharks have seen tremendous improvement from a large number of players. Chris Tierney comes in second for his play as a third-line center. Not only did he handle his upgraded role effectively, but he was better in this tougher role than he was in a fourth line role last season. On top of that, he was outstanding on the penalty kill, one of the Sharks' keys to the season. Tierney leads all Sharks forwards in shorthanded ice time.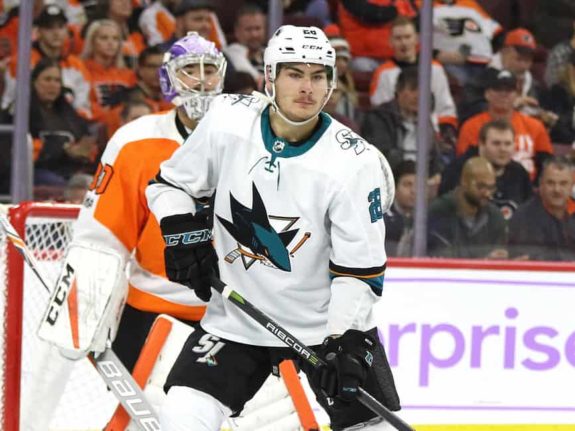 As good as Tierney's been, Timo Meier's jump was the biggest of all. Meier struggled in his rookie season, as he simply didn't have a feel for the NHL game. It all changed this season. Meier steadily improved over the first few months before breaking out. He had just six goals, 10 points and was minus-5 through December. He's put up 14 goals, 25 points and is a plus-8 since the start of 2018. He's also been effective in important but less measurable ways. He wins puck battles, draws penalties and does a good job screening in front of the net. Further, as the Sharks have evolved into a power-forward oriented team, Meier now is helping drive the team's playing style.
Best Newcomer: Evander Kane
Candidates: Joakim Ryan, Evander Kane, Eric Fehr, Rob Zettler
For most of the season, this was an easy call, with rookie Joakim Ryan cruising to this honor. But alas, Evander Kane is a game-changer and he's getting the honor. Kane has put up nine goals in 16 games, and several were critical to Sharks wins. On the top line with Joe Pavelski, Kane's presence has allowed the Sharks more flexibility further down the lineup.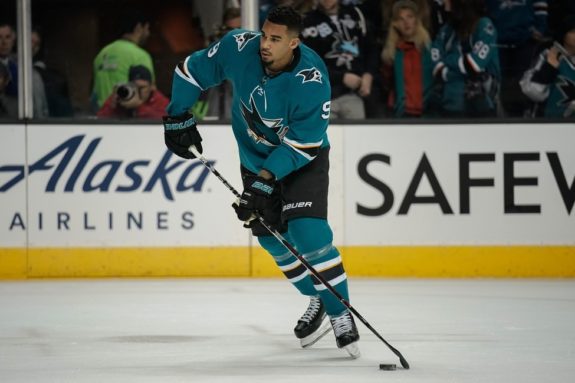 A dark horse worthy of mention is assistant coach Rob Zettler. Zettler came in with big non-slip shoes to fill—those of Bob Boughner, now the head coach of the Florida Panthers. The defense is critical to the Sharks' success and it has often carried the team. And while Zettler hasn't been able to get the same type of performance out of Brent Burns, he has molded a solid defense (sixth-best in shots on goal allowed) and an elite penalty kill (first in both fewest goals allowed and penalty-kill percentage).
Rookie of the Year: Joakim Ryan
Candidates: Joakim Ryan, Tim Heed, Marcus Sorensen
We have used the spirit of the rule to decide who is eligible and Heed, who is over-age by NHL definition, meets the spirit of the rule. And while Heed made a favorable impression, the easy winner is Joakim Ryan. The left-handed defenseman has been genuinely good. He rarely looks like a rookie and leads the team in plus-minus, something not that simple considering he spent much of the season lined up with Burns, whose minus-18 rating is worst on the team by a good bit.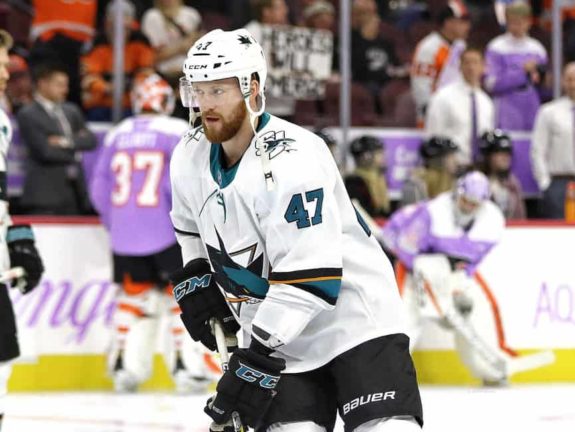 Ryan won't get any national buzz for rookie of the year (the Calder Trophy); he plays an understated game which relies heavily on his smooth skating and a good sense of how to use the angles on the ice to his advantage. For example, he'll often weave his way up the ice, using the resulting subtle changes in passing lanes to find openings which lead to clean offensive zone entries.
Through 62 games, he has collected three goals, nine assists and is plus-13. In the latter part of the season (since mid-March), Ryan has been injured and Paul Martin has stepped in across from Burns. He may have even taken the job from Ryan. But this doesn't diminish Ryan's strong season or that he is going to be a big part of the Sharks' future. And perhaps their present.
ZEKE is a native of the DC area where he witnessed the birth of the Capitals franchise. After graduating from Cornell University, which had seen hockey glory before he arrived, he moved west to San Jose. There he witnessed the birth of the Sharks franchise. His wait to witness a Championship from any of these teams finally ended in 2018.