Daniel and Henrik Sedin's long and remarkable careers started with the Vancouver Canucks back in 2000 and now in 2018, they are coming to an end. It's been an incredible ride with awards won, records set, and an everlasting impression left on the city of Vancouver.
https://twitter.com/Canucks/status/981583602436653056
Along the way, the twins have played with a healthy collection of wingers — some good and well, some not so great. We are going to be taking a look at the top-five wingers to play with this legendary dynamic duo.
1. Alex Burrows
Coming out of the gate hot, we have Alex Burrows — a French-Canadian pest who turned into something more when playing alongside the twins. Burrows started his career with the Canucks back in the 2005-06 season and he very quickly became known around the league as one of the better pests in hockey.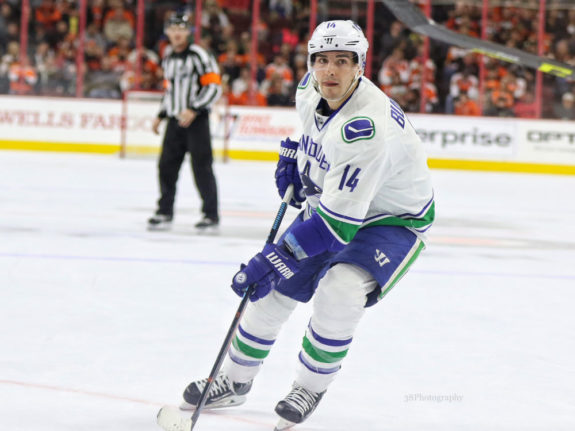 Burrows' work-ethic and spark-plug-like play style carried him from ball hockey stardom to the NHL and later, onto a line with two of the best playmakers in the game. From 2008-16, Burrows was a regular fixture with the twins, and his ability to find and create open ice seemed to pair perfectly with the Sedins' unteachable ability to make seemingly impossible passes. 
"They see each other. They're able to make passes where no one would think they'd be there, but they still make it," Burrows told Sportsnet.
Burrows has had four seasons with 25 or more goals and one with 35 — to nobody's surprise, he played with the Sedins for all of those seasons. His forechecking abilities, in tandem with the Sedins' cycle game, were nothing short of a headache for opponents. Beyond that, Burrows was no stranger in the crease and at the very least, created space for the twins to work their magic.
It's not hard to argue that Burrows was the best addition to the Sedins' line throughout their long careers. From point totals, to complementary play styles, the trio worked extremely well.
Related: The Return of Alex Burrows
2. Radim Vrbata
Next up is the Czech sniper, Radim Vrbata, who slotted in with the Sedins for the better part of two seasons. Vrbata was brought to the Canucks in the 2014 offseason to do one thing and one thing only: put the puck in the net. Who would be better linemates than two of the best passers in the NHL? The Sedins and Vrbata clicked almost instantly, largely due to the fact that the veteran Vrbata knew his role.
"They have a chemistry on their own, so as the third guy you just kind of fill in and read off them. They don't try to beat players one-on-one or overpower anybody. They like to use short little passes and get open for each other," Vrbata told Sportsnet.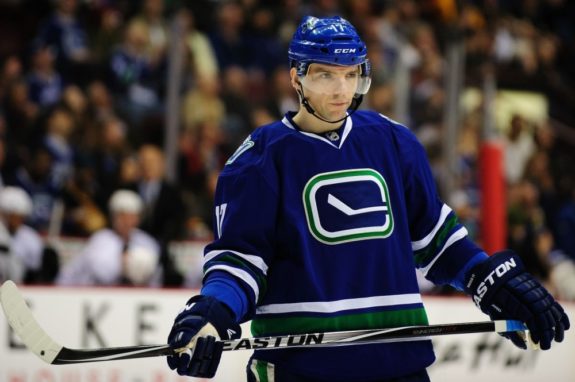 In his first season with the Canucks, Vrbata found twine 31 times and helped out on an additional 32 — the Sedins combined for 111 assists in that 2014-15 campaign. Vrbata's ability to find open ice made him an easy target for the twins, and they fed him every chance they had because they knew just how capable of a sniper he was.
He recorded a career-high in goals and points that season, but the season following was disappointing and his tenure in Vancouver came to an end. It was a short-lived ride with the Sedins, but a very productive one at that. Unfortunately, Vrbata's career went on a steep decline following his career-best season and he only laced up for half of the 2017-18 season as a member of the Florida Panthers.
3. Anson Carter
In at the number-three spot is number 77, Anson Carter. The Toronto, Ontario product played the better part of 10 seasons in the NHL, playing for the Canucks in just one of them. Carter was slotted alongside the younger and still relatively inexperienced Sedins and was, in a way, the gatekeeper for the Sedins' extreme success that came to fruition in the seasons following. On top of that, during the 2004-05 lockout, the Sedins worked on their game immensely and it really paved the way for their success.
"When we came back, we could see our work paying off. We also found a linemate who let us play our game in Anson Carter," the Sedins wrote in a letter to Vancouver.
Carter was quick-footed and he played a very simple style of hockey — he almost always presented himself as a back-door option for the surging Sedins. Referred to as the 'Brothers Line', a name that might not fly in today's PC culture, the trio dominated and Carter really fed off of the twins already established chemistry. In his 81 games with an Orca on his chest, Carter, funnily enough, rippled the mesh 33 times (Henrik's number) and assisted on 22 more (Daniel's number).
Unfortunately, Carter let his single-season success get to his head, and when it came time for the Canucks to re-sign Carter, he decided to hold out for more money, which proved to be one of the biggest mistakes he made in his career — he went on to play only 64 more games in the NHL over two broken seasons.
4. Markus Naslund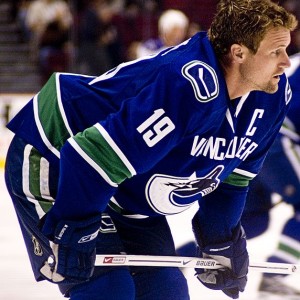 Following the dismembering of the infamous 'West Coast Express' line, Canucks captain Markus Naslund was in need of some new supporting cast members — why not two fellow Swedes who grew up in his hometown and with whose brothers he was friends? The Swedish connection was readily apparent and their point totals certainly reflected as such. Naslund was on the tail-end of his career, but the twins were just starting to head into their prime — from 2006-08, 'Nazzy' periodically played alongside the Sedins and he was nothing short of impressed with how they operated.
"They knew where to put the puck and they knew where to go on the ice. Each step looked a lot easier than it was for most players. They were able to think a couple of steps ahead," Naslund told Sportsnet.
In the two seasons that Naslund had the Sedins playing on his line every so often, he contributed 49 goals and 66 assists in 164 games. But, what made him such a great linemate for the twins was the fact that Naslund served as an incredible role model and taught both of them, particularly Henrik, how to be a great leader in such a media-pressured city that demands so much. For most of their careers and right up until their final game in Rogers Arena, the Sedins have and will continue to carry Naslund's lessons and teachings.
Related: Markus Naslund's #19 to be raised
5. Trevor Linden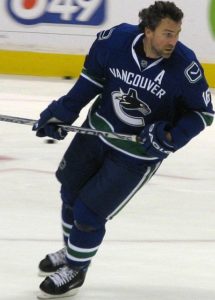 Last up on the list is Trevor Linden, who is one of the greatest and most influential Canucks of all time. The Sedins were scooped up in the 1999 NHL entry draft and were thrown into the NHL right away for the 2000-01 season — a couple of wide-eyed Swedes with their entire careers ahead of them and an unpredictable future. After two reasonably successful seasons, it was clear that these kids had talent and they needed some mentoring in order to elevate them to the next level — enter, Linden.
"I quickly grew to have a great deal of respect for them because I could see they had a real inner toughness—they were willing to do what it took to become good players," Linden told Sportsnet.
After spending the majority of four seasons away from the Canucks, Linden was brought back to the Canucks in 2001 for 61 games before being traded to the Washington Capitals to finish the season, but he returned in the offseason. In the early 2000's, Linden played a decent amount with the Sedins and just like everyone else on the list, he felt right at home.
"Playing with those guys, you are the third brother," – Linden told Sportsnet.
When Linden started playing with the Sedins, he was already a 13-season veteran and although he didn't put up the most points in the world with the twins, he really showed them the ropes of the league and undoubtedly served as one of the best early-career mentors they could have asked for.
Linden saw the beginning of one of the most special things the league will ever see — two identical twins, on the same team, on the same line, who are just as amazing on the ice as they are off of it. A good heart isn't something you can teach, but knowing how to showcase that properly is, and Linden did just that for the Sedins.
Related: The Sedin Twins and the 1999 NHL Entry Draft
Now, as the Sedins prepare to make their exit from the league, it's only fitting that Linden is one of the men in the Canucks' front office to oversee their transition to life post-NHL — the circle of life. Well, hockey life.
"I had no idea what to expect. I remember walking to my car to drive to the game before my last game and I started to cry. Your last game is tough, but they're pretty stoic guys. It'll be a memorable week for sure." – Linden, on Sedins playing their final NHL games.

— Vancouver #Canucks (@Canucks) April 2, 2018
Linden said it best when it comes to the Sedins.
We'll never see anything like this again.
What do you think of the list? Would you change the order? Add a player? Remove a player? Let us know in the comments below!