Do Anaheim Ducks fans really need a guide to the San Jose Sharks? The two teams are familiar to each other and about to get even more familiar as they compete in a rare playoff series between them. It turns out, however, a lot has evolved over the Sharks season in addition to a few noteworthy changes. We'll cover it all here so you'll be ready when the puck drops for the series opener on Thursday.
As they have been under head coach Peter DeBoer, the Sharks are a defense-oriented team. They feature the league's best penalty kill and perhaps the league's best shutdown defensive pairing. In the offensive zone, the team is driven by power forwards, usually one on each forward line. The wild card is defenseman Brent Burns, the team's best athlete and league leader in shots on goal by a defenseman.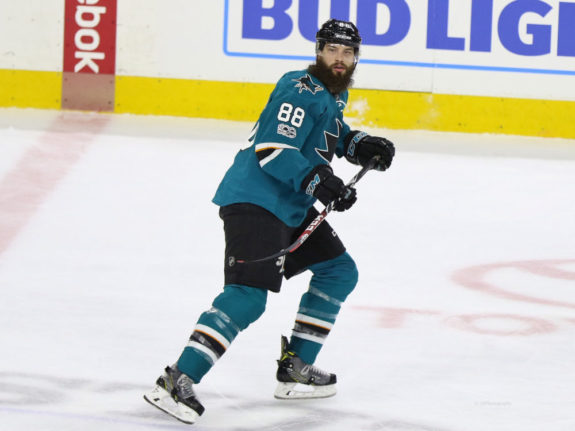 The Sharks enter the playoffs with some injuries and some important players at less than optimal health. The Sharks are a deep team, but even their depth is being stretched.
What isn't the same as recent seasons? Well, you remember Patrick Marleau and Joe Thornton, right? Marleau is playing for Toronto and Thornton is injured, unlikely to play early in the series. And it's not that likely he'll play late in the series either.
The newest Sharks are Eric Fehr (sweater No. 16) and Evander Kane (No. 9), both acquired at the trade deadline. Fehr has been good on the fourth line, but he is injured and his status isn't clear. Kane has been a difference maker, but he missed two of the final three games of the regular season. After playing in the finale, DeBoer indicated Kane was less than fully healthy. The Sharks became a better team the day Kane arrived, but it is unclear if that version of Kane is the one who plays in this series.
In Goal
The Sharks are backstopped by goalie Martin Jones (No. 31). Barring injury, you can expect to see Jones play every minute of every tight game. Jones has been up and down this season, but when healthy, he's been very strong. His save percentage (SV%) on the season is .917, but it took a major dip during times when he wasn't healthy and during the last five games of the season.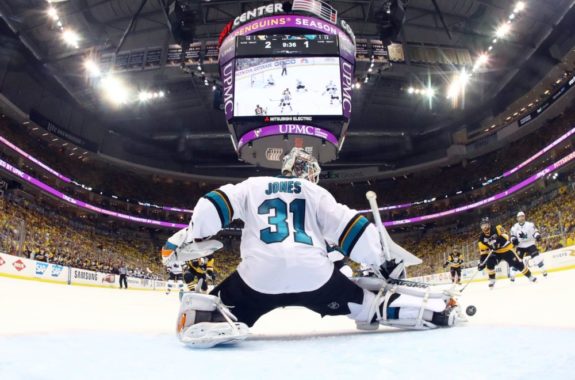 Jones has been good in the playoffs with a .925 SV% over his career. Jones is vulnerable to is overwork and DeBoer started Jones in 18 of the season's final 20 games. In 2015-16, the season Jones backstopped San Jose to Stanley Cup Final, Jones started just 12 of the team's final 20 games. Jones allowed three or more goals in four of the Sharks last five games.
Backup Aaron Dell (No. 30) is very capable, though its unlikely he sees action. Dell posted a .913 SV%, but this is a bit misleading. His record was a superb 15-5-4 and a team meltdown game against Nashville (seven goals allowed) put a major dent in Dell's numbers.
The Sharks Blue Line
San Jose throws challenging defenders at opponents. They are among the league leaders in points from the blue line and it's more than just the one guy.
Shutdown Pair
The one set pair is Marc-Edouard Vlasic (No. 44) and Justin Braun (No. 61). They are capable of chipping in some offense. Vlasic (11 goals, 21 assists, plus-nine) reached double-digit goals for the first time in his stellar career and Braun's (five goals, 28 assists, plus-seven) points all came at even strength. This may have been Braun's best season. This is the pairing which starts in the defensive zone against other team's top lines. They might be the best shutdown pairing in the league. If they are right, nothing comes easy against them. Many consider Vlasic the team's most important player.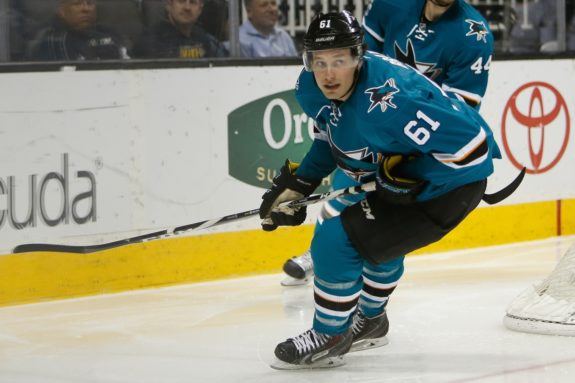 Offensive Pair
The other primary pairing features Burns (No. 88) and either Paul Martin (No. 7) or Joakim Ryan (No. 47). Style-wise, Ryan (three goals, nine assists, plus-13) and Martin (two assists, plus-seven in 11 games since returning to the lineup in March) are similar players, despite obvious differences. The 37 year-old Martin is tall and rangy. He may be the oldest Sharks player to play in the series. The 24 year-old rookie Ryan is smaller and more compact. Both are very judicious in their offense role, but not afraid to seize the moment if it presents itself. Martin spent the first half of the season injured and most of the second half trying to get back into the lineup. The good news, he isn't worn down and appears to have more jump than he had last season. Ryan is coming off an injury, but he is ready to go if called on. He led the Sharks in plus/minus.
Mostly, Ryan and Martin are good at understanding the talent they're playing with. Burns had a fall-off from his Norris Trophy winning season in 2016-17, but he remains a very dangerous and often dominant player with remarkable athletic skills and a laser-quick wrist shot. Even in a "down" year, Burns (12 goals, 55 assists, minus-16) set a personal best in assists. The Sharks will feed Burns at the right point from where he'll look for either shots on goal or tip plays in front. At its best, it's lethal.
Third Pair
The Sharks third pairing is not usually a liability, which is nice to have in a third pairing. Brenden Dillon (No. 4) is big and strong, but his improved mobility has helped him be more successful. The more mobile Dylan DeMelo (No. 74) appears locked in as Dillon's partner. DeMelo (20 assists, minus-one) is smaller and more agile, but he's been inconsistent. Recently, he's been contributing points, with 12 assists in his last 18 games. In DeMelo's 130-plus game career, he's almost exclusively been partnered with Dillon (five goals, 17 assists, minus-seven). This will be DeMelo's first playoff appreance.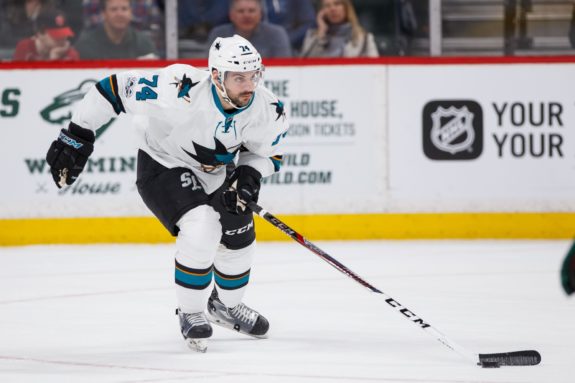 The Sharks blue line is capable of scoring, difficult to play against and unlikely to get sent to the penalty box. Martin and Ryan have combined for only five minor penalties; Vlasic, remarkably, has just two. Dillon is the most likely to get into a fight, having four on the season. He even had a Gordie Howe hat trick against Calgary.
One thing you'll almost certainly see at times, a pairing of Burns and Vlasic in the third period. DeBoer uses this at times to get extra time for his top two defenders, especially in close games. It isn't a permanent move, just a frequent in-game move to attempt to tilt the ice. He'll often go to a five-defender lineup in the third period.
The Sharks Forwards
San Jose's forward groups are defined by their power forwards. The Sharks have strong, skilled players who control the puck, draw penalties and are seriously good at screening in front of the net. They can pass, score and even win a face-off. The Sharks usually use one power forward per line. The three key players (all lefties) are Kane, Tomas Hertl (No. 48) and Timo Meier (No. 28). The fourth line has a pair of power forwards, Eric Fehr (No. 16) and Barclay Goodrow (No. 23), though both are injured at the moment.
I'd happily share the Sharks forward lines with you if I only knew what Peter DeBoer was planning. I can get you most of the way there, but DeBoer juggles lines from game to game and often within games. There are pairings he prefers. It's also easier to think of the Sharks playing two top groups along with a third and fourth line.
The Top Line
One of the team's top groups features team captain Joe Pavelski (No. 8) and the newly acquired Kane (No. 9). Pavelski (22 goals, 44 assists, even plus/minus) delivered another strong season. He had a slow start but a strong finish. Kane (nine goals, five assists, plus-five in 17 games with San Jose) is a physical powerhouse with speed. Kane and Pavelski developed chemistry almost instantly and they've proven hard to stop. The third member of the line is open, and several players have taken a role there. It may well be Joonas Donskoi (No. 27) in this role. Donskoi (14 goals, 18 assists, plus-10) spent much of the season battling injuries. He is a terrific passer and a good compliment for the talented Kane and the savvy Pavelski.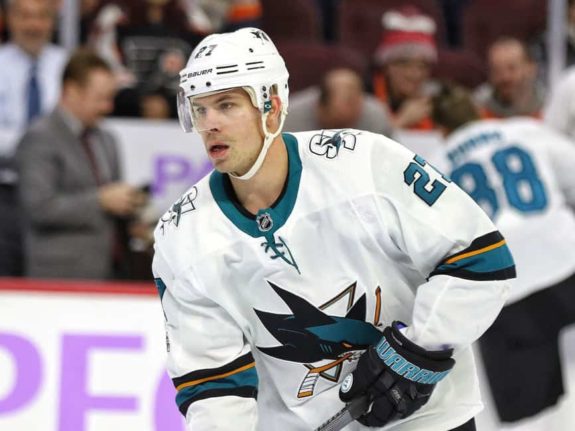 The Other Top Line
The other top group usually features Tomas Hertl (No. 48) and Logan Couture (No. 39). Couture (34 goals, 27 assists, minus-two) is the team's most valuable player, and leads the team in goals. Hertl (22 goals, 24 assists, minus-two) is tied for second. While Hertl isn't as powerful as Kane, he is strong and a difficult matchup. Mikkel Boedker (No. 89) is a frequent linemate. After a slow start in San Jose which reaches all the way back to last season, the speedy Boedker (15 goals, 22 assists, even plus/minus) finally got things moving in January – almost all of his production came in the 2018 portion of the season.
Third Line
The third line features Chris Tierney (No. 50) at center. Tierney (17 goals, 23 assists, even) is a set-up man with a creative passing game and is coming off his best season. It's likely the left winger is Timo Meier (No. 28) while Kevin Labanc (No. 62) is a possibility on the right. Meier (21 goals, 15 assists, plus-two) is a powerfully built man-child sort, and at age 21 is the youngest player on the roster. He is another player who had a much stronger second half of the season. Labanc (11 goals, 29 assists, minus-six) is a smaller, crafty player who is often unnoticed. Labanc's at his best on the power play where he earned 17 of his 40 points.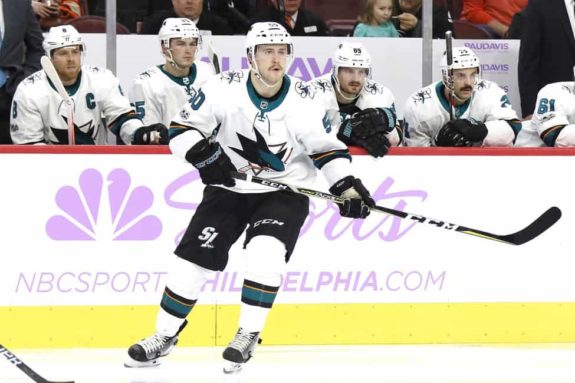 Fourth Line and the Rest
If Fehr is healthy, he'll center the fourth line. He spent much of the season playing for the San Diego Gulls, the Ducks AHL franchise. The veteran Fehr has been solid for San Jose (three goals, assist, plus-seven in 14 games) and is yet another physical presence. He'll be joined by a cast from among veteran Joel Ward (No. 42), Marcus Sorensen (No. 20), Jannik Hansen (No. 36), Melker Karlsson (No. 68) and Barclay Goodrow (No. 89).
Karlsson (eight goals, 11 assists, minus-five) is the Sharks most disruptive forechecker, but he had a down season. I don't think he's fully healthy, which leads to inconsistency from game to game. The added rest and less travel might help him. Karlsson gets moved among the lines a good bit. Gritty veteran Hansen (two goals, 12 assists, plus-two) went nearly a year between goals, but has shown an uptick in his game in the closing weeks.
Ward (five goals, seven assists, minus-two) had his least productive season in the last decade. The oldest Sharks player aside from Thornton, Ward is clearly on the downside of his fine career. Still, he's provided playoff heroics before. Sorensen (five goals, two assists, minus-five) is the quickest Sharks player but if everyone else is healthy, I don't expect him in the lineup. The Sharks would love to get Goodrow (seven goals, seven assists, plus-one) back in the lineup. He was very effective at even strength and excellent on the penalty kill. He'll also be a big body to combat the Ducks heavy style.
The Power Play
The Ducks might was well commit penalties against the Sharks because the power play isn't filling the net. The unit sizzled with a healthy Thornton, but the drop-off in his absence is more than concerning. The talent is there – the results are not. Burns is ill-suited to quarterback the power play, but there's no sign of change. Kane has been on the top power play unit since he arrived, but has yet to get a point in this role. He does, however, have a short-handed goal.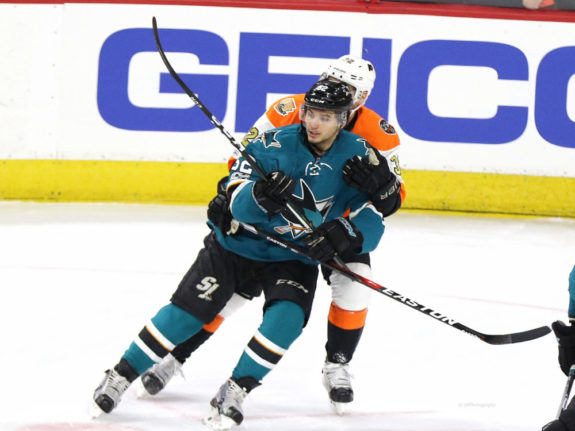 Penalty Kill
Might as well play five on five. The Sharks penalty kill has been terrific, giving up a power play goal to opponents in only six of its last 25 games (bizarrely giving up three in a game to Vancouver). The Sharks do not take a lot of penalties and they tend to lock it down when they are short-handed. Even 5-on-3 scoring isn't easy against this bunch. Burns, a liability at even strength, is very strong on the penalty kill. Tierney and Karlsson are among the top forwards in this role.
The Sharks Transitions
Yes, you know this Sharks team. But this has been a year of transition with many younger Sharks players taking important steps in their growth as players. Tierney, Meier, Labanc, Goodrow and DeMelo all took major steps forward. Ryan, as a rookie, was incredibly sound. Meanwhile, players like Braun and Boedker had much stronger seasons than last year. A lot of Sharks exceeded expectations.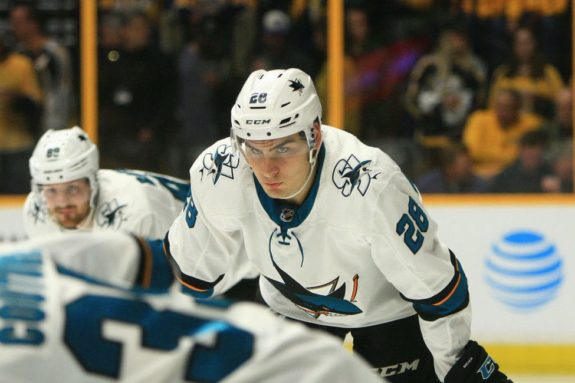 The Sharks have transitioned to a new identity around their power forwards. The acquisition of Kane and the growth of Meier added to the already physical Hertl. It has changed the team. The three are all very hard to move off the puck, they draw penalties and know how to score, each posting over 20 goals on the season. And they'll all be on different lines, making it hard to match up defenders.
How the Sharks Win
For the Sharks, it usually boils down to defense and goaltending. The Sharks must allow few odd-man rushes, because once they get their defense set, scores are few and far between. Martin Jones has been good in the playoffs with a career .925 save percentage. The Sharks don't need a lot from the power play, but they do need more than they've been getting.
The Sharks need to generate offense from the point, especially from Burns. Even though the Sharks are not a high scoring team, they are among the league leaders in points coming from the blue line. The forwards need to control the puck and the Sharks have the big, talented players capable of doing this.
When the Ducks top line goes onto the ice, expect the Sharks to match it with the Vlasic-Braun defensive pairing. They neutralized Connor McDavid in the playoff series last season and they'll need to be similarly effective in this series.
Experience plays a role. While Thornton and Marleau's combined 337 games of playoff experience is missing, most of the Sharks have a good bit. The only playoff newcomers are Labanc, DeMelo, Ryan (if he plays), Dell (if he plays) and (surprisingly) Kane.
Expect DeBoer to juggle the lines with some frequency. He'll be looking for a boost and he has a good track record this season when making this sort of in-game adjustment.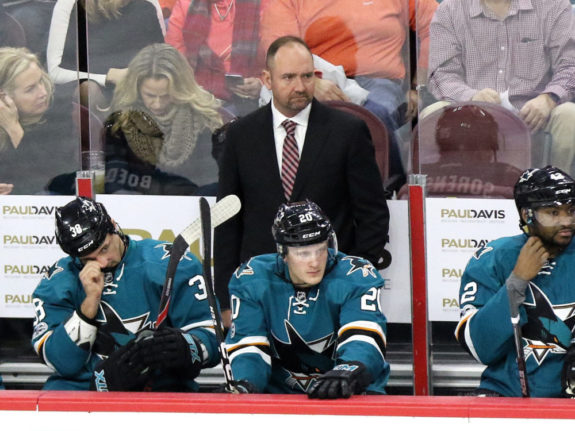 The ultimate key for San Jose is consistency. The team can play at a high level and are good enough to beat anyone. But can they keep playing at a high level long enough, consistently enough? The answer probably determines their fate.
All in all, expect the expected with this Sharks team. Ducks fans have seen much of it before, but there are notable differences. This Sharks are still a team Ducks fans will recognize. While it may be familiar, it won't be an easy team to beat.
ZEKE is a native of the DC area where he witnessed the birth of the Capitals franchise. After graduating from Cornell University, which had seen hockey glory before he arrived, he moved west to San Jose. There he witnessed the birth of the Sharks franchise. His wait to witness a Championship from any of these teams finally ended in 2018.