The number of New York Rangers who possess the dual characteristics of coming off career seasons while being seen as certain building blocks for the organization's future can be counted on one hand.
In fact, you might only need one finger.
In that case, it would certainly be reserved for Mika Zibanejad, the apparently rising center who scored a career-high 27 goals in just 72 games this season, establishing himself as a lethal force on the power play and greatly raising expectations for 2018-19.
Related: Zibanejad Key to Rangers Rebuild
Zibanejad bounced back from a December concussion to post the personal high in goals, 14 of which came on the power play to tie for sixth in the NHL. He recorded another career best in the faceoff dot, winning 50.82 percent of his draws, and had 212 shots on goal for easily the highest total of his five full seasons.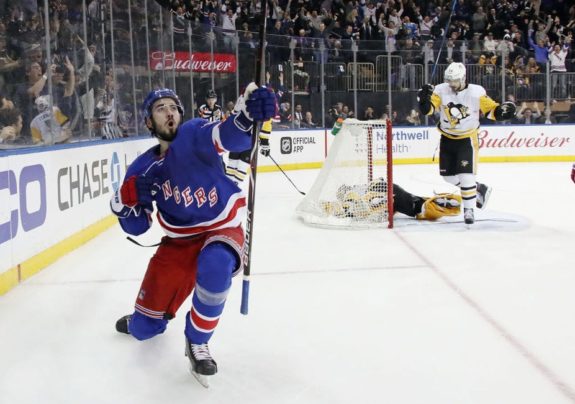 For a team desperate for a No. 1 center, the prospect of the sixth overall pick in the 2011 NHL Draft growing into that role has to be an exciting one. The Blueshirts envisioned exactly that result when they acquired him from Ottawa in July 2016 along with a second-round pick in 2018 for Derick Brassard and a seventh-rounder. Zibanejad's size, heavy shot and potential to develop into a strong distributor convinced the Rangers to deal a more proven offensive player in Brassard for what they saw as a center with a higher upside.
Specifically, the rebuilding Rangers felt that upside could result in Zibanejad developing into the pivot for their top forward line, and there's certainly evidence to suggest that might be happening: He recorded 10 goals and five assists over an 11-game stretch Feb. 28-March 24. Often teaming with resurgent left wing Chris Kreider, who returned in late February after missing nearly two months with a blood clot, Zibanejad helped drive a productive No. 1 forward unit late in the season that could prove to be a long-time combination for the Rangers.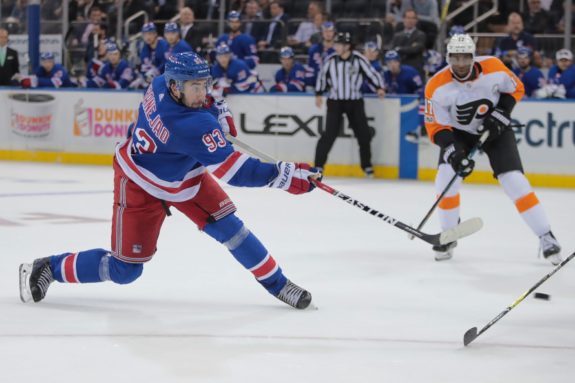 His powerful right-handed shot from the left circle created a lethal dimension for the Rangers' power play, which could be even more dangerous next season if defenseman Kevin Shattenkirk proves healthy and is effective in quarterbacking the man-advantage. Having given Zibanejad a five-year, $26.75-million extension before last season, the Rangers are certainly banking on him becoming an anchor of their offense.
Optimism Might be Premature
Despite all of that, some tempering of the optimism surrounding Zibanejad might be in order.
While last season was undoubtedly an extremely encouraging one for him, the timing of some of Zibanejad's production could prove worrisome. Plenty of players (and teams) have left fans feeling good about what was to come with strong late-season performances that were free of pressure, only to fail to duplicate those results when the games started to matter again. History has proved time and again that it can be dangerous to extrapolate too much from such efforts.
Zibanejad's 10-goals-in-11-games burst, while certainly impressive, began right after the Feb. 26 trade deadline passed. More than a third of his goals came after the Rangers had completed their extensive teardown deals, which brought plenty of high-end future assets but left little to no chance of making the playoffs.
Before that, Zibanejad had scored three goals in his previous 20 games.
There's also the Kreider effect: The Rangers' uber-talented but mercurial winger played perhaps the most forceful hockey of his career after the blood clot scare, which seemed to give him a new perspective on life and as a player. Kreider recorded three goals and seven assists during a five-game point streak March 14-24, including a four-point performance in an overtime victory over Pittsburgh to start that stretch in what might have been his most dominant game.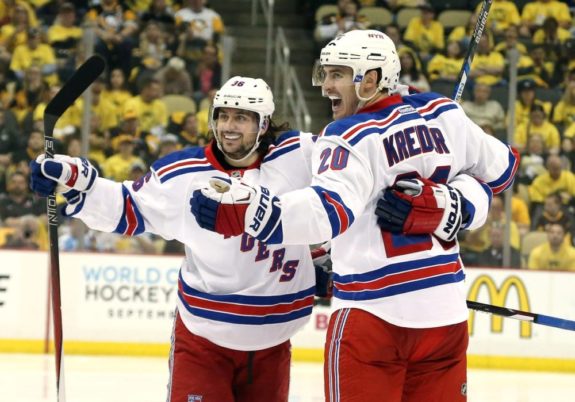 During that span, his linemate Zibanejad scored seven goals.
The pair has had strong chemistry on the ice since being first being united in training camp before the 2016-17 season, and they posted a 54.93 Corsi rating and were a minus-1 when playing together this season. A red flag arises, however, when one looks at Zibanejad's numbers without Kreider in 2017-18: a 47.97 Corsi, with a minus-15 mark.
Related: Rangers' Kreider Still a Superstar-In-Waiting
So what happens if Kreider doesn't maintain his supposed rise concurrently with Zibanejad's next season, reverting back to the inconsistent play that has plagued him throughout his six-year career? Perhaps a snapshot of that can be taken from the duo's final seven games, which immediately followed their hot streak. Zibanejad managed one assist and a minus-9 rating; Kreider—who also has an outside chance of being traded—had one goal and was minus-8 as the Rangers went 1-5-1 to close the season.
That was capped by a lifeless season-ending 5-0 loss at Philadelphia in which Zibanejad and Kreider were both minus-3.
Lesson of Derek Stepan Relevant
Even if that's too pessimistic a scenario, Zibanejad will need to gain the trust of the new coaching staff in all situations. Last season, a career-high 47 percent of his starts were in the defensive zone. That certainly showed a growing level of belief in his ability as a defender, but compared to teammate Kevin Hayes—an emerging two-way center and maybe the only Ranger who shares the "sure building block" status with Zibanejad—he wasn't seen as quite as dependable in that area. Hayes had 57.3 percent of his starts in the defensive zone.
The Rangers have been grooming Hayes as a defensive matchup center since he arrived in 2014-15. If Zibanejad is to earn the distinction of legitimate No. 1 pivot, however, the Blueshirts will need to be able to confidently push that percentage up, to trust him as much as anyone taking a big faceoff against an opponent's top line in his own zone. It doesn't appear that he's quite there yet.
"I want to be the No. 1 guy," Zibanejad said. "This is the first year I've been in that position where my line is against the other team's top line or checking line, and I think I'm learning how to handle it.
"I want to prove the Rangers did the right thing by trading for me and then giving me that assignment. And I want to prove to myself that I can be that guy, as well."
The concussion issue is also an unknown: Zibanejad revealed in March that he's "had quite a few." Many players have overcome serial concussion problems to remain as productive as ever; plenty of others have not. It's impossible to know how that history will affect him going forward, and whether another one could cripple his game.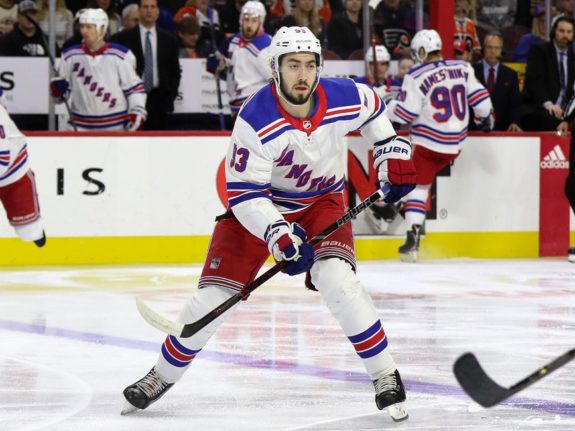 While Zibanejad seems to be trending upward, it's worth remembering that Derek Stepan also appeared to be on his way to becoming a top center during his seven seasons on Broadway. Stepan recorded 45 and 51 points in his first two seasons with the Rangers and didn't miss a game for his first four.
Instead of reaching that level, however, Stepan's ceiling proved to be that of a "1A" center, as he was often referred to in New York. He does many things well, is durable and produces, but he's recorded between 53 and 57 points in each of the last five seasons.
Stepan has proved to be a good-to-very-good player, but he never truly ascended to a No. 1 distinction. The Rangers, who were paying him as if he had, traded him to Arizona before the 2017-18 season.
Related: Revisiting Rangers Trade Deadline Deals
"I think even before signing, seeing Derek being traded was a little bit of an alert to me that I might get a chance to play a bigger role," Zibanejad said following the deal. "As a player, you always want more responsibility and a bigger role. It's something that I'm working really hard to make sure that I'm … taking advantage of the chance I'm getting."
Zibanejad's Game Needs to Grow in 2018-19
The comparison between Zibanejad and Stepan isn't perfect. Zibanejad was a top-10 draft pick, Stepan a second-rounder. Zibanejad is subsequently viewed as having more talent.
Still, 2018-19 will be a big season for the 25-year-old to show that he's an unmistakeable top-center-in-the-making, something the Rangers so desperately need. It's probably worth ignoring his career-worst minus-23 this season, given the Rangers' overall defensive issues. The same applies to his so-far scorching performance in the world championships, with Zibanejad recording five goals and four assists in seven games for Sweden in the preliminary round.
No, what will matter is 2018-19. If his production, consistency and dependability don't keep ticking up in 2018-19, it might become apparent that the Rangers have themselves another 1A in the middle.
And the seemingly endless search for a true No. 1 will continue.