With a record of 34-39-9 – last in the Metropolitan Division – it's fair to say that not much went right for the 2017-18 New York Rangers. Their catastrophic season, marred by injuries and torpedoed by poor performances by key players, had so much that went wrong to hide the critical flaws in their foundation any longer.
Among their worst offenses was the volume of shots and shot attempts the team gave up over the course of the year. It's here, in particular, that general manager Jeff Gorton will need to significantly improve his roster if he expects his 2018-19 squad to fare any better.
Remedying the situation is a cumbersome task but an important one nonetheless. In addressing it, Gorton will need to weigh all his options, including looking at internal promotions, doing diligent work on the trade market, and perhaps signing a free agent or two.
Killed by Corsi
To say that last season's Rangers weren't a very good defensive team is as strong an understatement as one could make. They gave up the fourth-most goals on the season with 263. Their 182 even-strength goals against were third-worst. Their 3.21 goals-against per game were fourth-worst. They gave up the second-most shots against per game with 35.3, trailing only their rival New York Islanders (35.6) by a slim margin. And they had the second-most losses when being outshot by their opponent (25) – a metric led by the lowly Ottawa Senators with 28.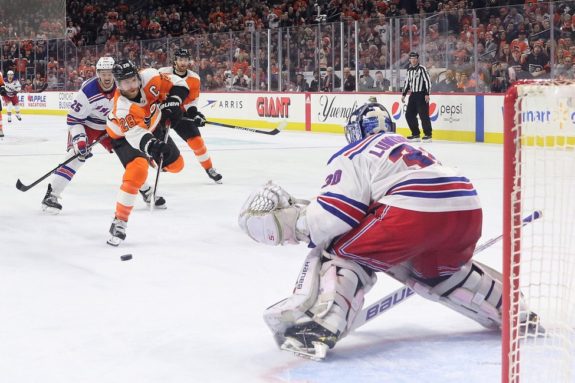 Moreover, according to Corsica, the Rangers were last in the league in Corsi for percentage (CF%) with 45.9 and in Corsi against per 60 minutes with 62.58. They were also last in expected goals-against per 60 minutes with 2.8 and expected goals-against with 186.5, and were third-worst in overall goals-against per 60 minutes with 2.25.
Things were so bad, it's hard to find a single shot or shot attempts category in which they didn't share common ground with the league's basement dwellers.
While goaltenders and defenders are normally the last lines of defense and often take the brunt of criticism, bleeding shots and shot attempts is a team failure and fail as a team the Rangers did. Among roster regulars who skated in at least 40 games, the Rangers had just two skaters – Mika Zibanejad (51.45) and Chris Kreider (50.77) – who closed the season north of 50% in CF%. But their defense, in particular, deserves the lion's share of criticism here. Again, among qualifying defensemen who played in at least 40 games, the team leader in CF% was Brady Skjei with a rather unimpressive 46.81.
The Rangers did lose their marquee free agent defenseman, Kevin Shattenkirk, to what would prove to be a season-ending injury a little more than halfway through the season, but in the interest of fairness, it was a season already spiraling out of control even with him in the lineup. And though they lost multiple defensemen including Marc Staal, Steven Kampfer, Ryan McDonagh, and Tony DeAngelo for various stretches, the majority of those man games lost occurred after the deadline teardown nearing the end of a season already forfeit.
Some of the Rangers' woes in this regard can be attributed to now ex-head coach Alain Vigneault and his coaching philosophy. His team strategy, even when it was successful, didn't fare well on the shot differential sheet because of his focus on shot selection. At his instruction, the team would routinely forgo low-quality attempts in favor of trying to set up higher-quality ones. Though fans, and perhaps the team, grew tired of it, the appearance of over-passing was actually a strategy.
Still, the Blueshirts' "advanced" numbers were exceptionally poor, suggesting there's still plenty to be concerned about even with Vigneault no longer in the picture. But the club does have options to address the problem, both internally and externally:
Brendan Smith: Don't Call it a Comeback
Internally, the Rangers could sink much of their hope into Brendan Smith, the veteran defender with three years left at $4.35 million per season, who finished the first season of his deal playing for Hartford. After being acquired at the deadline last year, he and Brady Skjei went on to form New York's most formidable pairing, backed by a 93.5% on-ice save percentage when he was on the ice.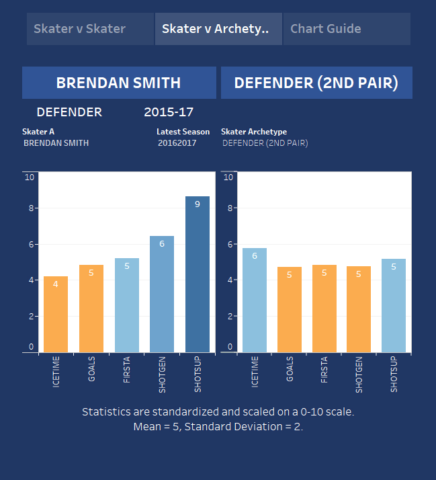 Early in his career, he was a strong possession driver, boasting a CF% of 54.9 across his six years with the Detroit Red Wings. It's worth noting, however, that he also averaged an offensive zone start percentage (oZS) of 57% in that time. Conversely, in the 62 games he's played with the Rangers, he's been a 47.5 CF% player with a much lower 48.8% oZS. Should the Blueshirts offer him an opportunity to rebound back to the NHL next season, it's possible, though hardly a given, that he could help alleviate their defensive issues provided the new coaching staff find a balance between the two.
There's also a chance, improbable as it may be, that Libor Hájek could make strides by commanding a spot out of training camp. The 20-year-old, drafted by the Tampa Bay Lightning for his defensive awareness, would be the youngest player on the Rangers' blue line but should be considered a longshot.
Gauging the Trade Market
Already expected to be active on the trade front, especially at the draft, perhaps the Rangers could go back to the old Arizona well and ask John Chayka's Coyotes about the availability of 30-year-old Niklas Hjalmarsson. The Swede, who recently played with Rangers' goalie Henrik Lundqvist during the 2016 World Cup of Hockey, is well known for his defensive, minute-crunching ability. His career 52.4 CF% sparkles next to his career 51.7 defensive zone start percentage (dZS), especially for a player averaging more than 20:00 of time on ice per game (TOI/G) over his career.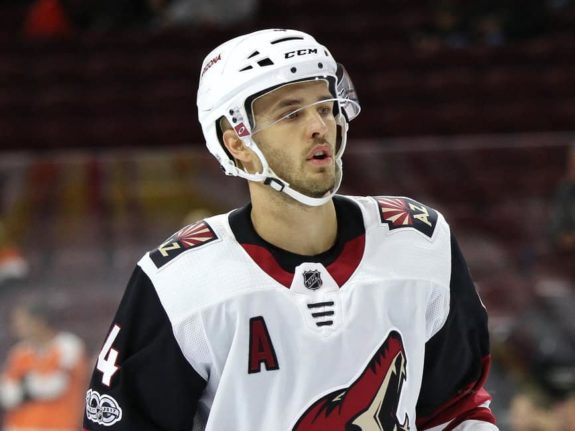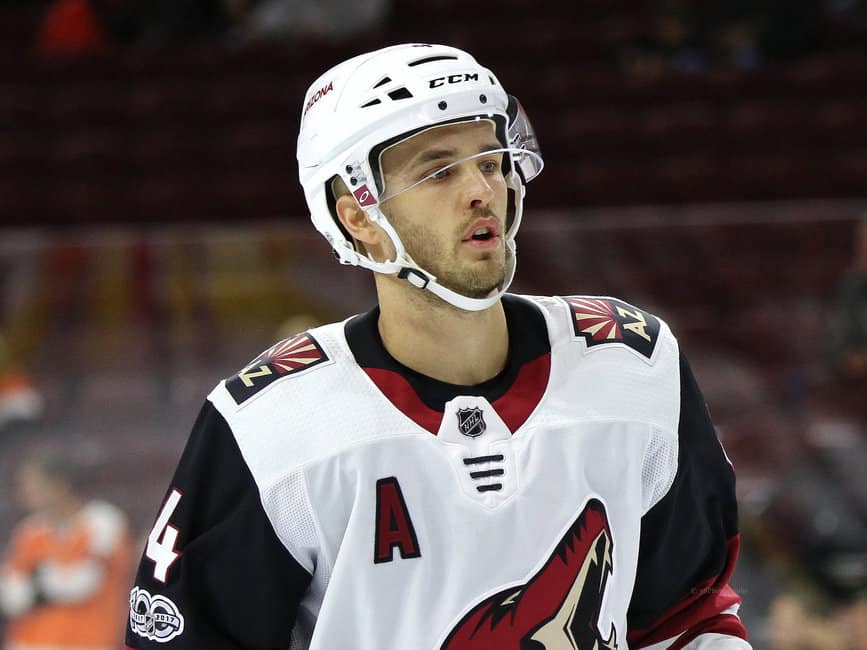 "He's steady for us," Coyotes head coach Rick Tocchet told reporters after Hjalmarsson returned from a lengthy injury absence this season. Few words, but few are needed for a player renowned for his dependability.
While Hjalmarsson isn't on the block, per se, he shouldn't be considered untouchable especially on a lowly Coyotes club that could use all the help they can get. Sportsnet's Elliotte Friedman wondered out loud in his 31 Thoughts column back in February if the Coyotes couldn't be convinced, albeit not easily, to parting with him:
Same thing for Niklas Hjalmarsson in Arizona. Don't think it is the Coyotes' preference to move him, so any potential payment would be high.
Also mentioned by Friedman was the Vancouver Canucks' Chris Tanev, who he reported "a few teams" asked about prior to the defender suffering a leg fracture in late February, a little more than a week before the trade deadline.
Tanev might be the best pure shot suppressing defenseman in the league. Like Hjalmarsson, Tanev boasts a quality 50.5 CF% yet averages an even higher dZS% of 55.3. He has also averaged shy of 20:00 per game over his eight seasons in the NHL. He won't provide much else, though, given he's not a very productive offensive player. But for a Rangers team bleeding shots and shot attempts, stopping the bleeding is of greater value than adding scoring for their back end, especially on a blue line expecting a fully healthy Shattenkirk next season.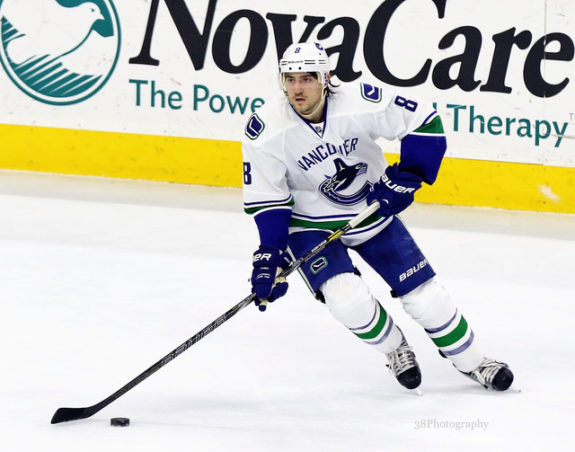 The only downside to acquiring either Hjalmarsson or Tanev is that both naturally play on the right side on defense. Hjalmarsson, somewhat begrudgingly, played on the left with the Chicago Blackhawks before he was traded to Arizona, but is clearly more comfortable on his natural side. Though the Rangers could use a boost on the blue line, they're relatively deep on the right where they have Shattenkirk, Neal Pionk, Tony DeAngelo, as well as Steven Kampfer and Smith under contract.
Fishing in Free Agency
The Rangers' final option, though perhaps the most costly, is the unrestricted free agent (UFA) market. This summer's crop of players isn't particularly rich in quality defensemen but there are a few names of note to keep a close eye on.
John Carlson—expected to sign a seven- or eight-year deal worth north of $7 million per season—is the clear leader of the pack here but his enormous price tag could cause the Rangers to balk at the idea of bringing in another high-priced free agent. Signing UFA players coming off career years is almost never a good idea, and the sting they're still feeling with three years left on Smith's contract probably hasn't begun to subside yet.
Instead, there are a handful of interesting options, including Calvin de Haan and Greg Pateryn, who should come at much more affordable rates.
de Haan boasts an aggregate 50.4 CF% through six seasons with the New York Islanders while playing with an average 50.3 dZS%. Up until this season, he also boasted positive CF% relative numbers that measure the even strength on-ice CF% versus off-ice CF%. Most of all, he's a reliable-in-his-end type who skates well and can crunch big minutes. Playing with the Isles, he's averaged more than 19:00 TOI/G, though he's also coming off season-ending shoulder surgery as well so buyer beware.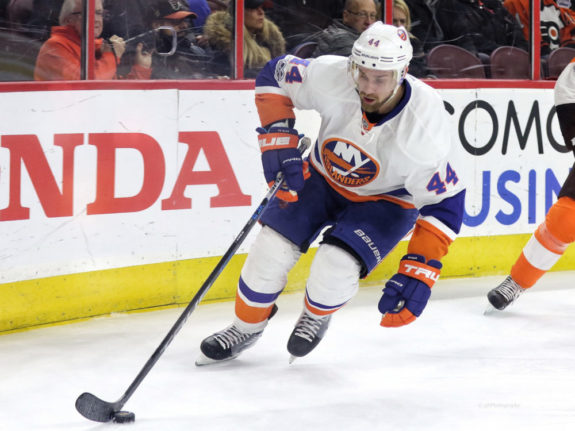 Pateryn, meanwhile, boasts an even 50 CF% with a much higher career 58.2 dZS%. Like Tanev, he can't be counted on to provide much offense, if any, but has averaged just north of 19:00 TOI/G with the Dallas Stars over the last two seasons in which he's been championed for his physical game. If the Rangers have interest in bringing in a quality veteran defenseman, though ideally a depth one, he could prove useful.
While shot attempts don't paint a complete picture by any stretch, for the Rangers, the sheer volume they gave up last season does, and it's a picture Gorton is going to need to dramatically alter to improve the performance of his defense as a whole. This is an especially important task given the fact that Lundqvist just turned 36.
Lundqvist is still the team's sure-fire starter but it would behoove the Blueshirts to begin seriously considering a reduced workload for the future Hall-of-Famer. Shoring up a porous defense could go a long way to helping him maintain a level of excellence as he continues to defy Father Time for as long as he can. And by improving their shot suppression numbers overall, his backups won't suffer to the same degree either.
Transforming the leaky defense corps would also directly benefit the trove of talented young players who will begin calling Madison Square Garden home next season. For those youngsters, the environment in which they're expected to develop will be everything. Just ask the Buffalo Sabres or Edmonton Oilers, whose endless losing has poisoned their wells. For the Sabres, the disease has even spread to their most stalwart veterans.
By preventing future Rangers rookies and fledgelings from experiencing a climate in which they are getting shelled on most nights, the Blueshirts can avoid developing the same broken culture which has sunk the Sabres and Oilers. This objective is more than just ideal; it's necessary.