It figures the division I follow the closest — the Pacific — is where I went the most wrong with my first-round playoff predictions.
I was fully expecting an all-SoCal final there between Los Angeles and Anaheim, but both the Kings and Ducks got swept in four straight by Vegas and San Jose, respectively.
NHL Playoff Predictions: Three-Peat or First-Timer? https://t.co/rnd8wKusdx #THW #NHLPlayoffs #StanleyCup #NHL pic.twitter.com/6EjQGBsc5H

— The Hockey Writers (@TheHockeyWriter) April 11, 2018
I should really stop betting against Vegas at this point since I've lost plenty of money and pride at the hands of the Golden Knights throughout their improbable debut campaign. Nobody anticipated this expansion team topping the Pacific standings in the regular season and the pundits were split on whether that success could carry over to the playoffs.
Now we know that answer — a convincing yes — but the Sharks looked even more dominant in dispatching the Ducks, who had come on strong down the stretch and appeared stronger than the Kings on paper.
San Jose went all the way to the Stanley Cup Final two years ago, but Vegas might be a team of destiny this spring. I've had a full week to fixate on that series, but I'm still debating which direction to go there since I didn't see that one coming.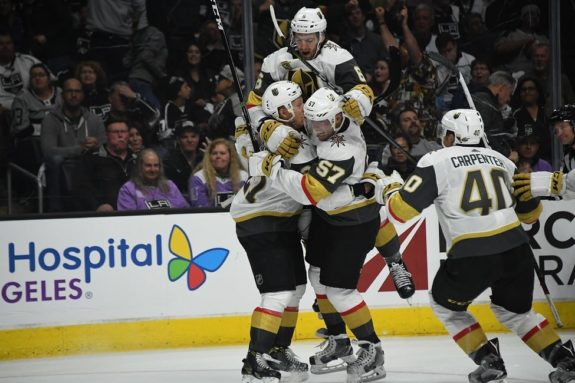 Meanwhile, the two matchups that I was most confident would come to fruition are set to steal the second-round spotlight with Pittsburgh and Washington clashing at this stage for the third year in a row, while one of the top two teams from the regular season will be bowing out between Nashville and Winnipeg. That's a shame, but those series should both be captivating for as long as they last.
And last but not necessarily least, Tampa Bay will be taking on Boston in another intriguing Atlantic battle.
We are in for a treat with all four matchups and hockey fans are sure to be the real winners. For the record, I went 5-for-8 in the first round — my other mistake was picking the Leafs over the Bruins — and I only got the number of games right in one series, that being Tampa in five over New Jersey. So here's hoping for a better showing with my second-round predictions:
Western Conference
Central Division
Nashville Predators (C1) vs. Winnipeg Jets (C2)
SEASON SERIES:3-1-0-1 for Nashville; 2-3-0-0 for Winnipeg
KEY PLAYERS:Every player is going to be key, with both teams boasting terrific depth and the ability to roll four lines. Auston Watson and Colton Sissons, for example, were among Nashville's top scorers in the opening round, while Winnipeg got significant contributions from the likes of Andrew Copp and Adam Lowry. Those aren't the first names that come to mind with these teams, but they will continue to be important pieces in the playoffs.
However, the bigger names probably decide this series. P.K. Subban against Dustin Byfuglien. Filip Forsberg against Patrik Laine. Ryan Johansen, Viktor Arvidsson and Kyle Turris against Mark Scheifele, Blake Wheeler and Paul Stastny. The list goes on and on, not to mention a goaltending duel between Vezina finalists with Pekka Rinne against Connor Hellebuyck. Yet, you get the sense this could be a high-scoring series with all that firepower.
ANALYSIS:The two best teams are meeting at least one, if not two rounds too early, but at least we get to see these titans in a seven-game showdown. Before the puck even drops, I'm fairly confident in declaring this the best series of the entire playoffs. I can't wait!
Nashville has experience on its side as a surprising Stanley Cup finalist last year and most would give the Predators the advantage on defence and in goal too. Winnipeg is the underdog, no doubt, but the Jets have a special group with a lot of elite talent that could really break out here. Nik Ehlers, Kyle Connor and Jack Roslovic need to find another gear for Winnipeg to prevail, but they definitely have the ability to get there. I quite like their chances . . .
PREDICTION:Winnipeg in 7.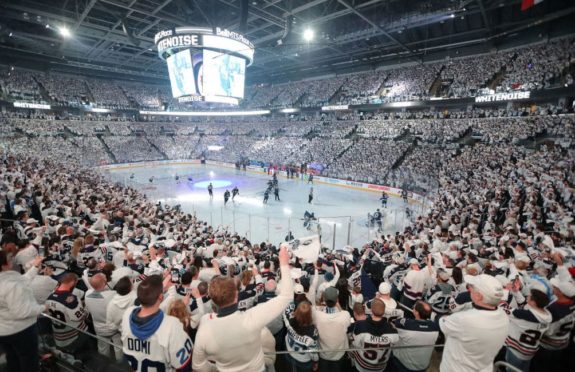 Pacific Division
Vegas Golden Knights (P1) vs. San Jose Sharks (P3)
SEASON SERIES:3-0-1-0 for Vegas; 1-2-1-0 for San Jose
KEY PLAYERS:Goaltending is going to be huge in every series — it always is — but especially here. Marc-Andre Fleury was amazing for Vegas in outdueling Jonathan Quick in a low-scoring opening round, while Martin Jones deserves a lot of credit for San Jose's sweep as well. Most would place Fleury in a tier above Jones when ranking the NHL goalies, but the Sharks' netminder is no slouch and has proven capable of stepping up at this time of year.
Depth is another common theme in the second round and these teams also have that in spades. The Golden Knights were built off the rest of the league's excess depth, but have since developed their own stars like William Karlsson, double-overtime hero Erik Haula and budding defender Shea Theodore. The Sharks have the more established stars like Joe Pavelski, Logan Couture and Brent Burns, with Joe Thornton as a potential ace in the hole for this series, but the Sharks' unheralded depth is what truly sunk the Ducks. Tomas Hertl and Timo Meier are known commodities, but Marcus Sorensen made a name for himself in the first round and Eric Fehr showed he's still got some game too.
ANALYSIS:The season series was closer than it appears, essentially all one-goal games with Vegas winning 5-4 in overtime on Nov. 24, 5-3 with an empty-netter on Feb. 8, and 3-2 in their final meeting on March 31, while San Jose prevailed 2-1 in overtime on March 22.
Vegas plays with a ton of speed and attacks in waves, which could be tough to handle for San Jose's defence corps and will be a drastic change of pace from the more methodical Anaheim approach. With a week to prepare for that adjustment, the Sharks should have a plan in place and they are every bit as dangerous on the counterattack.
Pete DeBoer wants his Sharks to be billed as underdogs, but the series opener will set that tone. Vegas has made the most of home-ice advantage all season long — and it no longer has anything to do with the Vegas flu — so San Jose could be behind the eight-ball early. But most of these Sharks have been through deep waters before, with the exception of Evander Kane, so they know how to navigate a seven-game series. Call me crazy, but I still see the Sharks as the favourites here — and, yes, that means betting against Vegas again like a blind fool . . .
PREDICTION:San Jose in 6.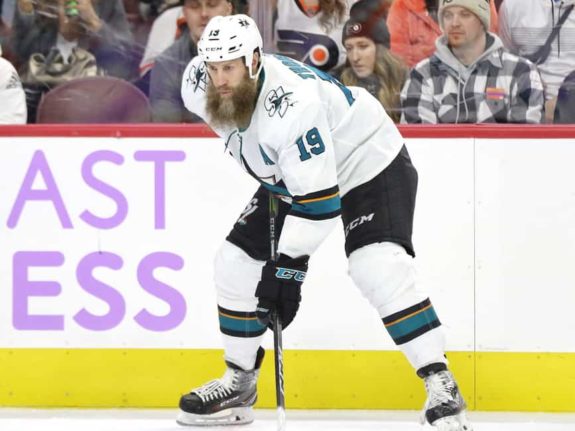 Eastern Conference
Metropolitan Division
Washington Capitals (M1) vs. Pittsburgh Penguins (M2)
SEASON SERIES:Tied 2-2-0-0
KEY PLAYERS:Here we go again, with Sidney Crosby against Alex Ovechkin for the fourth time in their illustrious careers and the third straight postseason. The faces of their respective franchises for more than a decade now, this has been a one-sided rivalry in the playoffs with Crosby prevailing all three times and going on to hoist the Stanley Cup in each of those years (2009, 2016 and 2017). Ovechkin has always been a stepping stone for Crosby, but a large percentage of the hockey world is rooting for the Great 8 to finally get over the hump while dethroning the two-time defending champions. There are 40 other players in this series, but those two will hog all the headlines and rightfully so as they look to further their legacies.
ANALYSIS:The bookies won't be giving Ovechkin and Washington much chance despite the Capitals having home-ice advantage and having defeated the Penguins 3-1 in their most recent meeting on April 1. Washington also won 4-1 on Nov. 10, while Pittsburgh scored 3-2 and 7-4 victories on Oct. 11 and on Feb. 2.
This series could challenge Nashville-Winnipeg as the best of all but, in my opinion, the Capitals had a better chance in years past and I can't see the third time being the charm unless Braden Holtby steals the show. Washington won't have nearly as much pressure this year and should be able to play like a team with nothing to lose as the clear underdog — Barry Trotz can motivate his team with that mentality for a change — but, reality is, it's a mismatch on paper this year. The Penguins are too deep, too powerful, and it sounds like Evgeni Malkin's injury isn't too serious despite the fact he'll be sitting out tonight's opener. Sorry folks, Crosby's reign will continue and it won't be all that close . . .
PREDICTION:Pittsburgh in 5.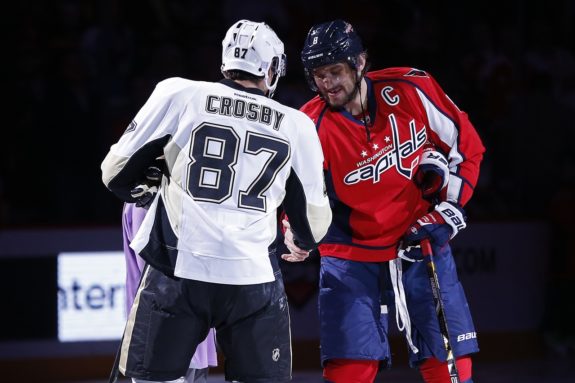 Atlantic Division
Tampa Bay Lightning (A1) vs. Boston Bruins (A2)
SEASON SERIES:3-1-0-0 for Boston; 1-3-0-0 for Tampa Bay
KEY PLAYERS:The battle of the top lines is going to be key here, with Boston's trio of Patrice Bergeron, Brad Marchand and David Pastrnak getting the better of Toronto — combining for 30 points, including nine goals, over seven games — while Nikita Kucherov took out New Jersey almost singlehandedly with five goals, including three game-winners. Steven Stamkos was still playing hurt, so look for him to step it up a notch assuming he's healthier for the second round.
Secondary scoring will also be crucial for both teams. Jake DeBrusk netted five goals for the Bruins — two in Game 7, including the series-clincher — while the Lightning can always count on Tyler Johnson rising to the occasion as the playoffs progress. Victor Hedman was somehow held pointless in the first round, but he should be showing up on the scoresheet sooner than later too. Torey Krug had no such struggles as Boston's go-to defender, producing nine points (two goals, seven assists) in helping the Bruins beat the Leafs.
ANALYSIS:Tampa Bay blanked Boston 4-0 in the finale of their season series on April 3 to lock up home-ice advantage throughout the playoffs. That's the most recent and most significant result between the teams, but Bruce Cassidy and the Bruins have been exceeding my expectations all season long and did win three of four against the Lightning, including 4-2 and 3-0 victories after the trade deadline in March.
Tampa Bay missed the playoffs last spring — mainly due to injuries to Stamkos and other key cogs — but the majority of this Lightning lineup has been on deep playoff runs. That includes newcomers this season like four-time Stanley Cup champion Chris Kunitz and deadline acquisition Ryan McDonagh, who chipped in four assists in the first round and seems to be fitting in nicely with Tampa's core. That trade, which also landed top-line forward J.T. Miller for the Lightning, may go down as the move that put Tampa over the top. Rick Nash, another deadline ringer, will hope to do the same for Boston after a relatively quiet opening round with just one goal and two points. Nash is no doubt hungry for his first Cup, but not as hungry as Stamkos . . .
PREDICTION:Tampa Bay in 5.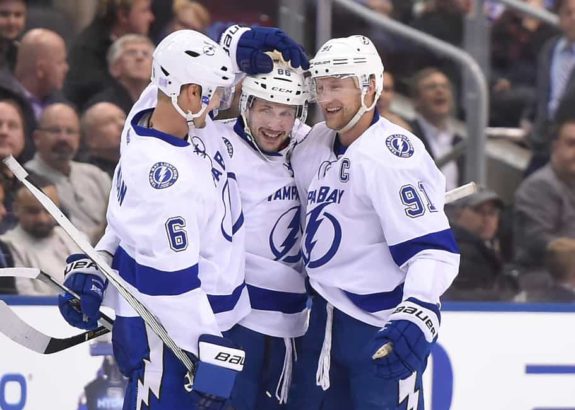 ---
Third Round
Western Conference Final
Winnipeg Jets (C2) vs. San Jose Sharks (P3)
PREDICTION:Winnipeg in 5.
Eastern Conference Final
Tampa Bay Lightning (A1) vs. Pittsburgh Penguins (M2)
PREDICTION:Pittsburgh in 6.
---
Fourth Round
Stanley Cup Final
Winnipeg Jets (C2) vs. Pittsburgh Penguins (M2)
PREDICTION:Pittsburgh in 6.
---
Final Thoughts
Interesting times ahead, but I'm sticking with my Cup prediction since it's still in play with both Winnipeg and Pittsburgh advancing. They will face tougher tests in the second round, but if the Jets and Penguins can get past Nashville and Washington, respectively, I think they will go all the way.
I went with San Jose and Tampa Bay largely because of past playoff experience and success, but Vegas and Boston could definitely ruin those predictions. I wouldn't be betting the house on any of these second-round series, but I'll be holding down the couch watching as much of them as possible.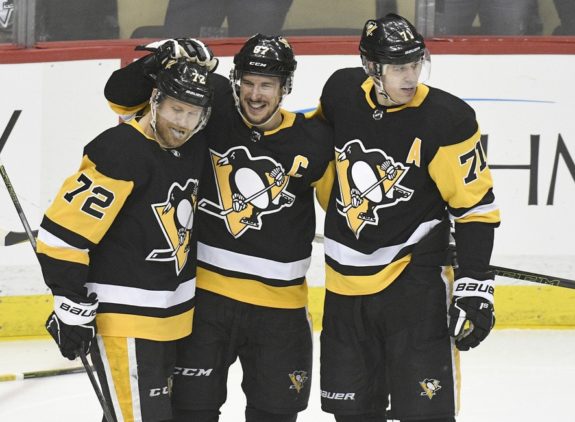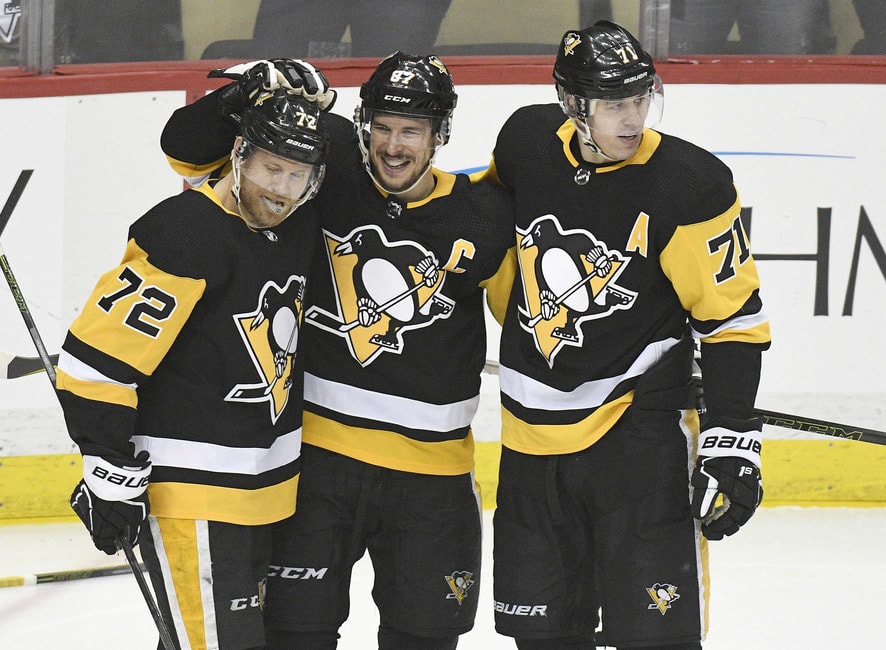 ---
Well, what do you think — am I going to fare better or worse in the second round? Feel free to share your predictions in the comments section below.