Call him a scapegoat. A Donald Trump supporter. Even a hothead. But there's one thing you can't call Robin Lehner now: a Buffalo Sabre.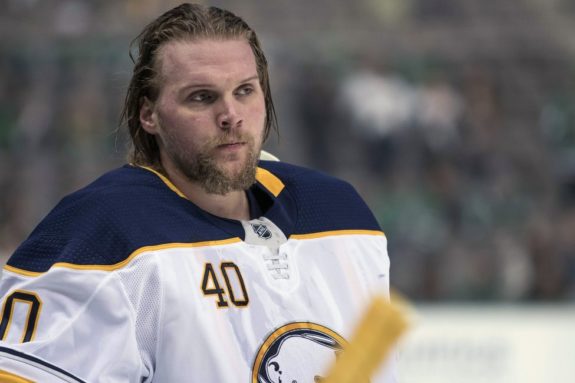 Because of a disappointing last-place finish by the Sabres last year, the team has decided to move on. General manager Jason Botterill announced Friday the Sabres will not extend Lehner a one-year qualifying offer of $4 million to retain his rights as a restricted free agent. The decision means Lehner will become free to sign with any team once the NHL's free agency period opens on July 1.
Related: Botterill Slams Door on Sabres' Season – Now What?
Botterill is Making Changes
Botterill is aggressively making changes. His disgust with the team's performance was on full display as steam shot from his ears during his end-of-year press conference. "I guess I could be articulate," he said, "but I'll just say it sucks that we won't be watching live playoff hockey right now."
Since the end of the season, he's signed free agents Andrew Oglevie and Lawrence Pilut, inked Victor Olofsson, Rasmus Asplund and Ukko-Pekka Luukkonen, and extended Casey Nelson. The writing was on the wall for a change in goal ever since Botterill stated that Linus Ullmark would be one of two goalies in Buffalo next season.
"We've made a decision on Robin Lehner. It was a difficult decision. Robin is not coming back next year. We felt we had to make some adjustments." pic.twitter.com/xJ0EmG0h8q

— Buffalo Sabres (@BuffaloSabres) June 22, 2018
"It's a scenario where you finish 31st you have to make some difficult choices," Botterill told reporters in Dallas, hours before the Sabres were scheduled to open the NHL draft with the No. 1 pick. "Part of it that was so disappointing and difficult about it is that I know Robin is passionate about the city of Buffalo, and passionate about helping this organization. We felt like we had to make some adjustments."
Moving on From Lehner
Lehner's time with the Sabres was plagued by injuries and inconsistency. In the Sabres' opening game, he sprained his right ankle and missed the first half of his first season. His injury was likely caused because he tried to play despite being woefully out of shape–some say by as much as 45 pounds–because he had been recovering from his second concussion in about two years. In three seasons with Buffalo, he finished with a 42-61-22 record and failed to establish himself as a starter. It's enough to force Botterill to move on and shake things up.
Letting Lehner go means Botterill has to find a new, more reliable goalie to fill Lehner's skates. Instead of a $4-million offer, he'll likely be investing less money into Carter Hutton or Jonathan Bernier.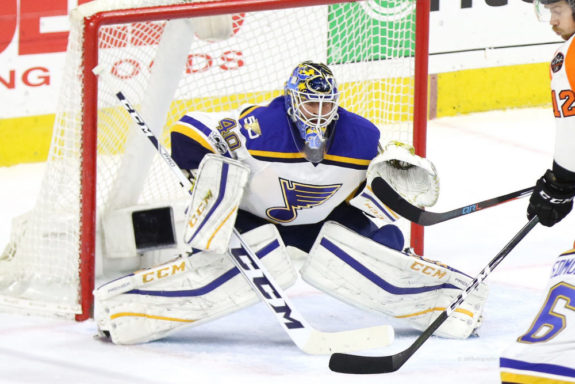 One of the catalysts for the move not to qualify Lehner is that Botterill is promoting Linus Ullmark from the Rochester Americans to the Sabres for the 2018-19 season. After spending the past three seasons in the minors with some success, Linus will get an opportunity to win the starting job with the big club. He was voted to the AHL All-Star game in 2017 and 2018. Last year in Rochester he posted a 2.44 goals-against average (GAA) and a .922 save percentage (SV%). In five games last year with the Sabres, he had a 2.00 GAA with a .935 SV%. Ultimately, he is seen as the Sabres' future in net.
"There's a growing process here with everything," said Botterill. "We think Linus is ready for the next challenge here but to hand over the No. 1 role, I think that's unfair to any young goalie."
Assessing Lehner's Value
Botterill had no hand to play in trading Lehner. If a team wanted him at his $4-million salary cap hit, he would have been moved at the trade deadline. Teams just didn't show enough interest.
The price of Lehner's qualifying offer was an issue for a rebuilding team seeking to free up space under the salary cap to address other needs. Not qualifying Lehner gives the Sabres some flexibility. Otherwise, they would have had to wait for the arbitration process to play out before they could do anything.
It made little sense for Botterill to qualify Lehner before the deadline for him to become an unrestricted free agent. Even teams that may be interested in his services are not standing in line to pony up $4 million. Now, since Botterill is walking away from him, they can get him without surrendering a single asset or dollar.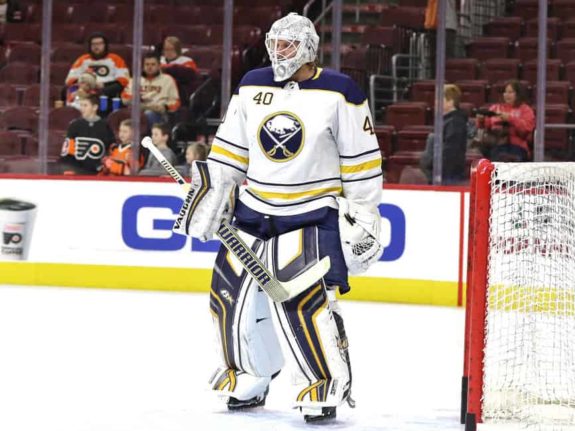 On the flip side, if they signed Lehner with a qualifying offer, the worst that could've happened was that he played back up to Ullmark for one season. It works on paper, but it's a giant piece of humble pie the fiercely competitive and intense Lehner would not swallow easily. And then there's the fact that Lehner would be a $4-million backup. According to CapFriendly, at that price tag, Lehner would be the 25th highest-paid goaltender in the league. There are a lot of guys getting paid more who and are demonstrably worse; there are very few getting paid less who are demonstrably better.
The way some fans speak of Lehner, one might think he was the worst goalie in the NHL. In reality, he was far better than some starters, like Carolina Hurricanes goalies Scott Darling and Cam Ward. All told, he was also better than more than 20 other goalies last year. He wasn't anywhere near the worst.
Behind the worst team in the NHL for three seasons, he had decent-to-mediocre stats. He posted save percentages of .924, .920 and .908 in 2015-16, 2016-17 and 2017-18 respectively. The fact that he won only 42 games of the 129 he started was often not his fault. The majority of nights he had less than two goals from his team in support. In the end, he didn't win games.
Perhaps the most frustrating part about Lehner is he could make three fantastic acrobatic saves and follow it up by letting in a mind-numbingly easy softie. He was consistently inconsistent.
For Botterill, it may not be as much about thinking he can find a better option than Lehner. It may be a necessary step in the team's culture shakeup.
Tim Murray's Hot Mess
Tim Murray's asset management was brutal. The overpayment for Lehner was outrageous. At the time the Sabres picked him up, on draft day in 2015, the goalie had proven nothing in the NHL and was closer to being a prospect than a starter. To add insult to injury, it was a draft year thought to be deep with NHL talent. The Philadelphia Flyers took Travis Konecny at No. 24, the New York Islanders selected Anthony Beauviller at No. 28, and the Carolina Hurricanes snagged Sebastian Aho at No. 35 overall.
Rather than the 21st overall pick in the first round, at the most, the Gothenburg, Sweden native was worth a second- or third-round pick. A first-round pick for a backup goalie who was coming off a concussion and was relatively unproven at the NHL level isn't fair value. Sure, the Sabres also got a 17-year journeyman veteran, David Legwand, in the deal, but that hardly changes things. He was nothing more than a throw-in that Ottawa insisted on as a way to be rid of the aging and less-effective veteran and his outsized salary.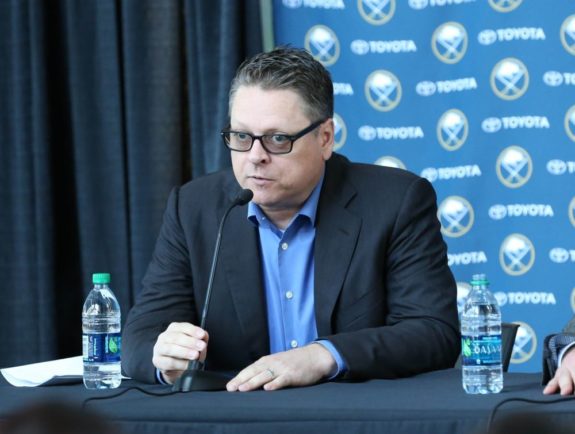 Murray served as the Senators' assistant general manager before taking over the job in Buffalo in January 2014 and also doubled as GM of the Senators' AHL affiliate in Binghamton, where Lehner led the team to win the Calder Cup in 2011. Simply put, he got fleeced by his uncle, Bryan Murray, the Senators' general manager.
Murray gave out picks like candy on Halloween. The trade for Lehner may rank as one of Murray's worst in his brief time with the Sabres. Many reporters, pundits and fans were outraged at the time. Lehner has been under the microscope since the moment the trade was reported.
The 6-foot-5, 225-pound goaltender posted a 9-12-3 record in 25 appearances as a member of the Ottawa Senators in the 2014-15 season. He had played in parts of five NHL seasons with the Senators after they selected him in the second round (46th overall) of the 2009 NHL Draft.
"I think he's a very talented, big, strong young man who is just scratching the surface. Hopefully we can bring the best out of him," said Murray.
Lehner's success came at the AHL level. There he backstopped the Binghamton Senators to a Calder Cup Championship in 2010-11, earning the league's postseason Most Valuable Player award, and later earned an AHL All-Star selection in 2012-13 on the strength of his league-best .938 save percentage.
"Lehner has proven he can win and he's highly competitive," Murray told reporters. "Lehner was our target. He was the number-one goalie available in our eyes."
Lehner was expendable by the Sens after Andrew Hammond was called up midseason and led the Senators' push to make the playoffs. They also had veteran goalie in Craig Anderson on their roster.
Love Him or Hate Him
Regardless of fan feelings about Lehner, there's one thing everyone can agree on about the steely-eyed backstopper: he made us feel something. He was a polarizing figure.
"Miss Ya, Crazy Eyes"
Some believe Lehner never got the benefit of the doubt in Buffalo. He was plagued by the bad, even atrocious defenses in front of him. He was a lightning rod for criticism–more than he deserved; the easiest person to point the finger of blame on an underperforming roster. While he single-handedly didn't win games, he was reason number three or four for most losses.
Despite his stats, which got worse as time went by, Lehner brought an intensity to the game that was not shown by many of his teammates. He was a fiery guy who spoke his mind in the locker room and wasn't afraid to defend his teammates in scrums. At times it might have worked him to the point of getting him off his game.
Just as Scotty Bowman couldn't have coached the team of the last few years to the postseason, it's doubtful any goalie, except Dominik Hasek, could have led the Sabres to the playoffs the past few years. Bad teams make for bad goalies. It's rare that an outstanding goaltender can carry his team.
"Good Riddance, Lenny"
Some fans will cheer Botterill and rejoice at the fact they'll never have to see Lehner in blue and gold again. They'll claim he was a mistake from the very beginning and that Botterill was wise to let him walk for nothing. They'll point to Lehner's flawed technique. That he dropped and flopped too often. And that he was terrible at poke-checking and handling the puck. All resulting in too many bad goals.
And then there were shootouts. Lehner was just like the cheese from near his native country: Swiss. Over his three years with the Sabres, he allowed 16 goals on 24 attempts. A math degree isn't needed to know those numbers are awful. He was a sieve. In fact, both hockey journalist Kris Baker and WGR Sports Reporter Paul Hamilton have recanted stories of Lehner refusing to practice shootouts after 3-on-3 drills. That attitude can't have sat well with management or teammates.
Then there's the possibility that Lehner may have been a problem in a locker room filled with fragile mindsets and attitudes of entitlement. He often called out his teammates, and at times, himself. It's Botterill's job to fix the toxic locker room. Lehner might be one of those toxic agents. If so, letting him go is addition by subtraction. All Sabres fans can do is trust Botterill to weed out the problems. He knows the locker room dynamic better than any fans.
Related: Sabres Welcome Dahlin with No. 1 Pick
Moving Forward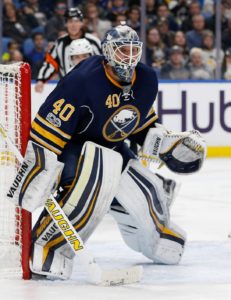 On the right team, Lehner could be a serviceable backup with the potential to play up to 50 games if needed to take over the crease. He could get a two-year deal with incentives. It's possible but not likely he could go to a team with a good defense and be a brick wall.
There's been little talk about goaltending coach Andrew Allen and his failure to help develop Lehner. The fact that Lehner never improved his craft begs the question; did Allen not do his job or did Lehner just not listen. It didn't really matter one way or the other. Though not his fault, Lehner was never going to live up to the expectations that come from being acquired for a first-round draft pick. He could've won a Vezina and even then the naysayers would still argue he wasn't worth that pick.
Every Sabres fan wished Lehner would have posted Jennings Trophy numbers, but he didn't. He had a few flashes of greatness and some flashes of just goodness, but all too often he let in back-breaking goals at the end of games. If Botterill is ready to move on, everyone else can too. It's best for both Lehner and the Sabres that he start anew somewhere else. For Botterill and Lehner, that's a win-win situation. And wins are exactly what neither has had lately.