In a headline that will feel like a flashback to 2016 for St. Louis Blues fans, David Perron has once again signed a contract with the team that drafted him. Perron's infatuation with playing in St. Louis is well documented, but fans are split on the decision to return to this well. Given the way this summer has played out so far, though, Blues fans should be thankful for players like Perron, who love St. Louis and are eager to play there.
Draft Day for David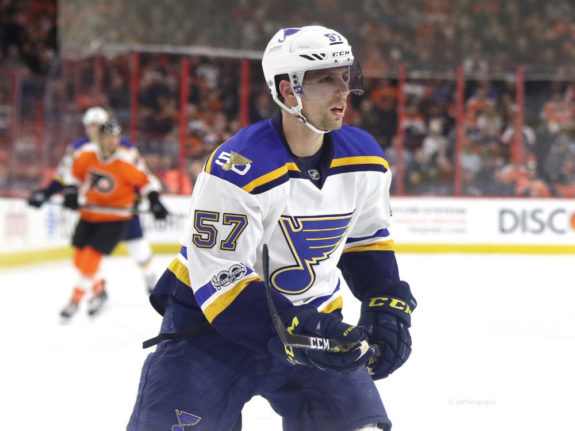 It was a pleasant day in Columbus, OH when Perron was drafted in 2007. Like most of the players in that room, Perron was only a teenager, waiting to hear what franchise he would call home for the foreseeable future. The Sherbrooke, Quebec native heard his name called 26th overall. The Franchise? The St. Louis Blues, a team Perron would become very fond of over the course of his career.
He quickly emerged as the centerpiece of the core of the rebuilding Blues. Along with fellow prospects like David Backes, T.J. Oshie, and Patrik Berglund, Perron blossomed and was part of the squad that returned the Blues to relevance, and to the playoffs. In his first stint with St. Louis, Perron recorded 198 points in 340 games.
A Crumbling Core
Over time, Blues fans became increasingly dissatisfied with the lack of production from this young group. Perron, in particular, was labeled a player who took silly penalties and disappeared in the playoffs. Despite having signed a four-year extension the summer before, the Blues traded Perron to the Edmonton Oilers in the summer of 2013, receiving in exchange Magnus Paajarvi and a 2014 second-round pick (which became Ivan Barbashev).
Perron took off in Edmonton, scoring 57 points in his first season. But the Oilers were still rebuilding at the time, and as sellers, Perron was traded once again to the Pittsburgh Penguins at the 2014-15 deadline. Despite some early success, Perron never really caught on with the Penguins and a season later, at the 2015-16 trade deadline, he was dealt to the Anaheim Ducks. In 28 games to finish the season there, he recorded 20 points, and after stints with four different teams in four years, he would finally get to choose his own destination as an unrestricted free agent.
Home Away from Home
Perrons had plenty of options as a free agent. Among them was an extremely compelling offer: a chance to return to his home province and play with his childhood team, the Montreal Canadiens.
But Perron did not take a hometown discount, at least, not to play with the Canadiens. Reports at the time suggested that he not only rejected an offer from his dream team but rejected an offer for more money than the one he took. For Perron, the most compelling opportunity was not the chance to return to his childhood team but to return to the team that raised him, the St. Louis Blues.
Finally coming home! Missed you guys dearly! Cannot wait to see all of you again! Back to my 1st love @StLouisBlues pic.twitter.com/gbjJsse3oP

— David Perron (@DP_57) July 1, 2016
Calling St. Louis "home" and referring to the team as "my 1st love" made clear how Perron felt. No other offer appealed to him more and he signed a two-year deal with an AAV of $3.750 million.
"He was very excited about the opportunity to come back to St. Louis," Blues GM Doug Armstrong said in an interview with NHL.com. "He certainly has a warm spot for the fans and the city. When you have players that have been here and are looking to come back, it was nice to hear the excitement in David's voice about returning to the team that drafted him."
Perron's year with the Blues was a successful one. One of the few players on the team who did not miss a game in the 2016-17 season, Perron recorded 46 points in 82 games. When the playoffs rolled around, however, Perron was once again a non-factor, tallying only one point in eleven games.
What Happens in Vegas…
After the season, the Blues were faced with a difficult decision: who to protect in the Expansion Draft? With just a year left on his deal and without a No Movement Clause forcing protection, Perron was left unprotected and, unsurprisingly, he became a Vegas Golden Knight shortly thereafter.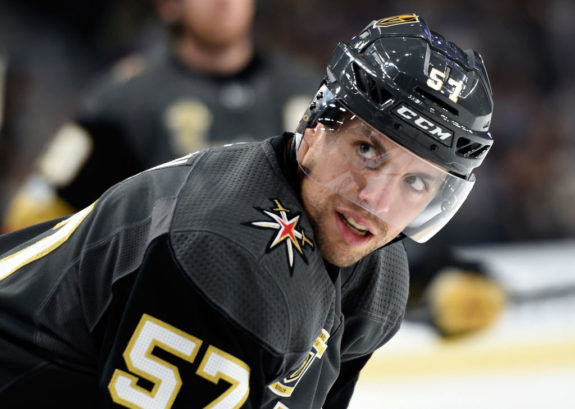 Perron would go on to have a career year with the Golden Knights, who had a magical season as one of the most successful expansion teams in the history of sports. Perron recorded 66 points in 70 games with the Knights, including 50 assists. In 15 playoff games, he recorded 9 points. Both totals were career highs and Perron had positioned himself to demand a big contract as a returning UFA.
…Doesn't Stay in Vegas
According to TSN's Darren Dreger, Perron had as many as five offers to consider in 2018, but perhaps the decision was a foregone conclusion. With a 4-year, $16 million contract on the table from the team that, according to an Instagram post he made when he left for Vegas, "made [him] a man in the 7 years I played," Perron once again signed with the Blues.
The news was met with mixed reviews by fans. Some acknowledged that Perron was a talented top-nine forward coming off a career year and that $4 million is not a lot to pay him per season. Others were annoyed that the Blues had returned again to Perron for help. The initial skepticism was washed away in the aftermath of the Ryan O'Reilly trade but there is little question it will return when Perron makes his first mistake next season.
Perron's Love Affair with St. Louis
Perron deserves a chance to be loved by the fans of St. Louis as much as he loves them. In a summer when the Blues were publicly snubbed by John Tavares, Perron's clear admiration and fondness for the city, its hockey team, and its fans should be appreciated. The fact that he took less money to return to the Blues, twice, should be celebrated.
With the inclusion of Patrik Berglund in the Ryan O'Reilly trade, Perron is now the only member of that young forward core that once had so much promise. And while that core never brought home a Stanley Cup, his return should excite Blues fans nonetheless. Yes, David Perron has signed with the St. Louis Blues again. Yes, it's a story we've heard before but it's one that never gets old.