Beginning June 1, NWHL teams can re-sign players from their 2017-18 roster and their draft picks. Additionally, for those players who have completed their college eligibility and want to continue their hockey careers, NWHL Free Agency provides the best opportunity to continue playing at the highest level of professional women's hockey. The fourth season of the NWHL will begin in October as the Metropolitan Riveters defend their Isobel Cup championship, and with the addition of a fifth team – the Minnesota Whitecaps – this will be the most competitive season yet.
My colleague Dan Rice will keep THW readers up-to-date on Metropolitan and Connecticut's signings throughout the summer, while I post updates on Buffalo and Boston. Together we will be keeping readers informed of all of Minnesota's signings. 
Russo Re-Signs, Ready for a Riveters Repeat
Miye D'Oench Rejoins Riveters, Ziadie Also Signed
Golden Gophers Galore as Schipper Signs with Whitecaps
Compared to the other signings that the Buffalo Beauts have made this summer, defense is the one position where the team was looking a little skimpy. Don't take that the wrong way – the talent is certainly there (and in droves) among the three defenders who have been inked so far – but heading into late-July, Buffalo is already completely set at goalie and have nine forwards signed. The defense was not even halfway there. But now the Beauts have brought back arguably their best defender from the 2017-18 NWHL season, Sarah Edney. Serving as one of the team's two alternate captains, Edney helped vault her team into the Isobel Cup Final – their third straight visit – and saw herself named an NWHL All-Star. She also routinely jumped into the rush and added some opportunistic scoring during Buffalo's biggest games this past season.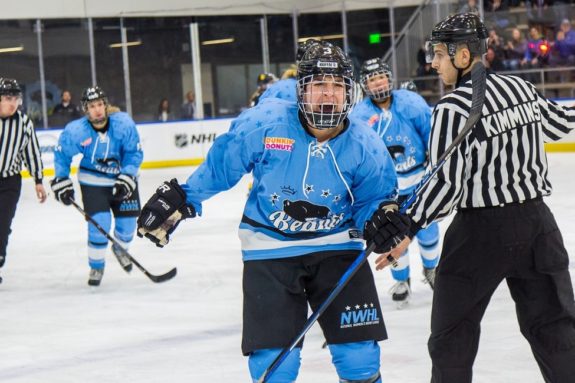 "Sarah is a smooth skater and adds hockey sense and experience to our lineup," Buffalo GM Nik Fattey said about the re-signing in a press release. "She was an important part of our great team last year, and we are excited to have her back in Buffalo."
THW takes a closer look at the Edney signing. We will look at what she did for Buffalo during her first year with the team, as well as what she will bring for this upcoming season.
Edney's First Season in Buffalo
Edney led all Beauts defenders in goals with a total of three in 14 regular season games this past season. Additionally, with her three assists giving her six total points on the season, she finished second overall in scoring for Beauts blueliners behind Sarah Casorso's nine points (0G, 9A). It wasn't just that Edney scored, but it was how and when she scored. One of her goals came on the power play, as did two of her assists. During the Beauts regular season finale on the road in Connecticut, Edney scored the game-tying goal in the second period – a power play tally – and grabbed an empty-netter to end the score at 4-1.
Once the playoffs came around, Edney played what might have been her finest game of the season when Buffalo won their semifinal match against the Boston Pride in OT. Stepping up into the play in the opening period, she pounced on a Kourtney Kunichika pass and buried one through Pride goalie Brittany Ott. She then picked up an assist on Corinne Buie's power play goal in the third period that tied the game at 2-2 and sent it to overtime where Buffalo eventually won. Edney goes down in history as having scored the first home playoff goal in Beauts history. She was the only Beaut to have more than a single point during the team's two postseason games. Taking all of this into consideration, she is indeed opportunistic.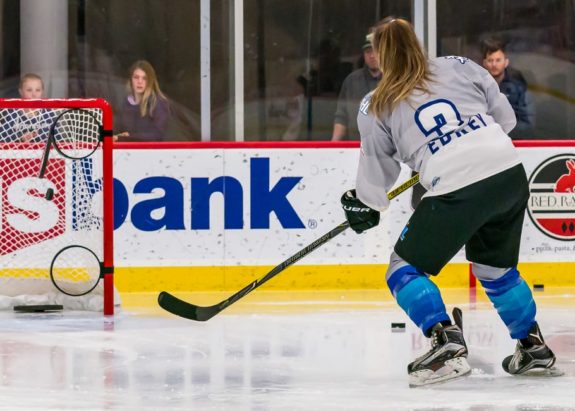 That being said, Edney is also heavily dependable and smart with the decisions she makes on the ice. She knows where to put her body, and she maneuvers with great confidence. Her 10 blocked shots were third-most among Buffalo defenders behind Jordyn Burns (14) and Colleen Murphy (11). Once again, in the playoffs she performed even better. Edney's five blocked shots in the playoffs tied her with Buie for not only the team lead in that category, but also as tops among all players in the entire league. Saying that sound positioning is part of her defensive repertoire is an understatement. When THW discussed the defender position with Edney back in Mar. 2018, she shared the following thoughts with us:
"As a defenseman, I do a lot of reading off of other players," she said. "I like to try my hardest to keep my calm and not make any sudden movements, and anticipate where other players are going to be so that I can get there first or at the same time as them to break up any developing play."
How the Buffalo "D" Is Starting to Form
In terms of signings, the Buffalo defense is about halfway there. With Edney in the mix now, it means that she, Lisa Chesson, Savannah Harmon, and Jacquie Greco are all under contract. The defense corps is starting to be rounded out. It also appears to be a formidable one, as three of the four are returnees, two are Isobel Cup champions (Chesson, Greco), and one is an up-and-coming talented rookie (Harmon) making a jump to the pros after a stellar college career. Figure that four more defenders will be signed before the start of the 2018-19 season, give or a take one. Having signed Edney, it is possible the team has made their most key signing for their back end.
CAN WE GET A "GO BEAUTS!"@s_edney93 is pumped for year ✌️! pic.twitter.com/ifda53Xas1

— Buffalo Beauts (@BuffaloBeauts) July 25, 2018
She shared the following message in a video posted on Beauts social media outlets:
"Hey Beauts fans! Can't wait to back for my second year. See everyone in October. Go Beauts!"
The Beauts have made the most signings of the five NWHL teams thus far. Here is a look at how their roster is currently shaping out as of Jul. 25:
Goalie: Nicole Hensley, Julia DiTondo, Shannon Szabados.
Defense: Lisa Chesson, Savannah Harmon, Jacquie Greco, Sarah Edney.
Forward: Hayley Scamurra, Corinne Buie, Maddie Elia, Dani Cameranesi, Annika Zalewski, Julianna Iafallo, Kelly Babstock, Jordan Juron, Emily Janiga. 
General Manager of the Buffalo Beauts (NWHL). Hockey history writer "The Hockey Writers". Credentialed media for the NHL Combine and 2018 IIHF World Junior Championships in Buffalo, NY, USA. Born and raised in Buffalo, NY. Lifelong hockey fan for over 40 years. Proponent of the women's game.