Beginning June 1, NWHL teams can start signing players for the 2018-19 season. For players who have completed their college eligibility and want to continue their hockey careers, the free agency period provides them an opportunity to continue playing at the highest level of professional women's hockey. The fourth season of the NWHL will begin in October as the Metropolitan Riveters defend their Isobel Cup championship, and with the addition of a fifth team – the Minnesota Whitecaps – as well as the inclusion of players who participated in the 2018 Winter Olympics, this very well could be the most competitive season yet. 
My colleague Nathaniel Oliver will keep THW readers up-to-date on Boston and Buffalo's signings throughout the summer, while I post updates on Connecticut and the Riveters. Together we will collaborate to keep readers informed of all of Minnesota's signings.
Golden Gophers Galore as Schipper Signs with Whitecaps
Riveters Re-sign Trio of Defenders
Janiga Returns to Beauts After a Year in China
On July 24 the Riveters re-signed Miye D'Oench, one of their top players from a season ago who was dominant during the regular season (13 points in nine games) before she suffered a high ankle sprain that kept her out of action until the playoffs. In both playoff games she recorded an assist and of the 13 total games she played (preseason, regular season, playoffs) there was only one game that she failed to record a point in – a 5-1 win in Connecticut. Over her two-year NWHL career, D'Oench has racked up 27 points (12g-15a) in 27 regular season games.
From opening day last season against the Boston Pride until the Isobel Cup Final game against the Buffalo Beauts, every game that D'Oench appeared in for the Rivs ended in a victory; she assisted on the lone goal by her linemate Alexa Gruschow in the 1-0 championship game win. Her re-signing now gives the Riveters a total of nine returning players from their 2018 championship team, with a few more expected to also re-sign before the end of the summer. "I can't wait to get back to Barnabas to defend our Cup in front of the best fans in the league," D'Oench said through the NWHL's press release announcing her signing.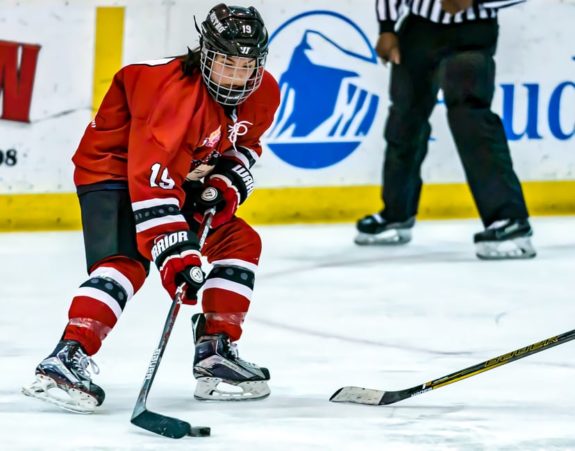 "From NHL partnerships to the expansion to Minnesota, the league has taken huge strides in the past year," D'Oench added. "It's inspiring to see the momentum women's hockey has earned on the international stage as well, and shout out to the amazing performance the athletes gave in that gold medal game. It's an amazing time to be a part of this sport and I'm so excited to return to the Riveters this coming season."
"Only by looking back at my four years on the women's ice hockey team do I realize how truly special the @HarvardWHockey program is…" – Chelsea Ziadie delivers her senior perspective: https://t.co/ARQ38VqPh5 #GoCrimson pic.twitter.com/aPsrbO2xL0

— Harvard Athletics (@harvardcrimson) July 23, 2018
The Riveters also signed defender Chelsea Ziadie, who like D'Oench played for and graduated from Harvard University. "I'm incredibly excited to begin my professional hockey career with the Riveters," she said in the league's press release. "I feel extremely lucky to have the opportunity to join such a talented team and successful organization."