Beginning June 1, NWHL teams can start signing players for the 2018-19 season. For players who have completed their college eligibility and want to continue their hockey careers, the free agency period provides them an opportunity to continue playing at the highest level of professional women's hockey. The fourth season of the NWHL will begin in October as the Metropolitan Riveters defend their Isobel Cup championship, and with the addition of a fifth team – the Minnesota Whitecaps – as well as the inclusion of players who participated in the 2018 Winter Olympics, this very well could be the most competitive season yet. 
My colleague Nathaniel Oliver will keep THW readers up-to-date on Boston and Buffalo's signings throughout the summer, while I post updates on Connecticut and the Riveters. Together we will collaborate to keep readers informed of all of Minnesota's signings.
Janiga Returns to Beauts After a Year in China
Connecticut Adds Mrázová From UMD
Ryan was a finalist for @NWHL Rookie of the Year, had 3 goals and 13 assists for 16 points in 16 games last season. Raise that Cup up high @j_flow5🏆

🏒: https://t.co/SLGHcYyIFu pic.twitter.com/voq7qplFEV

— Metropolitan Riveters (@Riveters) July 17, 2018
On July 17 the Riveters re-signed three crucial defenders to aid their quest to become the first back-to-back champions in NWHL history. Courtney Burke (2018 Defender of the Year) and Michelle Picard will return for their third seasons, and Jenny Ryan will be entering her second season. Burke finished second in the league in scoring (19 points) and Ryan led all NWHL rookies in points with 16 (3g-13a) and was third in the league in shots on goal (49). Picard was the captain of Team NWHL for the two exhibitions against Team USA in late January, prior to the 2018 Winter Olympics. All three were 2018 NWHL All-Stars, and Picard won a silver medal at the 2014 Winter Olympics with Team USA.
Burke was selected fourth overall in the inaugural NWHL Draft (2015) by the Buffalo Beauts and signed with the Riveters the following season. Her 30 career points (5g-25a) in 29 games is tops among all defenders in league history. "Our fans, team, and support staff made it an easy decision for me to continue playing," said the 23-year-old who is the Riveters all-time leader in assists. "Coming off last season and the expansion to Minnesota this summer, it is a really exciting time to be a part of the NWHL. I'm ready to get back on the ice with the team this fall."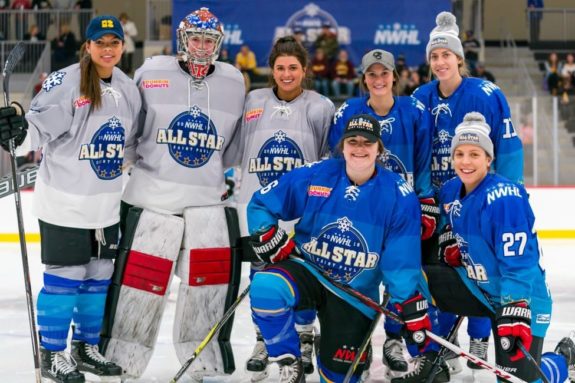 Picard, like Burke, was also selected in the inaugural NWHL Draft (6th overall) and a year later her rights were traded from Connecticut to the Riveters for the rights to Haley Skarupa. The 25-year-old Picard was a captain for two seasons at Harvard University and this past season was one of the recipients of the NWHL Foundation Award. "I'm so excited to be back with the Riveters this season," she said in the league's press release. "I'm grateful to be a part of this organization and I really can't thank our fans enough for their support. They are a huge reason why playing with the Rivs is so special. Now it's time to defend the Cup!"
Ryan was selected 9th overall by the Riveters in the 2016 NWHL Draft and was stellar in her first pro season earning her a nomination as a finalist for NWHL Rookie of the Year. "I'm very excited to be returning for another seasoning the NWHL and with the Riveters," Ryan said via the league website. "I'd like to say thank you to all of the amazing Riveters fans, and all of the NWHL fans. Without your support, we wouldn't be able to continue and play the game that we all love. I look forward to sharing another season with all of you and hope to bring the Cup back to Newark."
Dan Rice is in his 9th year of reporting for THW & has covered NJ Devils home games for 15+ years at various websites. He began his journey working for legendary broadcaster/writer Stan Fischler from 2002-04 & completed an internship at the ECHL; he also has been writing features for the NWHL (nwhl.zone) website since 2016.