In the summer of 2017, there was a lot of upheaval in the hockey world. The arrival of the Vegas Golden Knights, combined with a few disappointing performances among the other 30 National Hockey League clubs, led to a lot of turnover in coaching staffs and new faces being pulled in from other areas of hockey.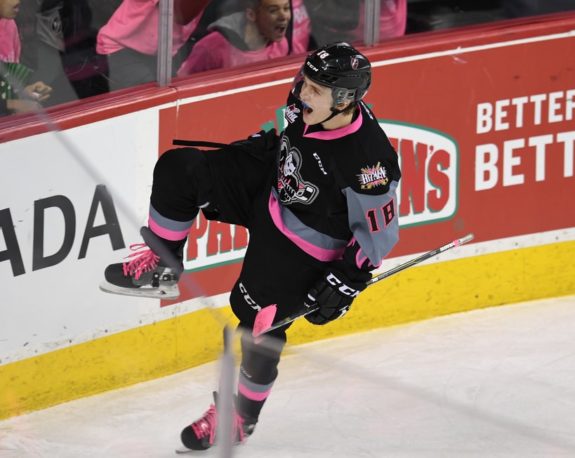 The turnover in the NHL during 2017 led to several new faces in the Western Hockey League's head coaching ranks. But that upheaval spilled over into the 2018 off-season, with additional coaching turnover in the NHL leading to an even more coaching changes in the WHL than were seen a year ago.
A Summer of Tweaks
Six WHL clubs changed head coaches during the summer of 2017: the Calgary Hitmen, Everett Silvertips, Kootenay ICE, Seattle Thunderbirds, Spokane Chiefs and Victoria Royals.
Hitmen head coach Mark French opted to return to Europe, taking a position with the Swiss League's HC Fribourg-Gotteron. He was replaced by University of Alaska-Anchorage head coach Dallas Ferguson.
The Silvertips' Kevin Constantine was not retained, eventually ending up with the Asian League's Daemyung Killer Whales. He was replaced by Dennis Williams, formerly USHL Bloomington Thunder head coach.
Kootenay's Luke Pierce moved on, ending up as part of Canada's World Under-17 coaching staff. He was replaced by James Patrick, formerly a Dallas Stars assistant.
Seattle's Steve Konowalchuk was hired away by the Anaheim Ducks after leading his club to a WHL Championship. The Thunderbirds promoted assistant coach Matt O'Dette to fill the void.
The Chiefs parted ways with longtime coach Don Nachbaur, who ended up taking a job with the Los Angeles Kings. He was replaced by former Rochester Americans head coach Dan Lambert.
Victoria head coach Dave Lowry joined Nachbaur with the Kings, so the Royals promoted assistant Dan Price to his old job.
The arrival of the Golden Knights to the NHL didn't directly lead to these coaching changes, but their establishment started a ripple effect that dislodged a few coaches and created opportunities for several new faces.
Three Waves of Coaching Changes
The 2018 coaching changes came in three primary waves, with eight total coaching changes – including a second change in as many years for the Hitmen. On March 18, the Saskatoon Blades relieved Dean Brockman of his duties. After a fairly lengthy search, they hired Everett assistant Mitch Love on May 30.
The second wave began five weeks later: Kamloops Blazers head coach (and junior hockey legend) Don Hay retired from coaching on May 10, with the University of Alberta's Serge Lajoie being hired as his successor on June 23. Swift Current Broncos head coach Manny Viveiros barely had time to celebrate his team's championship before he was hired as an Edmonton Oilers assistant, with Brockman ending three months of unemployment when he was hired as his replacement on June 27. The Edmonton Oil Kings parted ways with Steve Hamilton on May 28, replacing him with former Tampa Bay Lightning assistant coach Brad Lauer on June 27.
The third wave began in mid-June, as the Vancouver Giants parted ways with Jason McKee after two seasons on June 15 and replaced him with Lethbridge Hurricanes midget head Mike Dyck on June 28. Mike Williamson left the Tri-City Americans on June 25 to pursue other opportunities, with the Americans hiring longtime NHLer and outgoing New York Islanders assistant coach Kelly Buchberger on July 16.
Citing family reasons, Hitmen head coach Dallas Ferguson resigned on June 26 – taking a position as assistant coach at the University of Denver a week later – and the Hitmen lured Hamilton south from Edmonton on July 17, ending two months of unemployment for him. Finally, Regina Pats head coach and general manager John Paddock opted to relieve himself of coaching duties, promoting assistant David Struch to the top job on June 28.
The @WHLHitmen have introduced Steve Hamilton as their 10th head coach in franchise history!

DETAILS 📰 | https://t.co/Neepyq1mfl pic.twitter.com/xaKJO4IrEa

— The WHL (@TheWHL) July 17, 2018
The off-season changes were atypical in terms of their large volume, but otherwise typical in terms of how things unfolded: a few coaches were cut loose for under-performing, a few left for NHL or AHL jobs, and a few shuffled between WHL teams.
Trends and Topics
The longest-tenured head coach remaining in the WHL is Medicine Hat Tigers bench boss Shawn Clouston, who's been on the job since 2010-11. He's followed closely by Red Deer's Brent Sutter, Moose Jaw's Tim Hunter and Prince Albert's Marc Habscheid in terms of longevity.
Viveiros' hiring by the Oilers continues a well-established trend of championship coaches immediately leaving the WHL. Every coach that's led a team to an Ed Chynoweth Cup dating back to 2013 left for a professional gig that off-season, a span of six consecutive seasons.
Ryan Pike has covered the Calgary Flames and the NHL Draft extensively since 2010 as a Senior Writer for The Hockey Writers and Senior Contributing Editor of FlamesNation.ca. A member of the Professional Hockey Writers Association, he lives in Calgary.