I knew I shouldn't have bet against Carter Hart, but three out of four ain't bad.
That brings me up to 10-for-12 through two rounds of my WHL playoff predictions, also getting the number of games right for five of those series. Yes, I'm on a bit of a roll this year.
Our @LarryFisher_KDC has his – 'WHL Playoff Predictions: Couple Coin Flips in 2nd Round' https://t.co/wEGhRef7GT #THW #WHLPlayoffs #WHL pic.twitter.com/USrcvJ8Lhc

— The Hockey Writers (@TheHockeyWriter) April 5, 2018
I went 7-for-8 in the first round, with four bang on, then correctly predicted Tri-City, Lethbridge and Swift Current to advance from the second round — calling the Broncos to beat the Moose Jaw Warriors in seven, with goaltending being the difference. That proved true when Stuart Skinner pitched his third shutout of the series in Monday's deciding game, a 6-0 rout on the road.
My lone mistake of the second round was predicting Portland to beat Everett in seven. The Winterhawks got off to a good start, winning the opener on the road and firing five pucks past Hart in a 5-2 victory, but the three-time reigning WHL goaltender of the year shut the door from there as the Silvertips reeled off four straight wins in impressive fashion — thanks to two shutouts from Hart, bringing his playoff total to three (one behind Skinner).
Now the question is, do I bet against Hart again? Or learn my lesson? I'm still thinking about that answer as I type this sentence, so stay tuned!
For the record, in filling out my bracket following my first-round predictions, I initially had Everett over Portland in six, but changed my mind for my official second-round predictions. I was wrong there, but I was right in also changing my mind on two other matchups, going with Lethbridge instead of Brandon and Swift Current instead of Moose Jaw from my original predictions that could have carried forward.
I guess I can't be right every time. My only other mistake thus far has been predicting Kelowna over Tri-City in the opening round, but the Americans won me over with that sweep and I wanted to say Tri-City in four again for the second round but resisted out of respect for Victoria. I said six instead, but that series played out much the way I envisioned, with the healthy Americans overpowering the hurting Royals.
My second-round bracket projected Swift Current over Lethbridge in five and also had Tri-City over Portland in seven for the conference finals. The latter is now irrelevant and needs to be revised with Everett taking out Portland, but I could stick with the Broncos in five.
No spoilers here, but onward we go with my third-round predictions — now that I've had enough time to ponder that Hart problem.
Western Conference Final
Everett Silvertips (US1) vs. Tri-City Americans (WC1)
REGULAR-SEASON SERIES:5-2-1-0 for Everett; 3-5-0-0 for Tri-City
ANALYSIS:Don't read too much into that season series since Tri-City evidently underachieved and had been missing key players to injuries for most of the campaign. The only result that might be meaningful was their finale on March 13, a 4-2 home win for Tri-City, but that was a one-goal game with an empty-netter and Everett was without top-four defenceman Ondrej Vala. It was also a rare off-night for Hart, as Everett outshot the Americans 35-23 in defeat, so let's not put a ton of stock in that outcome either.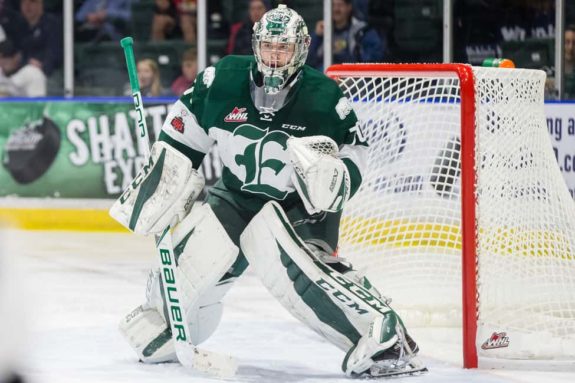 Hart will be better for this best-of-seven — he's leading the playoffs with a .944 save percentage and 1.92 goals-against average through two rounds, just as he did in the regular season at .947 and 1.60 — so Tri-City will be facing a much tougher test between the pipes after lighting up Kelowna's James Porter and Victoria's Griffen Outhouse. The goaltending matchup heavily favours Everett with Hart against Tri-City's unheralded over-ager Patrick Dea.
Everything else tilts towards Tri-City, in my opinion. The Americans are deeper up front and have the higher-end talent with three first-round NHL draft picks in Michael Rasmussen, Juuso Valimaki and trade-deadline acquisition Jake Bean — all top-20 picks over the last two years — not to mention playoff goal-scoring leader Morgan Geekie (with 15 in eight games). Portland had four first-rounders but lacked the forward depth of Tri-City, which attacked the B.C. teams in waves and was lethal on the power play when its tiring opposition was forced to take penalties.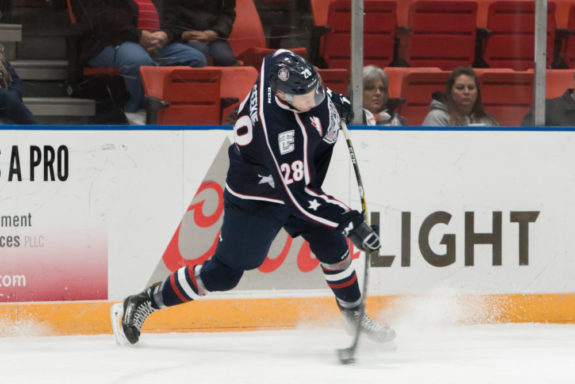 The Silvertips are still solid defensively, even without Kevin Constantine's stingy systems or any real big names on the back end. They are more dangerous offensively with Dennis Williams pressing all the right buttons as a coach-of-the-year candidate in his WHL debut. And they have Hart, which can't be understated in any series.
Both teams will be well rested for Friday's opener and my gut is telling me Tri-City has the horses to keep this run going, but I still don't like betting against Hart . . .
PREDICTION:Everett in 7.
Eastern Conference Final
Swift Current Broncos (E1) vs. Lethbridge Hurricanes (C2)
REGULAR-SEASON SERIES:3-1-0-0 for Swift Current; 1-3-0-0 for Lethbridge
ANALYSIS:Discard this season series too, given the amount of turnover on both these rosters, but maybe don't discount the fact that Lethbridge won the only meeting after the Jan. 10 trade deadline, with the Hurricanes prevailing 5-2 at home on Feb. 2.
That has added significance since these teams pulled off one of the biggest blockbusters in recent memory for the WHL. Lethbridge appeared to be a seller in sending starting goaltender Skinner, over-age captain Giorgio Estephan and feisty forward Tanner Nagel to Swift Current on Jan. 9 in exchange for a seven-piece package that was to shape the Hurricanes' future.
However, Logan Flodell, the netminder coming back to Lethbridge, is coming off a shutout in the clincher against Brandon, and Logan Barlage, the big rookie who had just turned 17 at the time of that trade and seemed to be struggling in Swift Current, is coming on strong in the playoffs as a budding power forward. Both have been integral to the Hurricanes' success in the present, and Lethbridge also has Matthew Stanley and youngster Owen Blocker playing roles in its lineup from that deal, with two or three more prospects to come — through first- and third-round picks in the 2020 bantam draft, and potentially a second-round pick (conditional) in 2021.
If only there was something to talk about with a Broncos/Hurricanes Eastern Conference Final #WHLPlayoffs

— TROY GILLARD (@Troy_Gillard) April 17, 2018
That trade has worked out extremely well for both teams, with Estephan also paying dividends for Swift Current — netting three of his four playoff goals against Moose Jaw, including one in Game 7, and now up to 11 points in the postseason while winning 55 per cent of his face-offs — and Nagel continuing to do his part further down the depth chart. Call it a win-win, but there can only be one winner now.
Make no mistake, Swift Current was the buyer here and has been the better team all season long — led by the league's best line of Glenn Gawdin, Aleksi Heponiemi and Tyler Steenbergen, all of whom topped 100 points in the regular season. Lethbridge's other big move at the deadline landed the league's playoff scoring leader in over-ager Brad Morrison, who has racked up 29 points, including 12 goals, in just 10 games. For his efforts against Brandon (6-7-13), Morrison was named the second star of the second round, behind Skinner and ahead of Hart.
The WHL is pleased to announce the #WHLThreeStars for Round Two of the 2018 #WHLPlayoffs!

DETAILS 📰 | https://t.co/ouw5bhMTWe pic.twitter.com/RH58zsnlD1

— The WHL (@TheWHL) April 17, 2018
The goaltending matchup is obviously intriguing here — with Skinner and Flodell facing their former teams and looking to prove a point — but, on paper, the supporting casts are quite lopsided.
PREDICTION:Swift Current in 5.
---
Final Thoughts
If my third-round predictions come to fruition, Everett and Swift Current would battle for the Ed Chynoweth Cup and it could be a real goaltenders' duel between Hart and Skinner.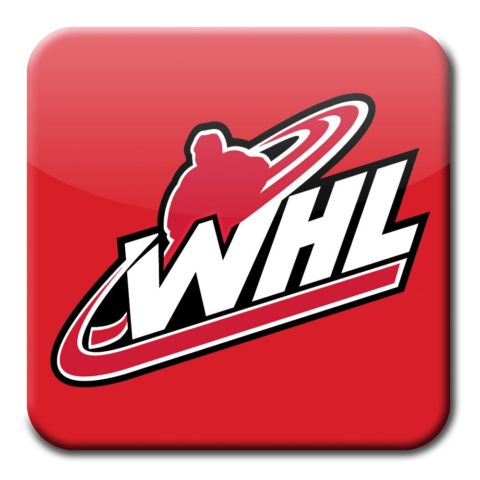 As a former goalie myself, I'd be stoked to see that matchup between two 19 year olds from the Edmonton area that have been rivals for years, albeit from afar while carving out their WHL careers in separate conferences.
Should they finally collide with the WHL championship at stake, it would have the potential to be a seven-game thriller, but I honestly feel the Eastern Conference has been on another level this season. So, as much as I don't like betting against Hart — again — I would have to go with Swift Current in six, with the Broncos joining the host Pats at next month's Memorial Cup tournament in Regina, Sask.
That is, unless I decide to change that fourth-round prediction after watching the conference finals play out. Or unless I'm wrong about the third round, which is entirely possible too.
Larry Fisher is a senior writer and head scout for The Hockey Writers, having been an at-large contributor for THW since August 2014. Fisher covers both the NHL and the WHL, specializing in prospects and NHL draft content, including his annual mock drafts that date back to 2012. Fisher has also been a beat writer for the WHL's Kelowna Rockets since 2008, formerly working as a sports reporter/editor for The Daily Courier in Kelowna, British Columbia, Canada from 2008-2019. Follow him on Twitter: @LarryFisher_KDC.