Lost in the excitement of the New Jersey Devils' 5-2 Game 3 win against the Tampa Bay Lightning in their opening round series was the return of two players to their lineup that had an impact that goes deeper than the stats will ever show. Marcus Johansson played his first game since January 23 (a span of 37 games) when Boston's Brad Marchand accidentally on purpose elbowed the Devils forward in the head. Johansson suffered his second concussion in three months while the Bruins' agitator went to the NHL All-Star Game in the middle of his five-game suspension.
"I always said that I wanted to be 100% and I needed multiple days where I felt good before I came back," he told The Hockey Writers when asked if he could have returned to the lineup at the start of the series. "I've had that now and it felt like the right time."
In goal Cory Schneider made 34 saves, picked up his first win in the year 2018, and backstopped New Jersey to their first playoff win since 2012; coincidentally it was his first playoff win since 2012 when he was victorious with Vancouver against the Kings in Los Angeles. Schneider was felled by groin and hip injuries, also on January 23 in Boston, and when he was deemed ready to return to action Keith Kinkaid was in the midst of leading the Devils to a playoff berth.
We got our MoJo Back for Game 3! #TBLvsNJD | #NowWeRise pic.twitter.com/NxkB5YElXR

— New Jersey Devils (@NJDevils) April 16, 2018
"I was really excited to see him out there," Schneider said of Johansson's return in red and black. "He and I got hurt the same night back in Boston; it's hard to fathom if I hadn't played until now. He's worked hard, stayed with it and it hasn't always been easy for him. It's tough being on your own a lot."
"I thought he got in there tonight and didn't back down at all. I'm sure it's only going to get better for him and hopefully, he can continue to improve, feel better, and feel more comfortable."
Along Came a Schneider
Not once during the final weeks of the season did Schneider complain about his lack of playing time and starts. He just sat and watched as Kinkaid played every game, even in games on back-to-back days, and was as supportive as you would anticipate any teammate being. To his credit, he said following the Game 3 win that it wasn't about him getting his first win in eons. "I'm not even thinking about it that way. It's a new season so you don't carry anything into it – good or bad," Schneider said. You start fresh and it's a whole new season. You could be playing for two months. Tonight was a good start and hopefully, it can continue."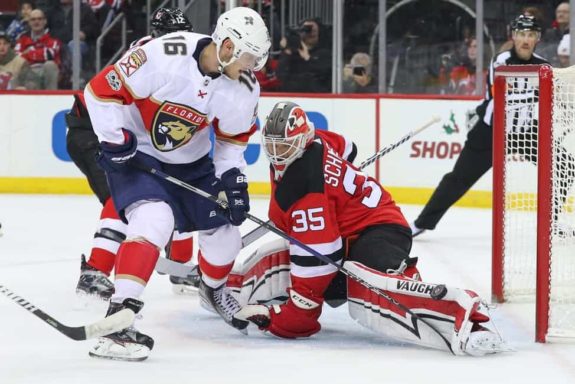 "Sometimes things happen and it doesn't change how you feel about yourself or the way you go about your business," said Schneider after his first win since December 27. "I've really tried to stay positive, stay upbeat, and I knew if we got to this point I was probably going to have to do something at some point. I tried to stay ready and prepared."
Schneider gave everyone a scare in the third period when he appeared to injure himself making a save, but it was just his leg muscles cramping up more than anything. "I was able to push through it and stay loose," the goalie said. "I finished the game, that's all that matters."
A crucial aspect for Schneider was coming in during Game 2 to relieve Kinkaid. This gave him an opportunity to re-familiarize himself with some of Tampa Bay's shooters and tendencies. "It never hurts to get a feel for the opponent, you're going to see them six, seven times," Schneider said. "Just to be out there against them, know their tendencies and see what they want to do. Get into the rhythm of the game, you try to use every bit of information you can get. To make a couple of saves in that game helps you feel good about it, and off you go."
We got to see a great win last night and the boys got to take a picture with Cory Schneider today! When your 3 year old recognizes the best goalie when he is out of his gear you know he is a true Devils fan! @NJDevils #njdevils #NowWeRise pic.twitter.com/WEFPTORQUC

— Jacquelin Santangelo (@JSantangelo2017) April 17, 2018
MoJo Rising
Johansson didn't record a point, didn't lead the team in any stat category in Game 3. Just his presence alone was more than enough as the coaching staff was better able to slot players where they needed to be in order to have success. The Swedish forward had 18 shifts for a total of 14:30 – 5:11 of which came on the power play, had two shots on goal and even was credited with a hit. "It was different, I don't think any practice can prepare you for that. It's another level. It was a lot of fun out there, a lot of fun being part of this win. I missed it," said Johansson of jumping into a playoff series that was already going 100 miles per hour.
"You can't really think about it. You have to just go out and play. It's tough in the beginning, you have to try to find your legs a bit, and catch your breath as well," he said after the game. "You just go out and do your best every shift and that's all you can do. This was a fun game to play; I think we showed a lot of character with the way we played and we just have to continue to play like that."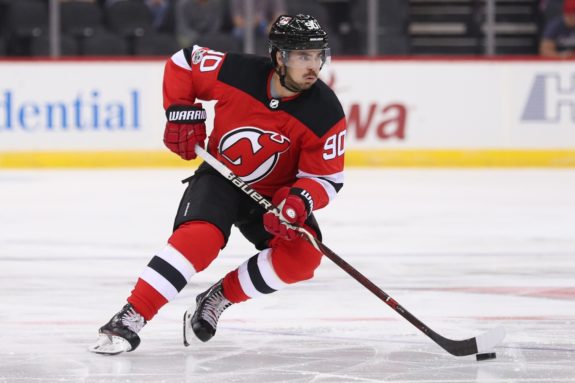 He was shifty with the puck all night in open space, his presence on the second power-play unit gave Pavel Zacha a highly skilled player to work with and off of in creating scoring opportunities. He gave the Devils another weapon and really, it was like acquiring a top-end player at the trade deadline. For the first time all season they had their full team available to play. So much so that Michael Grabner, who was actually acquired at the NHL trade deadline, was a healthy scratch in Game 3.
"I felt it more in my legs and hands then maybe you guys can see," Johansson told the media following the game, downplaying his impact. "It's almost easier and better to jump into it now because you just have to play. There's no time to think about anything or feel bad for yourself because you're not playing the way you usually do. I'm just excited to be back."
Devils captain Andy Greene was impressed with Johansson's ability to return in the middle of a series, and thankful too because they needed him. "That's tough, for him to come back…what has it been – three months? To come into this level of play, that speed – it's tough. He handled himself very well tonight," said Greene. "The thing with him is he likes to slow the game down a little bit. I thought he played really well and he's only going to get more confident and better with more reps that he gets."
Rockin' the Rock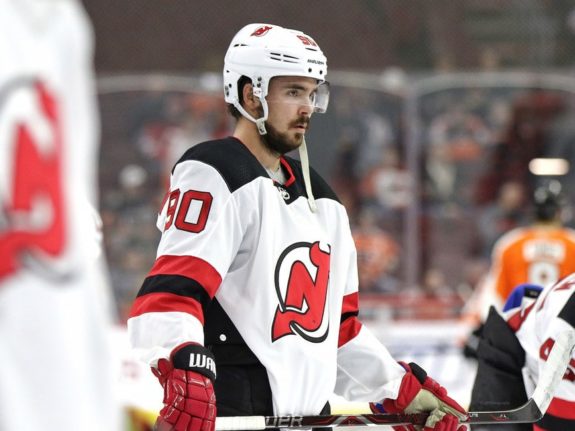 "It was awesome, a lot of fun," Johansson told THW about the atmosphere inside Prudential Center for Game 3. "From the moment we stepped on the ice the crowd was going and they kept it going all night. It always helps, always gives you that extra push."
Yes, Taylor Hall did Taylor Hall things with a three-point game (1g-2a) and Stefan Noesen scored the game-winner with a clap bomb that left burn marks on Lightning goalie Andrei Vasilevskiy's road white jersey. It may have only been for one game, they may lose Game 4 and the series eventually. But for one game the New Jersey Devils played with a full lineup, went toe-to-toe with the best team in the East, found their MoJo (and their goalie), and rang up a four-goal third period to turn a 2-1 deficit into a 5-2 triumph. 
"They were buzzing right from the start of warmups," the Devils captain said of the crowd inside the Rock. "It was nice to feel that energy. Unfortunately, it has been too long for them to see a playoff game and we definitely fed off of their energy; they were a big help here tonight. It was good to get a win for them."