With all the raw emotions from these first three games of the Quarterfinal matchup between the Toronto Maple Leafs and Boston Bruins, we need to take a step back and sift through the lofty expectations for the Leafs. It starts with the fans.
To recap the last few days, the Maple Leafs went into Boston and got pummeled. The Leafs fought back Monday night. Boy, how the outlook on this series has changed in 24 hours.
Fans feel they have a series now, how it should have been since Game 1. Bruins fans still think the Leafs will give up 50 in Boston. Both might be right. That's playoff hockey.
But let's take a second to pump the brakes a little bit on who the Maple Leafs are and just how far along in the rebuild the organization actually is. In classic fashion, the media, fans, and haters alike have hit fast-forward on the rebuild, regardless of the team's actual progress. Impatience always prevails with accelerated success.
The second the Leafs have a little success, almost immediately the bar is set way higher than it should be. It's year three of the only proper rebuild the franchise has ever stayed the course through.
Patience and Pain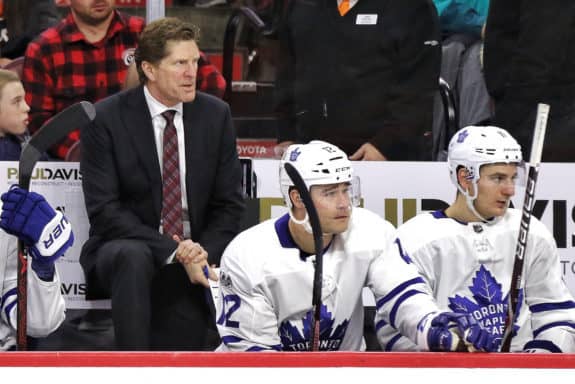 Patience and pain are two things that Mike Babcock and Brendan Shanahan spoke of when they signed on. People are naïve to think one season at the bottom of the league's standings is the "pain" they were speaking of. How about more defeat, frustration, turmoil, coming up short of expectations, failure, and good old heartbreak? The team will continue to experience these things as it grows and finds its true identity.
If it helps to compare teams, look at the Bruins. Ask yourself, when was the last time the Bruins had identity issues? When was the last time you questioned their star players, especially during the playoffs? And even they looked lost to start this season. The ebbs and flows of an 82 game season allow for that. Timing is everything.
It's clear, the Maple Leafs haven't found themselves yet; at least not consistently. They don't have a tried and true personality and that's OK. Sure, they've shown flashes and, this season in particular, they seemed to sustain whatever identity they have with a little more consistency, but remember right before the All-Star break they had lost six in a row and looked like they had lost their way?
A young team will do that. Even the best teams have their moments. It's the ones that stay true to their identity day in and day out that find the second and third levels required to win in the playoffs. It all comes down to consistency. Until then, there will be ups and downs. The roller coaster races on.
The beginning of this series is proof of that. In Game 3, Maple Leafs fans saw the team they grew to love over the year push back and play their game. The result opened the door of hope that by playing their best they can beat anyone, including the Bruins. But the reality is, they gave the Bruins a two-game advantage before they found themselves. The roller coaster begins to climb again.
The key is sustaining that play, identity, fight, or whatever you want to call it. In the loss on Monday, Boston still played their game, the Maple Leafs just found a way to win. For now, the Leafs live and die by their confidence. It starts from in between the pipes and ends with their star center.
Building a True Contender
Building a true contender, an eventual champion, takes time. It takes time for the players and the team's style of play to find itself. Many feel the Maple Leafs are successful when they have four lines humming on all cylinders. They can beat you with speed and finesse. Their balance and depth are key to winning hockey games.
But after two games of this first-round series, did anyone feel either of those qualities were on display? After Game 3, maybe. Win or lose, people know exactly how the Bruins play. The Leafs, not yet.
Fans have gotten a little greedy, myself included. What a surprise. This postseason is the conclusion of the third year of the Maple Leafs' rebuild. When the Shana-plan started, there was no date, no timetable given, just the promise of a plan they would stick to, no matter what.
So, now we're three years in, the team had a good year and we expect them to skate through the most gruelling two months in sports and win like they've been here before? That's unrealistic.
Matthews Isn't Dominating like He Should
Over his first two seasons, Auston Matthews has quickly become a fan favorite. As good as he is, the excitement surrounding him has created a hope for him to be the team's savior. That hope has quickly turned to expectation, and now all of a sudden, when he doesn't show up for two games, where the best team at keeping one person off the scoresheet did, some people are saying the Leafs should have drafted Patrick Laine instead.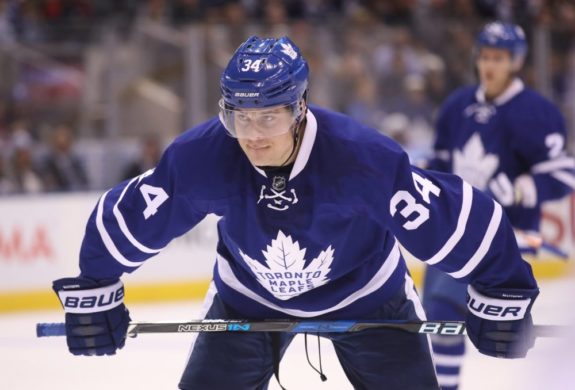 We get a taste of the player Matthews is or will be and we immediately want him to dominate and take over a playoff series. He's 20. Give the kid a break. It's clear he holds himself to high enough expectations already.
Brad Marchand and Patrice Bergeron have been playing together on a team that doesn't have identity issues for years; eight to be exact. They have gone through the ups and downs and played hundreds of games together. It's not that surprising that they are arguably the most dynamic line in hockey. Chemistry like that takes time. We don't even know if Matthews has that player on his wing yet.
Matthews and William Nylander have shown glimpses of that chemistry but the jury is still out on if the Cup-winning formula involves those two. It could be Matthews and Mitch Marner that develop it. They haven't been given a chance, yet. That winning formula may never be found.
More Pain Is Coming
This team is still developing, still building, still finding its footing in an ever-changing NHL. Everyone surrounding the team and the team itself have become used to how quickly things seem to have turned around for the franchise. The guys are still young. Let's talk in six years and then we'll really know if they have what it takes to win. They might not.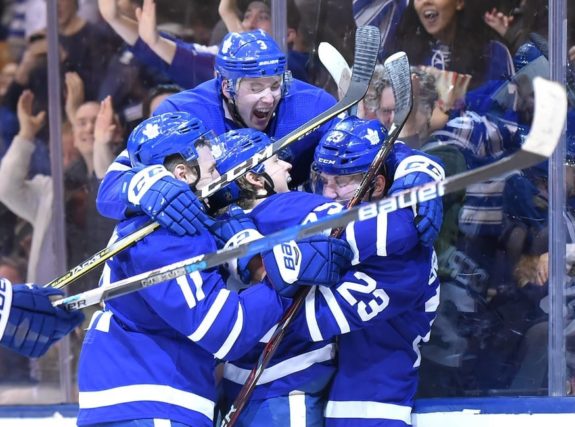 Names like Matthews, Marner, Nylander, and Travis Dermott have injected excitement into the franchise and its fans for the first time in decades, but we also need to take a step back and think back to what Babcock said in 2015. There will be pain, lots of it. You can't experience glory, without it. The Maple Leafs have promise, but actually converting promise into reality is never guaranteed – just ask the Washington Capitals. All the Leafs can do is build off of each and every game. That's what they have to do for Game 4. That's the only game that matters.
And for those that think the first two games were painful, just ask the Bruins, who were two minutes away from forcing a Game 7 against the Chicago Blackhawks in the 2013 Stanley Cup Finals and had the Cup ripped away from them in 17 seconds, what pain is. An entire season lost in 17 seconds.
That's real pain. That's pain we may have in our future. We're suckers to think we won't. For the time being, while the organization develops and finds its true identity, the Maple Leafs still have a shot to fight back. It's hockey; you always have a shot. Game 3 was proof of that.
It's on to Game 4. Make adjustments; stay confident; find a way. Ready, set, "Go Leafs Go."