I have always believed that Game 4, in a series, is always the most important to win. It's especially crucial when a series is at two games to one. The difference between being tied at two and being down three games to one is a vast gap. The Philadelphia Flyers and Pittsburgh Penguins face-off in another one of these pivotal matchups on Wednesday at the Wells Fargo Center.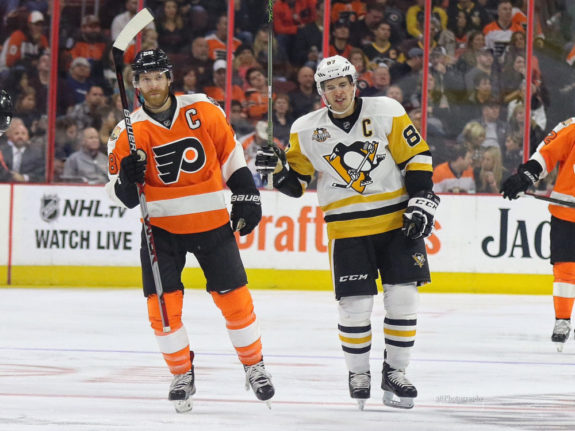 This game will be played on two days rest and the Flyers had a record of 4-7-2 when they played on two days' rest this season. They were 9-12-2 when they had two or more days rest, including losing to the Penguins five times. They will change their lineup to bring in fresh players. According to practice lines, Jordan Weal will be subbed in for rookie Oskar Lindblom.
New Lineups for Game 4
Lindblom, who had a 54.04 Corsi For Percentage five-on-five during the regular season, has the team's worst Corsi For Percentage (34.88) in five-on-five play during the postseason. Only Scott Laughton (24:20) has played less total minutes than Lindblom's 31:59 time on ice during the series. Weal has some previous success against the Pens with six points and 11 shots on goal in seven career games. Dave Hakstol is hoping this move, and switching the lines, see tweet below, will give the team the scoring jump it was lacking in Game 2.
Flyers shuffling things up today:
Giroux-Couturier-Voracek
Konecny-Patrick-Simmonds
Weal-Filppula-Raffl
Laughton-Lehtera-Read

First time the Giroux-Couturier-Voracek line has been together since December

— Adam Kimelman (@NHLAdamK) April 17, 2018
This was all before Sean Couturier left practice on Tuesday after a collision with Radko Gudas. The status of the team's number one center for Game 4 is unknown but his absence would obviously be a huge hole. Couturier has played 73:46 in this series already, only Ivan Provorov has played more (75:31). "Coots" has played 39:25 TOI with Sidney Crosby and, although he has been outscored four goals to one, his three points paced the team in a Game 2 victory. Nolan Patrick could move up to the top center or Claude Giroux could switch from wing to center on the top line.
The Penguins will be missing a key piece of the team when they line up on Wednesday, as Patric Hornqvist is out with an upper-body injury. The veteran winger has three points in the first three games while contributing 12 shots on goal, 16 penalties minutes and ten hits. He has played 19:21 on the man advantage in the series and has been a key factor in the team's top-ranked power play this season.
Penguins PP w/Hornqvist in 2017-18 (reg. season + playoffs):
26.2 percent (72 for 275)
Without Hornqvist
12.9 percent (4 for 31)

— Jason Mackey (@JMackeyPG) April 17, 2018
Flyers-Penguins Game 4 History
The Flyers have an even 35 and 35 record in Game 4's and have a 24-11 series record when they win the fourth game of a series. More specifically, when the Flyers are trailing in the series two games to one, they have a 14-14 record in Game 4's.
As stated, the difference between the series being tied at two and being down three games to one is a massive one. In their history, the Flyers are 14-8 in series that are tied two to two. When they are down three games to one in a series they have a 1-16 record. The one series win, of course, was the miracle comeback from three games to none against the Boston Bruins back in 2010.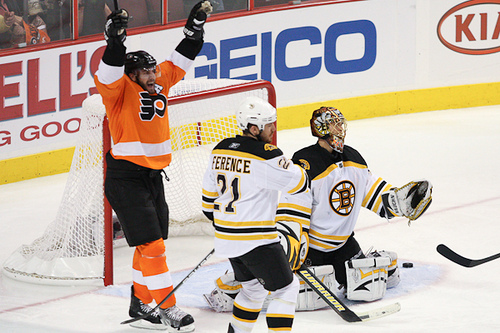 The Penguins are also .500 in Game 4's in their franchise history with a record of 31-31. They've had home ice in a good amount of their series as they are 21-18 on the road in fourth games.
This is the seventh time that the Flyers and Penguins have matched up in a series and the results have been even on the winner of Game 4. In their first series, the 1989 Patrick Division Finals, the Flyers won Game 4 at home and won the series in seven games. In the 1997 Eastern Conference Quarterfinals the Penguins won Game 4 at home but the Flyers won the series in five games. Flash forward to the 2000 Eastern Conference Semifinals and Keith Primeau scored in the fifth overtime in Pittsburgh as the Flyers ended up winning that series in six.
The 2008 Eastern Conference Final fourth game was won by the Flyers in Philadelphia to avoid a sweep but they eventually lost the series in five. The next season in the 2009 Eastern Conference Quarterfinals the Pens won Game 4 in Philadelphia and won the series in six. The historic 2012 Eastern Conference Quarterfinal Game 4 was won in dominant fashion by the Penguins to avoid a sweep but the Flyers won that series in 6 games.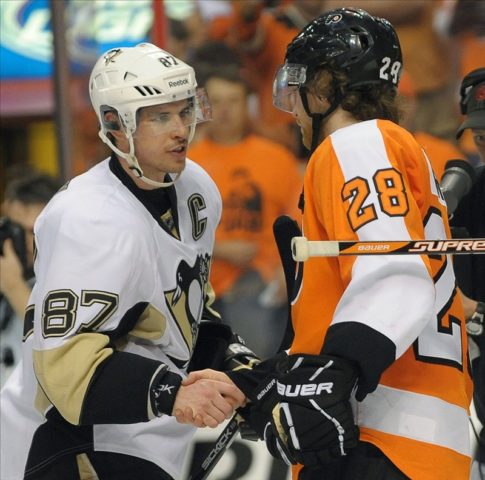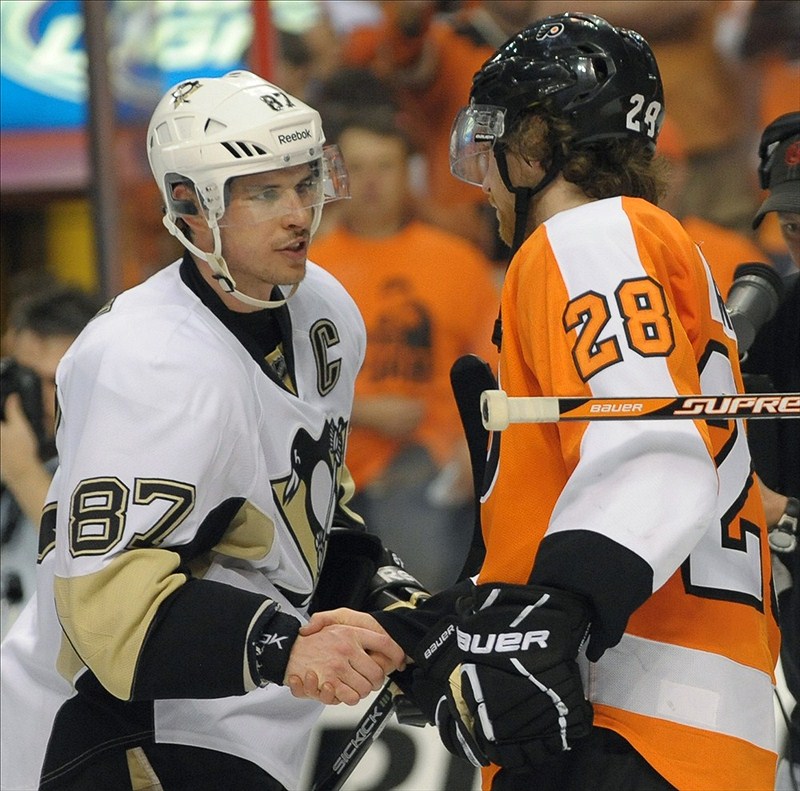 This game's results will break a lot of ties between these two franchises with a lot of history. The Flyers are just hoping that the result will be a tied series with a best of three to decide who goes forward and who goes home.