What can one say about the Washington Capitals – a team sitting on 67 points halfway through an NHL season, 16 points ahead of their closest division rivals, with six players on at least 10 goals and the best goaltender in the league between the pipes? That's right. One can say that the team won't finish dead last in the NHL.
There is something else one can assume from such stellar facts, but you will not hear it from this writer – because I have been burned too many times for saying exactly what you're thinking if you're a Caps fan. In seasons past, I have jumped on the DC bandwagon but not this year. In fact, I'm going on record right now by stating that it is impossible for the Caps to go the distance this term.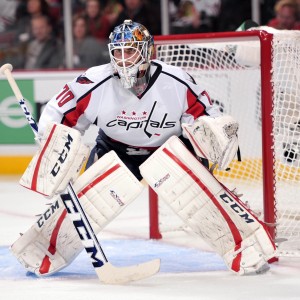 So, to make sure that we're all in agreement, the Capitals will definitely not win the Stanley Cup in 2016. There is just no way it will happen. Forget any dreams that just because your team has the best player in the world, the best assist provider in decades, the best power play in the NHL, one of the best penalty-kill outfits and a future Hall-of-Fame goalie that your team will be hoisting silverware over its head in June.
Yes, your team may also have one of the NHL's shrewdest, intelligent and professional head coaches behind the bench, but it's still crystal clear that Washington is in no way destined to take home its first Stanley Cup in franchise history.
The Capitals' 7 Losses
I hate to be the harbinger of bad news, but the writing is on the wall. You cannot win a Stanley Cup with a ghastly seven losses tallied up already at the halfway point of a season. You certainly cannot win a Stanley Cup by riding the momentum of the universe's best player acquiring his 500th goal in just 801 career games.
Notwithstanding, many so-called "experts" are touting the Capitals as a probable Cup winner this season. What exactly is that ridiculous prediction based off? Washington's league-low goals-allowed total (90)? Their league-topping goal differential of plus-49? No, those stats just aren't going to cut it. Nothing needs to change…and not soon.
So, to summarize for 2016: Miami will have a major snowstorm in February; alcohol prohibition will be passed through Congress; electric cars will outsell gasoline cars; cheeseburgers will be outlawed; and the Washington Capitals will not win the Stanley Cup.
I certainly hope that all Cardiac Caps' fans are on the same page as me.