Beginning June 1, NWHL teams can re-sign players from their 2017-18 roster and their draft picks. Additionally, for those players who have completed their college eligibility and want to continue their hockey careers, NWHL Free Agency provides the best opportunity to continue playing at the highest level of professional women's hockey. The fourth season of the NWHL will begin in October as the Metropolitan Riveters defend their Isobel Cup championship, and with the addition of a fifth team – the Minnesota Whitecaps – this will be the most competitive season yet.
My colleague Dan Rice will keep THW readers up-to-date on Metropolitan and Connecticut's signings throughout the summer, while I post updates on Buffalo and Boston. Together we will be keeping readers informed of all of Minnesota's signings. 
Whale Re-Sign Beattie and Sign Four Others
Riveters Add Rookie Audra Richards
Whale Re-Sign Ade & Fluke for Second Season
The Buffalo Beauts have brought back one of their native daughters. After a year in China in which she played for the Vanke Rays, formerly of the CWHL, Western New York native Emily Janiga has returned to her hometown and the team she helped win the 2017 Isobel Cup championship. Every time that it seems the Beauts cannot possibly make another big signing, they blow that notion right out of the water. Though Janiga may not carry the same weight that signing another Olympian would, her signing is a very heartfelt one stemming namely from her Buffalo upbringing and from the fact that she brought a professional sports trophy to a winning-starved town. It means a great deal to the people of Buffalo that she is back with the club. Not surprisingly, it means a great deal to her as well.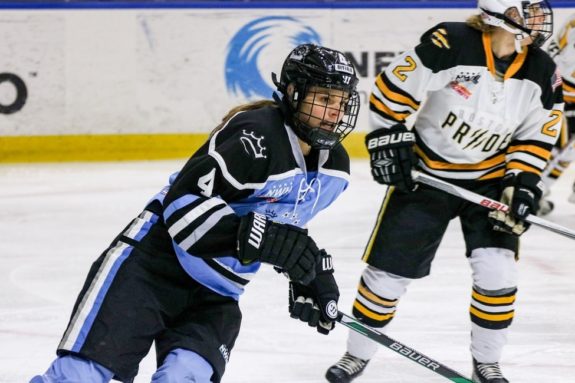 "I'd like to thank the Beauts for bringing me home and giving me another chance to play in front of our great fans at HarborCenter," Janiga said via an NWHL press release announcing her signing. "I'm excited to be a part of such a great organization and I can't wait for the season to begin."
For a Beauts team that is already chock-full of talent, Janiga becomes yet another sizable player with a knack for generating offense. The Beauts definitely have the NWHL monopoly in that regard. THW takes a closer look at the signing and how it further bolsters Buffalo's roster.
Janiga's Performance the First Time Around
Janiga was an original Beauts' draft selection in the 2015 NWHL Draft – the first in the league's history. Coming out of Mercyhurst University, she made her debut as a rookie for Buffalo during the 2016-17 season. Though the Beauts would eventually win the Isobel Cup that year, it was an outcome that few expected. This stems namely from the fact that Buffalo finished in third place that year with a losing record of 6-10-1. Furthermore, they just could not generate offense. The 2016-17 Beauts scored a league worst 44 goals in 17 games, while allowing 68 goals against.
Janiga was one of the few bright spots during that year's regular season. She finished tied for second in team scoring by compiling six goals and five assists for 11 points in 17 games. Janiga's six tallies came from 34 shots, thus giving her the second best shooting-percentage on the roster with a 17.6%. No player on the team won more face-offs than she did, as 167 draws went her way. Those were the fourth most won in the entire league.
She's back, on #716Day!

Isobel Cup Champion, Emily Janiga, will return to the Beauts for the upcoming season!

Welcome home, Emily! pic.twitter.com/AVf2PmEURR

— Buffalo Beauts (@BuffaloBeauts) July 16, 2018
Janiga would continue her fine play straight into the postseason. As Buffalo defeated the New York (Metropolitan) Riveters in the opening round and then utterly shocked the Boston Pride in the championship round, Janiga led all Beauts in goal scoring with three goals in two games. Tacking on an assist, she tied for the team lead alongside Megan Bozek and Hayley Scamurra with four playoff points. She scored Buffalo's second goal of the game in their 3-2 victory over the Pride to capture the Isobel Cup.
Without her heroics during the 2016-17 season – most especially in the playoffs – Buffalo would not have become champions that year. One cannot help but wonder that if Janiga was with the team for their 2017-18 return to the Cup final, could they have repeated as champions? It is a moot point now, but it speaks to how much of a difference maker she can be for a hockey club.
From China Back to Buffalo
Janiga's productivity stayed fairly decent during her lone season in the CWHL. While playing for the Rays she put forth eight goals and six assists for 14 points in 28 games. That put her at sixth place in scoring for Vanke. Janiga's 28 penalty minutes tied her with defender Qinan Zhao for the team lead in that category. While her point totals were decent during her year in China, look for more of a resurgence in those totals now that she is back with the Beauts.
At 5-foot-8, Janiga has more of a sleek, lithe build than most forwards at her height. However, she is able to generate a great deal of power in her stride and in her forcefulness around the net. Much like teammates Scamurra, Corinne Buie, Maddie Elia, Annika Zalewski, Jordan Juron and more, Buffalo has developed a bit of a penchant for bringing aboard taller, tougher forwards. Good things may very well come in small packages, but in Buffalo's case they are sticking to their guns and keeping sizable up front.
Who says you can't go home?

We're happy to have @janigs94 back in #BeautsBlue! pic.twitter.com/387bPvUZOU

— Buffalo Beauts (@BuffaloBeauts) July 16, 2018
Janiga said the following in a video posted by the Beauts on social media:
"Hi Beauts fans! I'm excited to announce that I'll be back again next season. Spent the last year in China, but I'm excited to be back in my hometown. Go Beauts!"
The Beauts have made the most signings of the five NWHL teams thus far. Here is a look at how their roster is currently shaping out as of Jul. 16:
Goalie: Nicole Hensley, Julia DiTondo, Shannon Szabados.
Defense: Lisa Chesson, Savannah Harmon, Jacquie Greco.
Forward: Hayley Scamurra, Corinne Buie, Maddie Elia, Dani Cameranesi, Annika Zalewski, Julianna Iafallo, Kelly Babstock, Jordan Juron, Emily Janiga. 
General Manager of the Buffalo Beauts (NWHL). Hockey history writer "The Hockey Writers". Credentialed media for the NHL Combine and 2018 IIHF World Junior Championships in Buffalo, NY, USA. Born and raised in Buffalo, NY. Lifelong hockey fan for over 40 years. Proponent of the women's game.