Beginning June 1, NWHL teams can start signing players for the 2018-19 season. For players who have completed their college eligibility and want to continue their hockey careers, the free agency period provides them an opportunity to continue playing at the highest level of professional women's hockey. The fourth season of the NWHL will begin in October as the Metropolitan Riveters defend their Isobel Cup championship, and with the addition of a fifth team – the Minnesota Whitecaps – as well as the inclusion of players who participated in the 2018 Winter Olympics, this very well could be the most competitive season yet. 
My colleague Nathaniel Oliver will keep THW readers up-to-date on Boston and Buffalo's signings throughout the summer, while I post updates on Connecticut and the Riveters. Together we will collaborate to keep readers informed of all of Minnesota's signings.
Pride Adds Rookie Miano to Defense
Morse & Nash Return to Defend Rivs' Cup
Boston Re-Signs Field & Gagliardi
That's awesome, I'm beyond honored and cannot wait for my new jersey as well! I hope I'll be able to sign one of the those items or a future item for you this season Patrick 😊💚 Also thank you to all for the congratulations warm welcomes, and continued support!! https://t.co/ipVuYhXjzx

— Rachael Ade (@RachSevenAde) July 6, 2018
On July 6 the Connecticut Whale made their first splash in free agency when they announced that defender Rachael Ade and forward Emily Fluke re-signed for the upcoming season, which will be both player's second as pros. Both Ade and Fluke were bright spots in a season that saw the Whale win only three of 16 games during the regular season.
"I'm absolutely thrilled to be playing in the NWHL and for the Connecticut Whale again," Fluke, who led the team with 11 points (4g-7a), said in a press release through the league. "I am so grateful for the opportunity I had to play last season and knew as soon as it ended that I wanted to play another season." Over her collegiate career at Middlebury College, she racked up 115 points (54g-61a) in 109 games.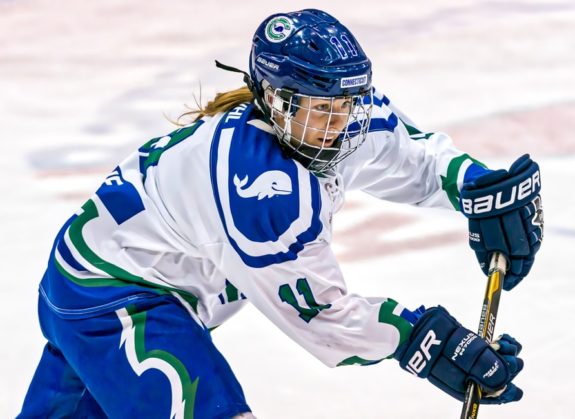 The 25-year-old Fluke had the game-winning goal in two of the three Whale victories last season (both in her hometown of Boston, one in a shootout) and was seventh in the NWHL in apparel sales as a rookie last season. "Being able to share this journey with our incredible fans, teammates, coaches, and my family makes it all the more special and I can't wait to be back on the ice with the team," she added. "The NWHL is filled with incredibly talented players and I'm looking forward to competing at a high level for a second season."
"I'm very excited to be back with the Whale again this season, and I'm looking forward to what this new season will bring for both our team, the league, and women's hockey in general," said Ade in the release announcing her signing. "The addition of the new team in Minnesota, and some of the signings that have already happened has really set a great tone for this year, and it also presents a lot of opportunities."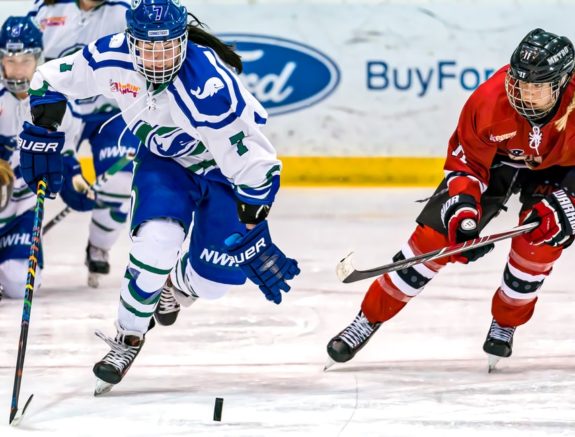 Ade will be on the hunt for her first pro goal this upcoming season after registering two assists in 16 games as a rookie, but perhaps her biggest impact last season was off the ice. The 23-year-old received the NWHL Foundation Award (which goes to players that most actively apply the core values of hockey to her community) following the season, and Ade was tenth among all NWHL players in apparel sales.
"As always, I appreciate the fans and their support so much, as without them this would not continue to be possible; and it only seems to get better each and every day," the University of Vermont alumna added. "Also thank you to my family, friends, coaches, and my company for all playing a part in my ability to re-sign this year. I honestly cannot wait for October. Fins Up!"