Beginning June 1, NWHL teams can start signing players for the 2018-19 season. For players who have completed their college eligibility and want to continue their hockey careers, the free agency period provides them an opportunity to continue playing at the highest level of professional women's hockey. The fourth season of the NWHL will begin in October as the Metropolitan Riveters defend their Isobel Cup championship, and with the addition of a fifth team – the Minnesota Whitecaps – as well as the inclusion of players who participated in the 2018 Winter Olympics, this very well could be the most competitive season yet. 
My colleague Nathaniel Oliver will keep THW readers up-to-date on Boston and Buffalo's signings throughout the summer, while I post updates on Connecticut and the Riveters. Together we will collaborate to keep readers informed of all of Minnesota's signings.
Boston Re-Signs Gagliardi & Field
Szabados Signing Solidifies Beauts' Goaltending
Katie Burt First Pride Signing
#IsobelCup champ and NJ-native Rebecca Morse (@moose_X_ing) accepted a proclamation on behalf of the Riveters from the NJ State Assembly yesterday!

📰: https://t.co/0WYz6ujyO1 pic.twitter.com/dj5EknSo4q

— Metropolitan Riveters (@Riveters) April 13, 2018
On June 29th the Riveters announced they had re-signed two members of their championship squad, forward Kelly Nash and forward/defender Rebecca Morse. For Morse, it will be her third season with her hometown team and for Nash, this will be her second with the Rivs after making her NWHL debut last season.
"I'm very excited to be returning to the Riveters for a third season. Playing hockey in my home state in front of my family, friends, and the best fans in the league has been an incredible experience. I want to thank them for their continued support," said the 26-year-old Morse who hails from Westfield, New Jersey.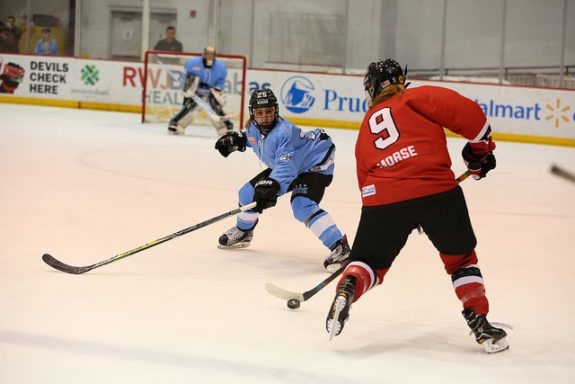 With more playing time and more confidence, Morse netted her first two professional goals in a span of five games. Her versatility (ability to play forward and defense) and her selflessness make her a great asset to her team as they try to defend their Isobel Cup title. "Each season has been better than the last, so I'm eager to see what's in store for season four," added Morse, who has 20 games of NWHL experience under her belt.
Nash started her pro career with a bang, netting a goal in her first game with the Rivs; she tallied all five of her points (2g-3a) over her first three games. She only appeared in eight regular season games due to her commitment as an assistant coach for Princeton University, but she was on hand for both playoff games and scored a goal in their semifinal win over Connecticut.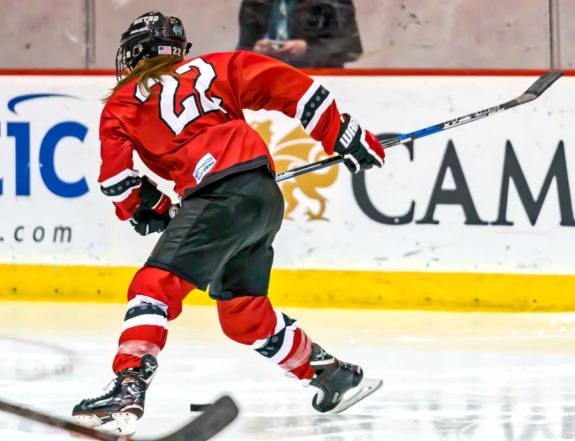 "I couldn't be more thankful to be a part of this program again," Nash said in the league's press release. "It's incredible to see the continuous growth of the NWHL with an unbelievable amount of talent joining an already high-skill league. I can't wait to get back on the ice with the Rivs"! 
Nash was a two-time champion during her NCAA career with the University of Wisconsin (2009, 2011) and this season she returns to the NWHL in an attempt to become a two-time champion at the pro level.