It's no secret the New Jersey Devils have been a haven for former college players, a staple under former President/GM Lou Lamoriello, himself previously an icon at Providence College. On the Devils first Stanley Cup championship club in 1995, there were no less than 11 players from 10 different NCAA schools who saw action that postseason. Among those players was Bill Guerin, who starred at Boston College for two seasons before he embarked upon a 17-year professional career that concluded with another Stanley Cup ring in 2009 with Pittsburgh.
Guerin is long gone from New Jersey—but the Devils' connections to his alma mater persist. No less than six former Boston College Eagles suited up for the Devils in 2017-18, and helped New Jersey return to the Stanley Cup Playoffs for the first time since a run to the Eastern Conference crown in 2012.
Brian Boyle Wins Masterton Trophy
The most predominant former Eagle on last year's Devils, even if he didn't pace his former college contingent in points, was Brian Boyle. The long-time NHL forward, who played in back-to-back Stanley Cup finals in 2014 and 2015 with Tampa Bay and the New York Rangers, respectively, not only helped the Devils back to the postseason picture, but won the league's Bill Masterton Trophy awarded for perseverance, sportsmanship, and dedication to hockey after battling Acute Myeloid Leukemia.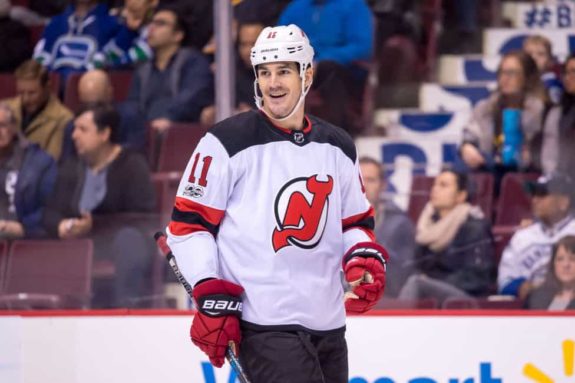 Boyle, 33, collected 13 goals and 23 points in 69 regular-season games after not beginning his season until November following treatment. A two-time All-America selection at BC, the 6-foot-7 center helped the Eagles to NCAA title game appearances in both 2006 and 2007. He actually accomplished the latter alongside one of his current teammates …
Cory Schneider Coming off Surgery
Veteran goaltender Cory Schneider, who took back the Devils net in the playoffs in the five-game first-round loss to Tampa Bay, was to be sidelined for five months after having hip surgery on May 1 for torn cartilage. The 6-foot-3 netminder went 17-16-6 in 40 regular-season outings a year ago with a 2.93 goals-against average and .907 save percentage. He then picked up New Jersey's only victory over the Lightning in their Eastern Conference quarterfinal series, his first win since Dec. 27, in starting the last three postseason contests after making a relief appearance in the second game.
Schneider, 32, was a teammate of Boyle's on those BC teams that came within one win of a national championship in both 2006 and 2007, personally earning All-America status as a sophomore before turning pro after his junior campaign. In 354 career NHL regular-season starts to date with Vancouver and New Jersey, the most ever at the NHL level by a former BC netminder, he has fashioned a 161-140-52 overall record to go with a 2.36 GAA and 24 shutouts.
The Newer Breed
Boyle and Schneider might be the oldest of BC's Garden State delegation from last season, out of a total of 17 former NCAA skaters on the 2017-18 roster, but they were by no means the only ones. Miles Wood, who turned pro after his freshman year of 2015-16 that resulted in BC's most recent NCAA Frozen Four berth, finished one score short of the 20-goal mark last season with New Jersey, and was sixth on the squad with 32 points.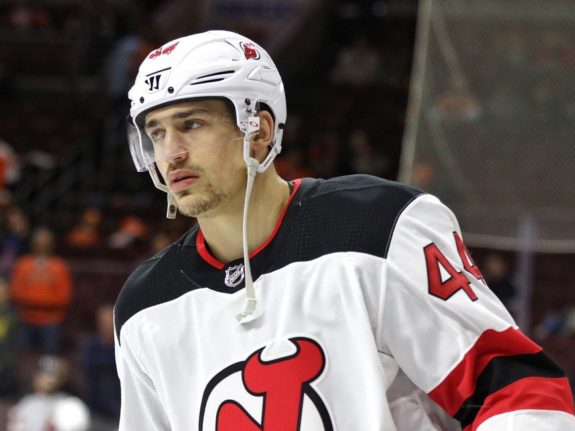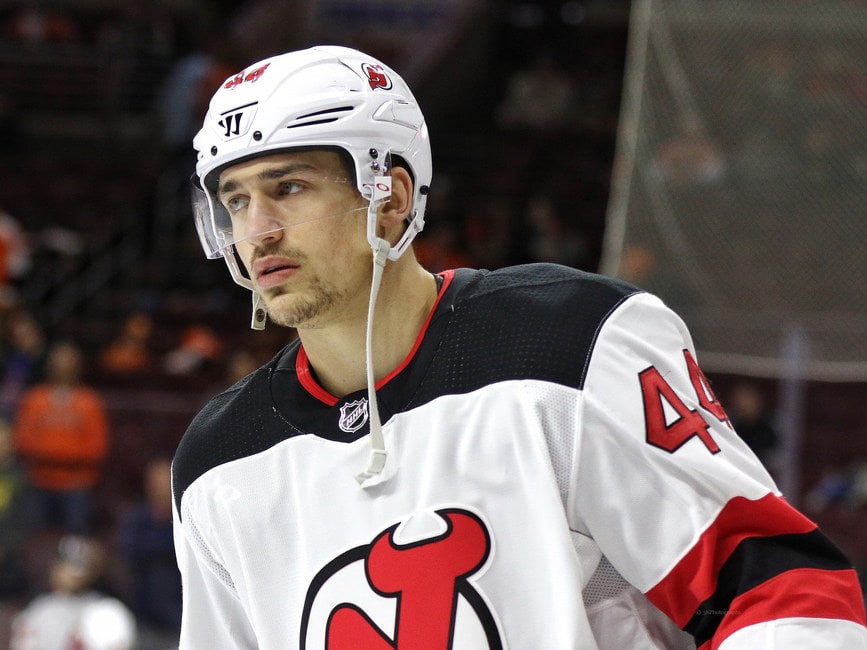 Perhaps the biggest surprise last season at Prudential Center among former Eagles was forward Brian Gibbons, previously a career minor-leaguer who made his biggest NHL impact yet with 12 goals and 26 points in 59 outings. Those numbers would have been even higher for the two-time BC national champion (2008, 2010) had he not been sidelined by a hand injury for over 20 games just after the new calendar year began.
Steve Santini, who turned pro alongside Wood two years ago, played in 36 games on defense for the parent Devils and tallied 10 points last year, but spent the tail end of the season with Binghamton (AHL). Jimmy Hayes, a member of BC's 2010 NCAA title team, contributed nine points in 33 appearances up front in Newark in 2017-18 after spending the previous two NHL seasons with his home state Boston Bruins.
You could also technically include Devils defenseman Ben Lovejoy among former Eagles on last year's roster. He only spent one season with BC (2002-03), however, before transferring to Dartmouth College for his final three collegiate campaigns, and has since played in 139 regular-season contests with the Devils over the past two years.
They'll likely be breaking up the BC gang in Newark before long, though. Gibbons and Hayes are unrestricted free agents this off-season, while Wood and Santini are restricted free agents.
A Sustained Hockey Legacy
BC has won five NCAA titles in its men's hockey history, four of them under longtime head coach Jerry York since 2001. York, a former All-America center at BC in the 1960s who took over as coach of his alma mater in 1994, has also shown a penchant for his players going on to succeed in the NHL, even if they're not treated as stars during their years with him.
"A lot of players are put on pedestals all their lives, but when they get to our school, it's not all about them," said York to the New York Times in 2016. "The driving force in our success is taking hockey players and getting them to put the team, team, team first."
Besides Newark, NHL fans can look across the Hudson River to the rival New York Rangers, who last year sported former Eagle skaters Kevin Hayes, Chris Kreider, Paul Carey, all three members of BC's last national title team to date in 2012.
Another former Eagle will be added to the Stanley Cup this year in former Washington Capital blueliner Brooks Orpik, who previously won it with Pittsburgh in 2009 after helping BC to the 2001 NCAA title. That will leave BC with 19 appearances of former Eagles on the Cup, tying it with Wisconsin for the most all-time among NCAA schools.
If the rebuild in Newark continues to progress, the 20th could be a Devil.