Beginning June 1, NWHL teams can re-sign players from their 2017-18 roster and their draft picks. Additionally, for those players who have completed their college eligibility and want to continue their hockey careers, NWHL Free Agency provides the best opportunity to continue playing at the highest level of professional women's hockey. Players who were not drafted by an NWHL team, or who have previously played in a different league, in Europe or otherwise, are unrestricted free agents and may sign with any team that offers them a contract.
The fourth season of the NWHL will begin in October as the Metropolitan Riveters defend their Isobel Cup championship, and with the addition of a fifth team – the Minnesota Whitecaps – this will be the most competitive season yet.
My colleague Dan Rice will keep THW readers up-to-date on Metropolitan and Connecticut's signings throughout the summer, while I post updates on Buffalo and Boston. Together we will be keeping readers informed of all of Minnesota's signings. 
Goalie Katie Burt Is First Pride Signing
Riveters Re-Sign All Three Goalies
Beauts Ink Three More Veterans
It doesn't seem like any of the four other NWHL teams will be able to outdo the Buffalo Beauts when it comes to free agent signings. One Olympic goaltender was not enough, so now Buffalo has gone and gotten two. On Jun. 27, 2018, the announcement came out that the Beauts had signed three-Olympian Shannon Szabados to be their third and final goaltender for 2018-19 season. The signing has stunned the world of women's hockey, and further solidifies Buffalo as the forerunner for this coming season's Isobel Cup championship.
"This is a monumental signing for our team and for the NWHL, and we cannot wait to see Shannon in a Beauts jersey," said Buffalo's general manager Nik Fattey in a league press release. "Her international pedigree and unprecedented success in men's leagues demonstrate the quality play she'll bring to our crease this season."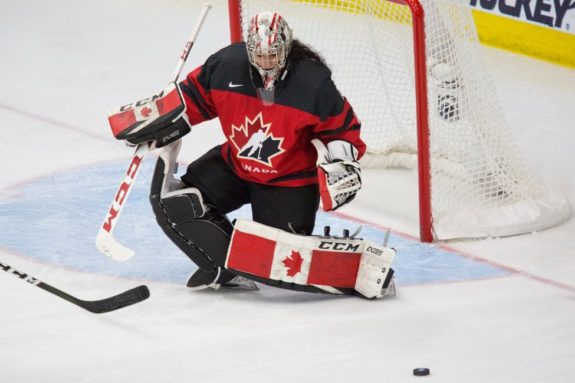 Buffalo's goaltending rotation is now fully situated. The first goaltender to sign with the team was American Olympic gold medalist Nicole Hensley. Shortly thereafter the Beauts announced that they had brought back third-string goalie Julia DiTondo from their 2017-18 squad. Now the signing of the Canadian Szabados rounds out the goalies and adds a few exclamation points in the process.
Adding Szabados is not only a huge signing for Buffalo, but it is an enormous one for the NWHL as a whole. Considering that "pedigree" that GM Fattey mentioned, it is arguable that no bigger signing has previously taken place in the history of the league. THW takes a closer look at Szabados, and what she will do for this Buffalo hockey club.
Szabados Will Play Her First Pro Season for Women's Hockey
While this may not be Szabados' first season of professional hockey, it is her first playing in a pro women's league. From 2013 to 2017 she played in the Southern Professional Hockey League (SPHL) – a men's league – with the Columbus Cottonmouths and the Peoria Rivermen. Her first full season in the SPHL came during the 2014-15 season when she played 25 games for the Cottonmouths. In that stretch Szabados posted numbers of .907 save percentage and a 3.12 goal-against average. Those numbers would be among the top-10 goalies in the league, as well as her win totals (15) on the season .
Why Buffalo? I know this signing may have come out of left field to some of you but to others who follow my instagram & social media closely it should not be a surprise. I will give full details tomorrow after the press conference in Buffalo! Thanks for your support! pic.twitter.com/Ktq684XbRY

— Shannon Szabados (@ShannonSzabados) June 27, 2018
The following year of 2015-16 she suited up for 22 more games for Columbus. Szabados would become the first woman to record a shutout in a men's professional league when she stopped all 33 shots she faced against the Huntsville Havoc on Dec. 26, 2015. While her goals-against raised a bit that same season (3.63), her save percentage improved to a .910 to be her finest thus far in professional hockey. Splitting the Cottonmouths' goaltending duties that year with Brandon Jaeger, Szabados' was still within the top-15 in most goaltending categories for the league.
Playing in the NWHL and winning an Isobel Cup is on a short list of achievements that Szabados has not yet done. At least on paper, Buffalo is currently the odds-on favorite to become champions once more. Szabados, who turns 32 in August, could be the signing that just won it for them. While anything can happen (look at the Beauts' underdog Isobel Cup victory over the Olympian-laden Boston Pride in 2017), it is going to be very difficult to find a more powerful goaltending tandem than that of Szabados and Hensley.
One of the Finest in International Hockey History
Obviously, the most noteworthy portion of Szabados' résumé is her phenomenal international experience. Showing no signs of slowing down, she was named the Best Goaltender at the 2018 PyeongChang Winter Games, as she backstopped the Canadian women to a silver medal. The fact that she allowed only four goals in three games and compiled a .949 SV% secured her the honors from the directorate.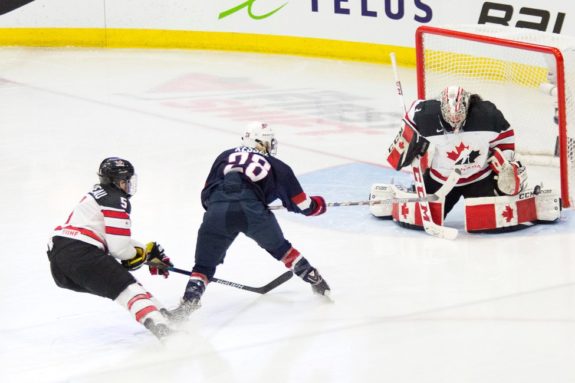 That silver comes after Szabados helped win two gold medals – first in 2010 at the Vancouver Games, and then repeated in 2014 at the Sochi Games. Across those three separate appearances, Szabados has a career Olympic record of 8-1-0. Her numbers at the Vancouver Games were simply astonishing – a 0.88 GAA that coincided with a .980 SV% in three games.
Aside from her Olympic experience, Szabados has competed in four different IIHF Women's World Championships, winning the gold medal in 2012. She backstopped Team Canada to silver medals in 2011, 2013 and in 2017. Szabados' numbers at World Championships have been equally as impressive. Her finest was arguably her most recent when at the 2017 Women's Worlds she made four appearances in net for Canada. In the process she compiled two shutouts and came away with a 1.21 GAA and a .954 SV%.
Bottom Line for Buffalo's Roster
Oddly enough, it was Hensley who out-dueled Szabados for the gold at that 2017 Worlds in Plymouth, Michigan. Now the two are teammates. A bit of a "Can-Am Connection", of sorts. Not enough time has gone by for it to have sunk in yet that the Beauts have two of the best goalies in the world on their roster. The Szabados signing truly is shocking – in a very good way – and it will take until the start of the regular season for fans to fully realize the extent of their goaltending talent. The Beauts goal crease is overflowing with star power.
Beauts fans, meet your newest goaltender, @ShannonSzabados!

Show her the #OneBuffalo love! pic.twitter.com/xwzP0SIHyP

— Buffalo Beauts (@BuffaloBeauts) June 27, 2018
Szabados is very much excited to begin her NWHL career and to don the Beauts uniform. One of the sights that women's hockey fans have grown accustomed to seeing at international tournaments are Szabados' long, curly locks hanging down the back of a Team Canada jersey. Now they will be flowing down the back of the Beauts' blue.
Szabados said the following in a video posted by the Beauts on social media:
"Hi Beauts fans! Shannon Szabados here. Super excited to be joining the Buffalo Beauts for the upcoming season. Can't wait to meet all of my new teammates, and get down to Buffalo to get this season started."
The Beauts have made the most signings of the five NWHL teams thus far. Here is a look at how their roster is currently shaping out as of Jun. 27:
Goalie: Nicole Hensley, Julia DiTondo, Shannon Szabados.
Defense: Lisa Chesson, Savannah Harmon, Jacquie Greco.
Forward: Hayley Scamurra, Corinne Buie, Maddie Elia, Dani Cameranesi, Annika Zalewski, Julianna Iafallo, Kelly Babstock, Jordan Juron. 
General Manager of the Buffalo Beauts (NWHL). Hockey history writer "The Hockey Writers". Credentialed media for the NHL Combine and 2018 IIHF World Junior Championships in Buffalo, NY, USA. Born and raised in Buffalo, NY. Lifelong hockey fan for over 40 years. Proponent of the women's game.