Beginning June 1, NWHL teams can re-sign players from their 2017-18 roster and their draft picks. Additionally, for those players who have completed their college eligibility and want to continue their hockey careers, NWHL Free Agency provides the best opportunity to continue playing at the highest level of professional women's hockey. Players who were not drafted by an NWHL team, or who have previously played in a different league, in Europe or otherwise, are unrestricted free agents and may sign with any team that offers them a contract.
The fourth season of the NWHL will begin in October as the Metropolitan Riveters defend their Isobel Cup championship, and with the addition of a fifth team – the Minnesota Whitecaps – this will be the most competitive season yet.
My colleague Dan Rice will keep THW readers up-to-date on Metropolitan and Connecticut's signings throughout the summer, while I post updates on Buffalo and Boston. Together we will be keeping readers informed of all of Minnesota's signings. 
Riveters Re-Sign All Three Goalies
Beauts Ink Three More Veterans
Stecklein Signs With Minnesota Whitecaps
The Boston Pride's signing of goaltender Katie Burt is a prime example of the NWHL Draft process coming to fruition. While all players heading into the 2018-19 season are technically free agents, this particular signing is indicative of both a courtship between team and player, and a lesson in geography. Boston completed a hat-trick of sorts with the signing – they sought out her talent, found that she was in close proximity, and have extensively welcomed her to the team.
The Pride selected Burt with the top overall pick of the 2017 NWHL Draft. The goaltender is a native of nearby Lynn, Massachusetts, and played all four years of her college hockey career at Boston College. During that time Burt established herself as one of the finest goaltenders in the game. Historically speaking, the Pride have long been considered well set in their crease since the league's inaugural season. However, the opportunity to add such an immensely talented goaltender was too good to pass up. Especially one right from their own backyard.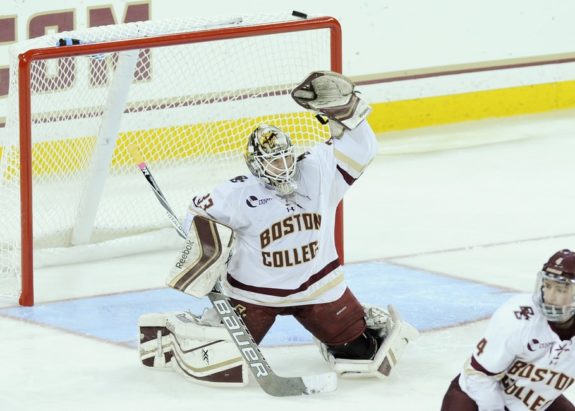 Burt stated the following via an NWHL press release:
"I'm ecstatic to join my hometown Pride and to become a part of the NWHL because this team and this league give me the best opportunity to achieve my goals in hockey."
THW takes a closer look at the Pride's signing of their rookie netminder, and how adding one of such elite caliber will ultimately shape the team for the upcoming season.
Burt Is a Record-Setting Netminder
Burt is the all-time leader in NCAA history for wins by a goaltender. At the end of her career with the BC Eagles she had compiled an astounding record of 121-13-10. Burt's other statistics are just as extraordinary: a career 1.46 goals-against average, a .936 save percentage, and a total of 35 career shutouts. Her final totals for wins, goal-against, save percentage and shutouts are all records for the Boston College women's hockey program.
Burt's finest season was arguably her sophomore year at BC, at least in terms of the numbers that she forged. In 36 games during the 2015-16 season she went 35-1-0. Certainly hockey is a team sport, and that record was not compiled by Burt's heroics alone. However, consider if you will that she posted a .943 SV% that same year and 1.23 GAA. If Burt was not the primary reason for only losing one game that season, she was darn well close to it.
Looking at her senior season, Burt posted the highest GAA (1.95) and lowest save percentage (.933) of her career – as if those numbers are anything to scoff at – but she was unbelievable in the amount of rubber that she turned aside. The 2017-18 season brought about her most sizable workload of 1113 shots faced – the only time in her four years that she faced 1,000 or more. Of the total shots against, Burt stopped 1038 of them.
Suffice it to say that she can handle a heavy load and not miss a beat. Now she will carry that endurance and dexterity over to the professional level.
What Burt's Signing Means to "The Pack"
Burt is thrilled with the idea of playing for "The Pack", and they are equally as enthralled with having her on their roster. To that point, it makes sense that she is the team's first announced signing. By constructing from the crease on outward, the Pride are showing that they nearly impenetrable – at least on paper. Announcing Burt's signing as their first is almost a show of bravado, and why not? – she is that good.
"I want to play a part in the Pride winning the Isobel Cup again for Boston," Burt continued to say in the same press release, "and my aim is to be considered for the U.S. national team. I have no doubt we're going to have a great team in Boston, and the competition across the five teams of the NWHL is going to be fierce. Coming into training camp I'm expecting a great level of competition and to learn a lot from the women who have been there before me. I'm hoping to soak it all in and learn the ins and outs of professional hockey."
BREAKING: @KatieBurt33, the winningest goalie in @NCAA history has officially signed with The Boston Pride!https://t.co/ahI8C6grlE

— Boston Pride (@TheBostonPride) June 25, 2018
Newly named Pride head coach Paul Mara was most welcoming of his new goaltender. He recognizes that Burt will give the team that ability to win every game if she has the proper support around her. Burt is essentially a "money goalie" who can deliver game in and game out.
"Katie is a great goaltender with exceptional talent and a strong work ethic, so we're very proud and excited that she has decided to join the Pride," Mara said about the signing. "Our staff will work closely with her to enhance her development as a player. I'm confident that Katie will play an instrumental role on our team this season, and for many to come."
So Who Are the Other Pride Goalies?
Now the question becomes: who will be the Pride's other two goalies? Before the Burt signing came down the pipe, goaltending was one of Boston's strongest attributes. Veteran netminder Brittany Ott is still one of the most dependable and clutch goalies in women's hockey. Her 2015 Clarkson Cup and 2016 Isobel Cup trophies are proof enough of that. She also has a sizable 43 career NWHL regular season games to her credit.
Though Ott just turned 28 years old, she could conceivably play for as long as she would like. The combination of Burt and Ott would arguably be the strongest tandem in the league, if it makes sense to have two number-one goalies on the same team. The Buffalo Beauts did it in 2017 with Brianne McLaughlin and Amanda Leveille, and won a championship out of it – so it can work.
115!
Katie Burt of Boston College is all alone atop the NCAA record books with her 115th career victory in net. pic.twitter.com/oxZ8SFGp8a

— NCAA Ice Hockey (@NCAAIceHockey) January 28, 2018
The other two goaltenders for Boston this past season were rookies Brianna Laing and Madison Litchfield. Both showed promise in their first NWHL seasons, particularly Laing who played four games and came away with a .897 SV%. Litchfield got into one regular season game, and could be the odd one out in Boston, unfortunately.
Barring the Pride going with entirely new netminders, re-signing Ott, Laing or possibly Litchfield in addition to having Burt would make them the team with the best all-around goaltending in the league. Only time will tell, as the Burt signing is only the first for Boston in a long, long off-season.