Beginning June 1, NWHL teams can re-sign players from their 2017-18 roster and their draft picks. Additionally, for those players who have completed their college eligibility and want to continue their hockey careers, NWHL Free Agency provides the best opportunity to continue playing at the highest level of professional women's hockey. Players who were not drafted by an NWHL team, or who have previously played in a different league, in Europe or otherwise, are unrestricted free agents and may sign with any team that offers them a contract.
The fourth season of the NWHL will begin in October as the Metropolitan Riveters defend their Isobel Cup championship, and with the addition of a fifth team – the Minnesota Whitecaps – this will be the most competitive season yet.
My colleague Dan Rice will keep THW readers up-to-date on Metropolitan and Connecticut's signings throughout the summer, while I post updates on Buffalo and Boston. Together we will be keeping readers informed of all of Minnesota's signings. 
Gold Medalist Brandt Joins NWHL, Whitecaps
Leveille First Player to Sign with Whitecaps
Beauts Add Perennial Sniper in Babstock
It seems like everyone has been overly excited about the multitude of signings that the Buffalo Beauts have pulled off since NWHL Free Agency began. It is easy to forget that there are still a lot of really good players available to the whole league. The Minnesota Whitecaps are here to remind of us, and they have started locking up All-Star caliber players of their own. Now they have added their first rearguard of the 2018-19 season, and she is a darn good one.
Word was released by the NWHL that Olympic gold medalist defender Lee Stecklein had signed with Minnesota. Stecklein is easily one of the best at her position in any league. The fact that she ends up with the Whitecaps is no coincidence either. A native of Roseville, Minnesota, the 24-year-old blueliner will soon be playing her first season of professional hockey.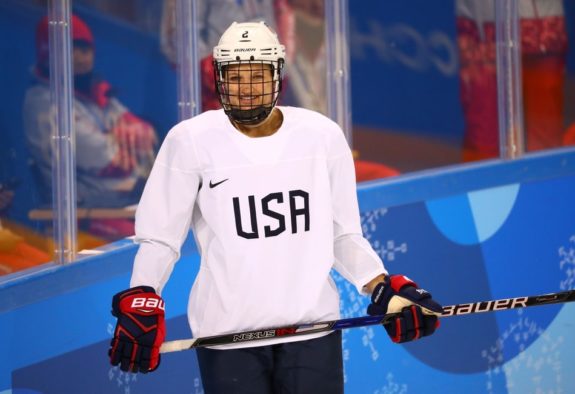 There is something to be said for "slow and steady wins the race". While we cannot say that the Whitecaps' signings have been slow with an entire summer still ahead, they seem to be coming forth at a steady clip – as steady as the players themselves who have already been inked. Minnesota is making quality signings too, as opposed to quantity signings.
THW takes a closer look at what Stecklein will bring to the Whitecaps.
Size and Championship Experience
At 6-feet tall and around the 170-pound mark, Stecklein is one of the biggest and strongest defenders in women's hockey. She sees a lot of ice during games, and has the body and athleticism to log major minutes night in and night out. During each contest of the women's hockey tournament in PyeongChang '18, Stecklein was always in the top three for minutes played among all of USA' skaters. When you look at her international successes as a whole, they add up to Olympic gold and silver, and four IIHF World Championship golds.
With the NWHL's reigning Best Goaltender Amanda Leveille having become the first official Whitecap to be signed, it is not difficult to fathom why Stecklein followed suit a short time later. In addition to Stecklein being homegrown talent, she and Leveille were teammates at the University of Minnesota for three seasons and won the NCAA championships for women's hockey in each of those years (2013, 2015, 2016).
During Stecklein's collegiate career with the Golden Gophers she scored 20 goals and 73 assists for 93 points in 157 games. Furthermore, she compiled an astounding plus-137 for plus/minus during that same span.
The point is that Stecklein has a winning pedigree, and is very difficult to go up against when it comes to her defensive prowess. Possessing a great reach and of the soundest positioning, attacking forwards just cannot get around her. Stecklein's strength accentuates her ability to clear the front of the net, and oftentimes sees opposing players wind up on their backsides.
Starting Her Professional Hockey Career
Stecklein was initially drafted by the Buffalo Beauts as the second player selected in the 2016 NWHL Draft. However, between wrapping up her time at the the University of Minnesota and her time spent with USA's women's national team, she will only be making her professional debut come the start of the 2018-19 season. Now that it is about to take shape, Stecklein is looking forward to things getting underway.
We'll leave this right here. pic.twitter.com/NCiKEurwAM

— NWHL (@NWHL) June 20, 2018
She shared the following in an NWHL press release:
"I'm really proud to join the NWHL as part of the Whitecaps, an organization with a long and rich history in the state of Minnesota. It's particularly gratifying to be part of this with the Brodt family, who have had a huge impact on my playing career. It would be great to win the Isobel Cup for Minnesota."
Being surrounded by familiar faces and in familiar confines is certainly an ideal situation for any hockey player. Stecklein is no different, but her professionalism and ability would shine through no matter where she ended up. Many speculated that it could be Buffalo, but Minnesota definitely makes more sense. It is where she was born and raised, and has already reached major hockey achievements. In this case, there may not be a finer example of a team best suited for a particular player and vice versa. Stecklein embodies the Whitecaps most well.
Minnesota Is Just Getting Started
Stecklein and newly named Whitecaps teammate Hannah Brandt become the fourth and fifth PyeongChang Olympians to sign with NWHL teams. The fact that Minnesota's first three signings are all elite players moves some of the free agency thunder into their rink and away from Buffalo. The Whitecaps are assembling their squad by using a winning recipe – build from the crease on outward. With their number one goaltender established in Leveille, now they have their premier blueliner in Stecklein.
BREAKING: The @WhitecapsHockey have signed USA Gold Medalists Hannah Brandt and Lee Stecklein.

🔗: https://t.co/YcxnqAtGxG pic.twitter.com/GjzUscLTqr

— NWHL (@NWHL) June 20, 2018
Once the 2018-19 season gets underway, there is no doubt that Stecklein will be among talks all season long when referring to the league's Best Defender honors. Stecklein's shoulders are sturdy, and she is capable of handling any and all pressure that oftentimes accompanies elite defenders. It is rather exciting to consider that her career in the NWHL is just about to unfold.
Stecklein's signing is one of three that the Whitecaps have officially announced thus far. Here is a look at how their roster is currently shaping out as of Jun. 20:
Goalie: Amanda Leveille.
Defense: Lee Stecklein.
Forward: Hannah Brandt.