For four consecutive NHL Drafts, Brad Treliving has been a busy man. In his three previous drafts, he leveraged draft choices in trades to add to the Calgary Flames' lineup without giving up an established roster player. At the 2018 NHL Draft, in the aftermath of a disappointing 2017-18 season, Treliving changed tactics. The Flames made the biggest move of the weekend by trading Dougie Hamilton, Micheal Ferland and prospect Adam Fox to the Carolina Hurricanes for Elias Lindholm and Noah Hanifin.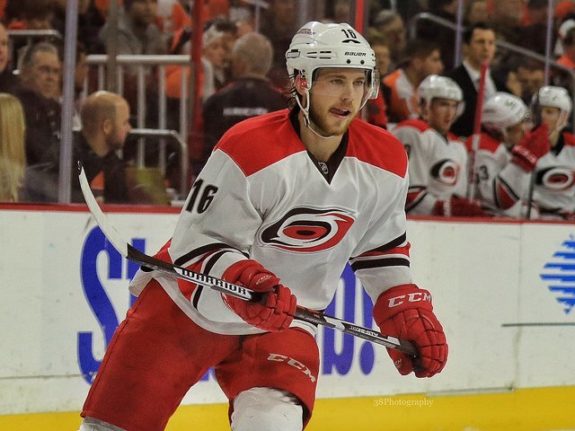 After three years of building his hockey club towards not just playoff berths but contention, Treliving's big move sends an unambiguous message to his team: they need to take a step forward in 2018-19 and they won't accept any excuses. Following an extensive evaluation process after season's end by the hockey operations department, the trade with Carolina is the first of several dominoes likely to topple this off-season.
More Consistency Up Front
The Flames' first forward line for the past two seasons has primarily consisted of Sean Monahan between Johnny Gaudreau and Ferland. As Sesame Street has taught us, one of those things is not like the others. While blessed with a great shot and the willingness to play a crash-and-bang style that opened up the ice for his skilled linemates, Ferland lacked the consistency to stick with the top line for the long haul.
On the other hand, Lindholm is younger and a more versatile 200-foot player than Ferland. A right shot that can play center or the wing, he was used effective on several different lines with the Hurricanes and on both sides of special teams. He'll likely slot in beside Gaudreau and Monahan, but he'll be able to boost any other line he's on and provide more balance for the club's attack.
More Balance on Defense
The Flames have been top-heavy on the back end for years. When Treliving arrived the top pair was Mark Giordano with TJ Brodie, but the club had very little behind them. Then Hamilton, and later Travis Hamonic, were acquired and the team remained overly reliant on Giordano and Hamilton on the top pairing despite expending heavy assets.
Flames aren't finished by a long shot. Despite the sticker shock, today's trade was a positive move for many reasons. Hamilton's apathy was a big issue in the room, Fox was never coming to Cgy. Ferland a loss but gone next year as UFA. Expect Flames to be active in free agency.

— Eric Francis (@EricFrancis) June 24, 2018
The hope is Brodie and Giordano will rekindle their previous chemistry, while Hanifin will find effective mentorship from new assistant coach Ryan Huska – a defensive development whiz in the Western Hockey League – and shutdown blueliner Hamonic. In an ideal scenario, the Flames would end up with a strong offensive pairing, a strong defensive pairing, and a third pairing that provide a bit of both.
Fewer Distractions
It would be unfair to lay the blame for the Flames' under-performance last season on off-ice distractions, but they certainly didn't help. Between the likely final days of Jaromir Jagr's NHL career, the protracted Mikael Backlund contract negotiations, rumoured unhappiness from Hamilton regarding his role, and depth issues throughout the lineup being exposed with injuries late in the season, the Flames had their fair share of frustrations.
After betting big on his group by spending high draft pick currency to push his team into contention, it's not unrealistic to think that Treliving's job might be on the line with another spring without playoff hockey. His moves so far this off-season suggest that he thinks that might be the case. More roster tweaks, like adding right shot forwards and additional scoring depth, are likely coming as free agency looms.