When the Calgary Flames signed Jaromir Jagr at the end of training camp, there were skeptics trumpeting worst-case scenarios. He's 45 years old, they said. He's not as fast as he used to be, they said. He wouldn't be able to keep up, they said, especially without any kind of training camp. It wouldn't be worthwhile to make Jagr a Flame, even for just a year.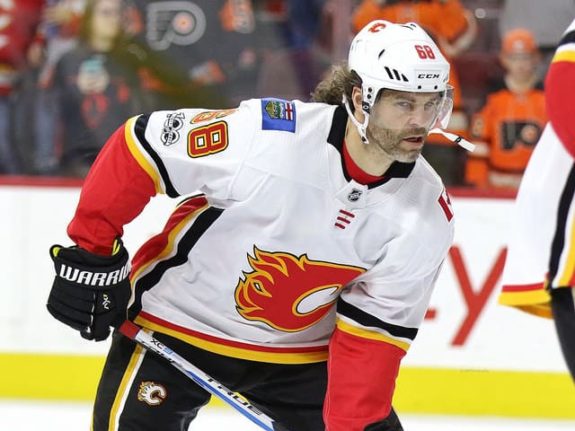 In the end, the skeptics were right. But at the same time, they were also incredibly wrong. Despite how things ended, with Jagr returning to the Czech Republic to finish out the season (and potentially ending his NHL career), bringing him into the fold was a worthwhile gamble.
Mixed On-Ice Results
Jagr was on the Flames' roster for 49 games, but only played 22 – he missed 27 games due to recurring groin and knee injuries that likely were a product of his missing all of Flames training camp and rushing to get into game shape. He amassed one goal and six assists in his stint with the Flames, a far cry from even his least productive NHL season. His goal was a memorable one, a two-on-one rush with Johnny Gaudreau in 6-3 win over the Detroit Red Wings.  In the same game, he assisted on Mark Jankowski's first career goal – a rebound from a Jagr shot ricocheted off Jankowski's pants and went in. In a few years Jankowski's story will probably resemble Gaudreau's.
Eric Francis: Jagr, Jankowski and Bennett had a blast in win over Red Wings. Just what the #Flames need. #yyc https://t.co/7N2PtEw8s8 pic.twitter.com/IV63Bqe6HI

— Calgary Sun (@calgarysun) November 10, 2017
Jagr primarily played with youngsters Sam Bennett and Mark Jankowski, and mentored that duo on and off the ice, but he bounced up and down the lineup and played a little bit with everybody. He never found a niche on the team, in part because of his injuries forcing him in and out of the lineup and his skating wavering when he was in the lineup. The unexpected benefit of his transience in the Flames lineup is that every player on the team now has a "I played with Jagr" story to tell.
Strong Off-Ice Results
The big question regarding Jagr's stint with the Flames is whether the club actually lost anything by taking a chance on the hockey legend.
The younger players on the team got a mentor who played over two decades at the highest level. He definitely helped Gaudreau with his confidence and Jankowski with his puck protection. In addition the younger players that disappointed in training camp, which triggered Jagr's signing in the first place, got a chance to play in Stockton and then push hard to win jobs when Jagr became injured. It's unlikely they would've been as motivated without Jagr's presence forcing the issue.
Jagr got a chance to see if he could still play at the highest level at a time where it looked like his time in the NHL was over. He got another million dollars (or so) in earnings but also got 22 more games on NHL ice, and the fans got a chance to see a living legend wearing a Flames sweater.
As Sportsnet's Elliotte Friedman often jokes during radio appearances, Father Time is undefeated. Jagr wasn't going to play forever, and sooner or later his play would degrade to the point where he couldn't hack it at the NHL level. That time, sadly, is probably now; the spirit is willing, but the flesh is failing. His stint with the Flames – between the injuries and inconsistency – was basically the worst-case scenario. The positives of Jagr's time in as a Flame still heavily out-weigh the negatives.
Ryan Pike has covered the Calgary Flames and the NHL Draft extensively since 2010 as a Senior Writer for The Hockey Writers and Senior Contributing Editor of FlamesNation.ca. A member of the Professional Hockey Writers Association, he lives in Calgary.