Only two weeks ago, everything was rolling along perfectly for the Calgary Flames and their fans. The team had just won their seventh straight game, and had climbed into a divisional playoff spot.
Fast forward to the present day, and the Flames have now lost four straight games, and according to many fans, big changes need to be made, including saying goodbye to head coach Glen Gulutzan. But, realistically, Flames fans need to relax — the situation is nowhere near as bad as many of them are making it out to be.
Flames Have Points in 11 Straight Games
Yes, the Flames are riding a four-game losing streak heading into the home stretch following the all-star break, but fans seem to be forgetting they've picked up a point in each of those four losses. Obviously two points are always better, but to come away with points in all four losses is still huge.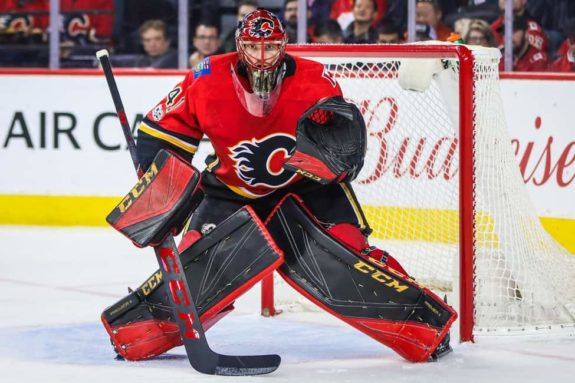 If the Flames had went on a four game run such as loss-win-loss-win, fans wouldn't be raising anywhere near the fuss they currently are. But, the reality is, it's the same amount of points in the end, and they still retained a divisional playoff spot heading into the All-Star break. Points can be hard to come by in the NHL, and for the Flames to have earned at least one point in 11 straight games is nothing to shake your head at.
"Obviously, we're disappointed in not getting two, but we're right in the thick of things and you've got to continue to gain points and gain momentum. Sometimes, it takes a couple losses in shootouts or overtime to get us going, and I think we still have to look at the positive side," said Flames goaltender Mike Smith in a Calgary Sun article.
Related: The Importance of Mike Smith
Glen Gulutzan Doing Fine
Among all the four-game losing streak chatter is the occasional rumbling of firing Gulutzan, which is simply out of line. There have even been some fans placing losses fully on his shoulders. How can you realistically be calling for a coach's head when he has his team in a playoff spot, and riding an 11-game point streak?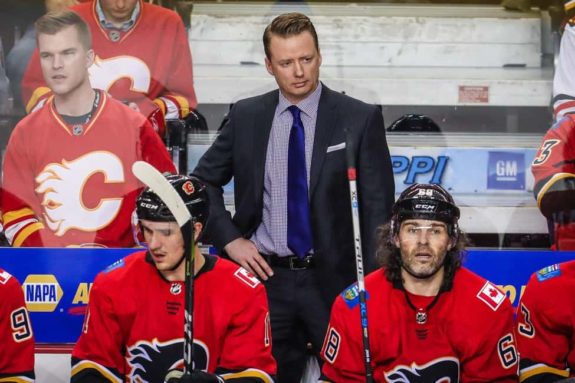 To further oppose axing Gulutzan, he's in just his second year with the Flames, and led them to the playoffs in his first year. Barring a major decline in overall production, he will likely lead the team to another playoff berth this season. With another year of playoff experience under their belt, plus an overall better roster than last season, Gulutzan could very easily lead the Flames beyond the first round of the playoffs.
Related: Gulutzan's Tirade Was Theatre, Nothing More
Struggling Power Play
The one area of frustration for fans that's understandable and fair is the lack of power play production. But, once again, there's a reasonable explanation for that too. The Flames power play started the season off scorching-hot, led by Johnny Gaudreau, Sean Monahan and Kris Versteeg, but for the past 27 games, one of those three has been missing due to injury.
Although his eight points this season and below 40-point average in his career may not be significant, Versteeg's value doesn't lie in his point production. Versteeg was one of the main reasons the Flames top power play unit was so productive to start the year. He may not rack up the points, but he's got a keen eye for finding Gaudreau and Monahan in the right spots, and is able to open up more ice for them as well.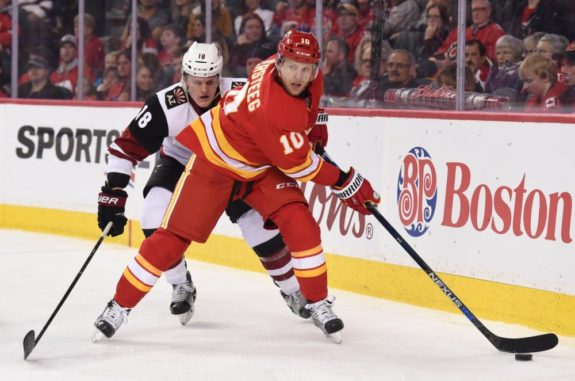 The good news for the Flames power play is that Versteeg is targeting a return in March, just in time for the playoff stretch. Once he returns, the man advantage will receive an instant boost, but until that time comes, the Flames will likely continue to shuffle around the power play lines until they find a working combination.
"You want to help in any way you can," said Versteeg in a Calgary Sun article. "You want to go through the entire process with these guys. When you see it going good, you want to be part of it. And when you see it going bad, you want to be part of the solution to get out of it."
Flames Are a Playoff Team
When all is said and done, the end goal of the regular season is to simply make the playoffs. And the Flames won't have any trouble doing that. With the team being back to full health, minus Versteeg, they have a roster that should make the playoffs without question, and a roster that could potentially make a deep playoff run if goaltender Mike Smith gets hot.
Flames fans are too busy finding something to complain about to realize they have a team that's post-season bound and, if firing on all cylinders, can make some serious noise deep into the playoffs. There are many fan bases that would kill to be in a Flames fan's position, so just sit back and enjoy what could possibly be a long ride into May…or even June.
I've been writing for over three years and have work published by the Calgary Herald, National Lacrosse League, Hard Knocks Fighting and The Weal at SAIT. Although I've covered many different topics as a journalist, sports writing remains my main passion and strength.