In the summer of 2011, the Calgary Flames made an interesting move at the NHL Draft. In the fourth round, the team rolled the dice on one of the smallest players available in that draft class: a 5'6″, 137 pound forward from the United States Hockey League named Johnny Gaudreau. Six seasons later, that gamble seems like one of the savviest moves the organization has made in decades.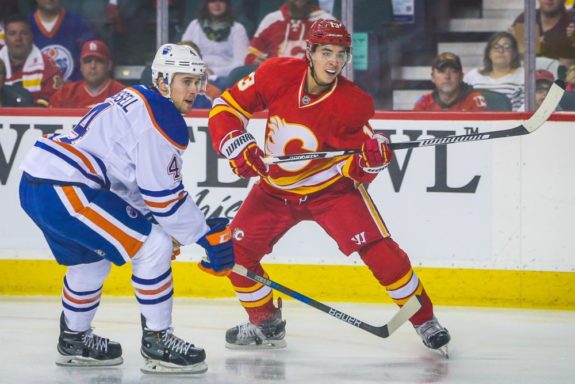 Gaudreau followed his draft selection with three very productive years with the NCAA's Boston College Eagles and then made the jump to the NHL, where he's been a standout with the Flames for his entire run. Now he's off to the best start of his professional career and sitting among the NHL's scoring leaders, which has lead to the inevitable questions of just how high his ceiling actually is: he's always been really good but does Gaudreau have it in him to be truly great?
Related: Flames Love Them Some Small Guys
A Brief History of Progression
There's two things to remember about Gaudreau: he's been the best player in his age group in every league he's been at since he was a tween, and he's been doubted by those that evaluated his talent at virtually every turn. He's been a fantastic player relative to his competition level every season, yet scouts and coaches probably thought to themselves that he's too small and wouldn't be able to translate it to the next level.
Gaudreau had downright perverse scoring numbers in Philadelphia's bantam leagues, with the Team Comcast midget squad, and in the USHL. Ignoring his size and comparing his production to his age group, he was the best player in his league – in good leagues – for five seasons in a row.
Because he was short and weighed just 137 pounds, the Flames were able to land him in the fourth round – at head amateur scout Tod Button's insistence.
Gaudreau followed up that vote of confidence by scoring a point-per-game as a freshman, over a point per game as a sophomore and two points per game as a junior. Compared to players his age, Gaudreau was the leading college scorer in the United States in all three seasons he spent with Boston College.
Then he turned pro, signing a contract with the Flames immediately after capturing the Hobey Baker Award as top college player in America.
A Strong NHL Start
After a single-game appetizer in the final game of the 2013-14 season – where he scored a goal – Gaudreau joined the Flames full-time to begin 2014-15. He initially struggled to adjust, but everything seemed to snap into place for him after a healthy scratch allowed him to observe the game from a different perspective. As he did in the lower levels of hockey, Gaudreau began to produce and progress offensively.
| Season | GP | G | P | G/GP | P/GP |
| --- | --- | --- | --- | --- | --- |
| 2014-15 | 80 | 24 | 64 | 0.300 | 0.800 |
| 2015-16 | 79 | 30 | 78 | 0.380 | 0.987 |
| 2016-17 | 72 | 18 | 61 | 0.250 | 0.847 |
There's the obvious progress between his first two years in the NHL, and then a drop-off. Gaudreau was involved in a protracted contract negotiation prior to the 2016-17 season that saw him miss training camp entirely. As a result, Gaudreau never really had a chance to get accustomed to Glen Gulutzan's new systems and by the time he seemed to get his legs under him, he had his hand broken by a slash in mid-November. Between learning systems on the fly and dealing with his slash-riddled hands, the season was a bit of a wash.
That said, even accounting for his "lost season," Gaudreau's underlying possession metrics have improved every season. His offensive metrics (Corsi For per 60 minutes) have upticked quietly: from 54.55 as a rookie to 56.81 last season. His defensive metrics (Corsi Against per 60 minutes) have really improved: from 62.74 as a rookie to 54.39 last season. The pucks might not have been going in consistently, but Gaudreau's play with and away from the puck really came together during his first three NHL campaign.
Related: Flickering Flames Face Floundering Firepower
What's His Ceiling?
Gaudreau has always been good. He was good in previous seasons, at lower levels, and he's been consistently pretty good in the NHL. But through the first 20% of the 2017-18 season, Gaudreau has produced at previously-unseen levels with 22 points over the first 16 games. It's easily his best start since joining the Flames and comes with the rest of the team still trying to figure out how to bury their chances.
The encouraging sign is that Gaudreau's offensive uptick has coincided with an improvement in his already-impressive possession numbers: 63.63 Corsi For per 60 minutes, paired with 54.09 Corsi Against per 60. He's coming by his offensive production honestly, not relying on bounces, a hot streak, or any other type of hockey voodoo.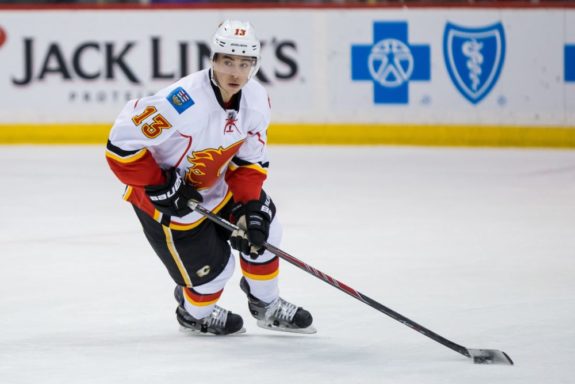 Gaudreau's new Flames teammate Jaromir Jagr knows a thing or two about being an elite player, and he noted following the Flames' 6-3 victory over Detroit – where Gaudreau set up Jagr's first Flames goal – that he has a very high ceiling.
"He's got such a great talent, so it's up to him how he's gonna take it," said Jagr. "With his talent, he can win the scoring [race] every year. It's just up to him. You know, he's so quick, he's so good one on one, he always keeps skating so it's tough to shut him down one on one. When he's skating like this, it's almost impossible. And if you double-team him, he always finds somebody open so it's just up to him."
Even if Gaudreau's production slows down somewhat, he's already on pace for his best season ever. If he can stay consistent, there's no reason why he can't further establish himself as an elite offensive talent at the NHL level.