On Monday night in Toronto, the Hockey Hall of Fame welcomed its Class of 2017 at the Induction Celebration Gala. The class included players Dave Andreychuk, Danielle Goyette, Paul Kariya, Mark Recchi, and Teemu Selanne. Other inductees include former coach Clare Drake and Boston Bruins owner, Jeremy Jacobs.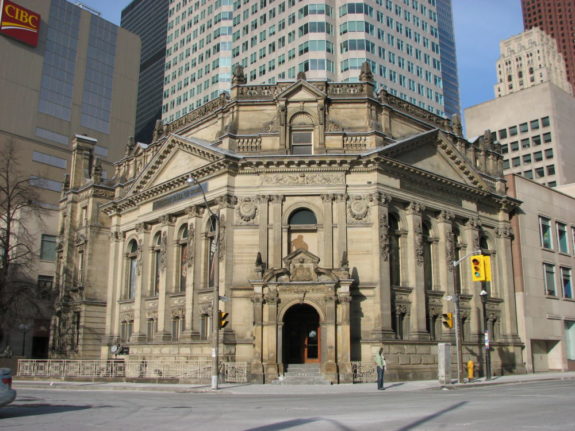 Since the opening of the first building in 1961, the Hockey Hall of Fame has been the place where the greats of the game have been celebrated. It's where the game's glorious past tells its story to the present. Where one can re-live the careers and events that have brought cities and even countries to their feet.
Selanne and Kariya formed one of hockey's most exciting duos when they played together for the Anaheim Ducks from 1996 to 2001. They were the Ducks' version of Lennon and McCartney.
Paul Kariya
Kariya was simply one of the best of his generation. He tallied 402 goals and 587 assists for 989 points in 989 career games. The Vancouver, B.C. native was drafted fourth overall in 1993 by Anaheim.
The highly skilled forward played nine seasons for the Ducks while adding stints with the Colorado Avalanche, Nashville Predators, and St. Louis Blues.
In a game of size and strength, Kariya proved there was a place for speed and skill. His creative style and ability to make the big play made him seem bigger than his slight frame. The seven-time All-Star and two-time Lady Byng Trophy winner also won an Olympic Gold in 2002 and was the first freshman to ever win the Hobey Baker Award as NCAA Player of the Year.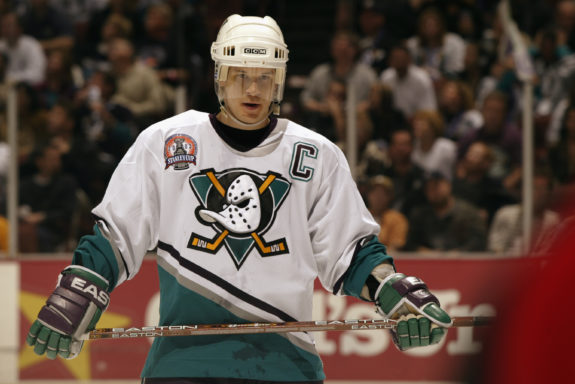 "Teemu, if I didn't get the opportunity to play with him, I wouldn't be in the Hall of Fame," said Kariya.
Related: Hockey Hall of Fame Debates: Curtis Joseph
Teemu Selanne
You don't get a second chance to make a first impression. And Selanne made a first impression for the ages. His 1992-93 season with Winnipeg was spectacular, as he tallied a rookie-record 76 goals and 56 assists for 132 points.
Calling him a pure goal scorer doesn't do him justice. He played 15 seasons with the Ducks, surpassing the 50-goal mark twice–with 51 goals in 1996-97 and 52 in 1997-98.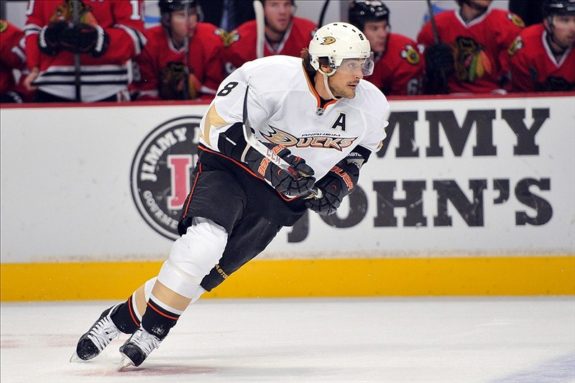 Selanne, also known as 'The Finnish Flash', ranks as the 15th-highest scorer in league history. He scored 684 goals and added 773 assists for 1,457 points in 1451 games. The Finland native was drafted tenth overall in 1988 in Winnipeg Jets. He was a four-time All-Star who won the 1992-93 Calder Memorial Trophy, the 1998-99 Maurice "Rocket" Richard Trophy and the Bill Masterton Memorial Trophy.
The winger helped the Ducks win their first Stanley Cup in franchise history. He played in six Olympics, winning a silver and three bronze medals. More impressive, he's the all-time points leader in Olympic hockey history.
Selanne joined fellow countryman, Jari Kurri, as the only natives of Finland to be enshrined in the HHOF. He was selected in his first year of eligibility.
Dave Andreychuk
Andreychuk scored 640 goals (fourteenth all-time in NHL history) and dished 698 assists for 1,338 points in 1,639 games (ranks seventh all-time). Born in Hamilton, Ontario, he was selected sixteenth overall by the Buffalo Sabres in 1982. He had stints with the Sabres, Toronto Maple Leafs, New Jersey Devils, Boston Bruins and Colorado Avalanche before landing in Tampa Bay and earned All-Star honors on two occasions (1990 and 1994).
The rugged left winger finally raised the Stanley Cup in 2004 as captain of the Tampa Bay Lightning.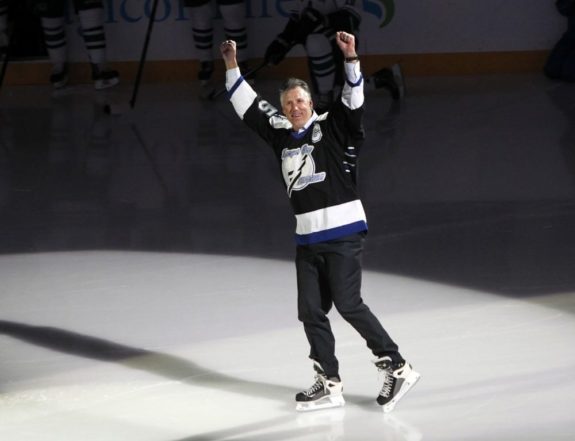 In an interview with E.J. Hradek on NHL Network prior to the ceremony, Phil Esposito, 1984 Hockey Hall of Fame inductee and 2-time Stanley Cup Champion with the Boston Bruins (1970 and 1972) was raving about Andreychuk:
"I don't think we win the Stanley Cup without David. I thought he was the glue. Every team has a player like that… and you don't know who it is. It was Bobby Orr in 70. Gerry Cheevers in 72. There's always one guy that takes the team to that next step. Dave Andreychuk did that with the Lightning. And he's also the first Lightning player to be inducted into the Hall of Fame."
His size, strength, and skill were tailor-made for creating space and scoring goals on the power play. Andreychuk ranks first all-time in league history, with 274 power play goals.
He played 11 seasons with Buffalo. His 368 goals rank third all-time in franchise history while his 804 points rank only behind fellow Hall of Famer, Gilbert Perreault.
Related: Alexander Mogilny Hall Of Fame Worthy
Mark Recchi
Success has followed Recchi wherever he has gone. He raised the Cup with three teams: the Penguins (1991), Carolina Hurricanes (2006) and Boston Bruins (2011). He was also a Penguins Player Development Coach when they won the Cup in 2016 and 2017, and won gold medals at the 1988 World Junior Championship and 1997 World Championship.
The right winger, born in Kamloops, B.C., was drafted in the fourth round (67th overall) by the Pittsburgh Penguins. Recchi was often told he was too small and too slow. But that only fueled his desire to succeed. He has outscored every member of his draft class. Also in 2011, at age 43, he became the oldest player to score a goal in a Stanley Cup Final.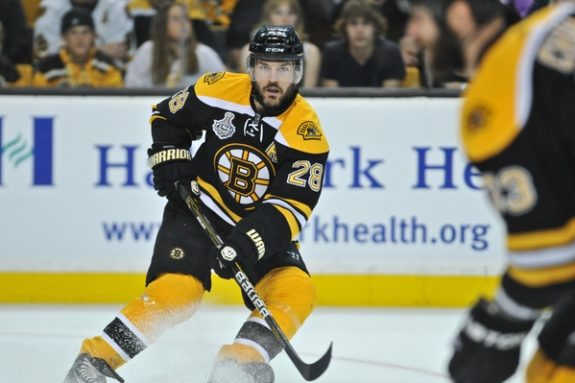 Recchi's career spanned more than two decades (1988 to 2011). He scored 577 goals and 956 assists for 1,533 points in 1,652 games (ranks fifth all-time).
He played for seven different teams in his career, but played mostly with the Philadelphia Flyers (10 seasons), Pittsburgh Penguins (seven seasons) and Montreal Canadiens (five seasons).
Recchi is also the only retired player with at least 500 goals and 1,500 points who had not already been inducted.
Clare Drake
Drake is known as the 'Dean of Coaching'. He's one of the most respected and winningest coaches in Canadian college hockey history and has been a mentor for Mike Babcock, Barry Trotz, Ken Hitchcock and many others.
His coaching skills made him successful. His willingness to teach others made him legendary. He racked up 697 career CIAU coaching wins, is a two-time CIAU coach of the year, and was named to the Order of Hockey in Canada in 2014.
"He doesn't use knowledge as power, he shares it. And it's very genuine. That's the biggest influence he has on us. A lot of us are not afraid to share information because we've seen Clare do it," said Ken Hitchcock.
He's been in the running for many years in the Builder category, unable to reach the 75% voting threshold until this year. Now 88 years old, he was unable to make the trip, but his grandson accepted the award on his behalf.
Danielle Goyette
Goyette was a trailblazer for women into hockey and helped elevate the status of women's hockey all over the world.
She made her international debut for Canada at the age of 26. Goyette scored 207 goals and added 467 assists for 674 points in 941 games played. A Quebec native, she was a two-time Olympic gold medalist for Canada (2002, 2006) and an eight-time world champion. She piled up 113 goals and 105 assists in 171 games for the national team.
She is Canada's all-time leading scorer (29 goals and 53 points) in eight IIHF World Championships.
She played in three Olympics–Nagano (1998), Salt Lake City (2002) and Turin (2006), winning silver, then two golds. In 2006, she was Canada's flag-bearer.
"When I started to play hockey, first of all women's hockey wasn't that popular. When I grew up people would ask me why I was playing hockey because it was a man's sport. But when you love something that much, it doesn't matter what people say, you just do what you love," –Danielle Goyette
Goyette, 51, is the first female player from Quebec to be inducted into the Hockey Hall of Fame. She is the fifth woman to receive this honor, following Cammi Granato (2010), Angela James (2010), Geraldine Heaney (2013) and Angela Ruggiero (2015). Goyette became a member of the International Ice Hockey Federation Hall of Fame (IIHF) in 2013 and Canada's Sports Hall of Fame in 2015.
Jeremy Jacobs
Jacobs has been the owner of the Bruins since 1975, overseeing the Bruins during six trips to the Stanley Cup Final and a title in 2011. He not only helped his team succeed, but the entire league as well.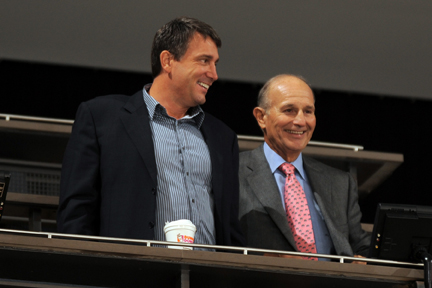 He's the longest-tenured owner in the history of Boston sports and has served as chairman of the NHL Board of Governors since 2007.
Jacobs paid homage to Harry Sinden, his mentor for over 40 years and ended his speech by saying, "Our teams may compete, but our success is shared."
Media Honors
Dave Strader was named the winner of the Foster Hewitt Memorial Award for outstanding contributions as a hockey broadcaster. Sadly, Strader, known as 'The Voice' passed away on Oct. 1, 2017, at the age of 62 after a lengthy battle with cancer.
Strader covered hockey for nearly four decades in the American Hockey League and NHL, working for various teams and networks, including ESPN, ABC, and NBC.
Long-time hockey writer Cam Cole was honored with the Elmer Ferguson Award for excellence in hockey journalism. He's one of the faces you'd expect to see on the Mount Rushmore of Canadian sports journalists.
After a 41-year career, Cole retired in 2016. He covered the Edmonton Oilers dynasty and spent time in Toronto and Vancouver. His illustrious career covered more than 30 Stanley Cup Final series and 16 Olympics.