The days leading up to the NHL Global Series were anything but normal for the Ottawa Senators. Aside from the usual distractions that come with playing a regular season game in an irregular setting, the team also had to weather the media storm that followed Matt Duchene as he prepared to make his Sens debut against his former team.
But once Friday came, the team was finally able to focus on hockey again. Here's what stood out during the two games in Stockholm, and what it could mean for the Senators going forward.
A Happy Homecoming
If you were to hear that only one of Ottawa's Swedish defenceman failed to score in the Global Series, odds are you wouldn't guess that player would be Erik Karlsson. The Landsbro, Sweden native failed to score in front of his home country's fans, but he did register four assists in the two games and has averaged over 1.5 points per game so far this season.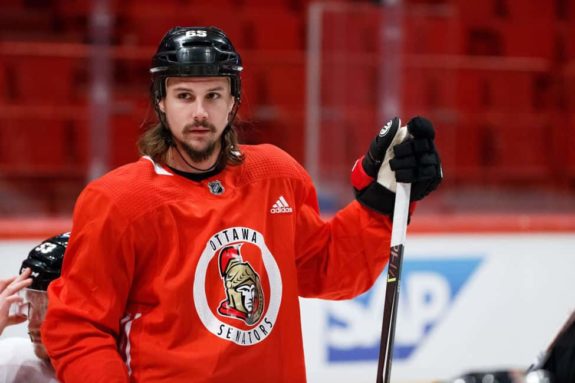 The two Stockholm natives, Fredrik Claesson and Johnny Oduya, managed to steal a bit of the captain's spotlight. After scoring his first goal of the season in front of his hometown fans, Claesson emphatically raised both arms to the sky for his trademark goal celebration. The defender is becoming a fan favorite in Ottawa, but it's clear that Stockholm is still the home of his biggest fans.
Claesson has a history of scoring goals when paired with Karlsson, and the two have put up pretty solid possession numbers when playing together this season. When at 5-on-5, the Karlsson-Claesson pairing has a +10 shot differential per 60 minutes of ice time. Since few players in the league are better at finding an open man in the offensive zone than Karlsson, pairing him with a hard shooting defenceman like Claesson makes sense. Karlsson hasn't had a consistent defence partner this season, but it will be interesting to see whether Sens coach Guy Boucher keeps the two together.
Mark Stone on a Roll
There's been some debate about who the Senators number-one centre is, but with the way Mark Stone has been scoring this year, that title can be given to anyone who plays with the 25-year-old winger. Stone is making the most of his contract year early in the 2017-18 season. Stone scored three goals during the Stockholm trip, bringing his total to 12 on the year. It looks like he has fully recovered from the leg injury he sustained in last spring's playoff run, as he's become Ottawa's most consistent forward this season.
Stone has already developed a reputation as one of the best forecheckers in the league, and his offensive game has reached another level so far this season. It's incredible to see how a healthy Stone changes the dynamics of the Senators forward group.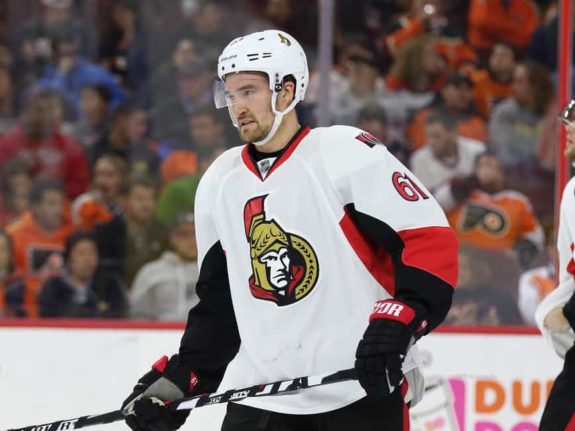 With Stone playing at this high level, Guy Boucher is able to put together a powerful five-man power play unit. The unit of Stone, Derick Brassard, Matt Duchene, Mike Hoffman and Karlsson got two shifts on the power play, scoring on their second attempt.
Duchene Makes His Debut
This past week has been a whirlwind for Matt Duchene. After getting to traded to the Senators on November 5, Duchene left the Avalanche game in Brooklyn to head to Ottawa for his introductory press conference and first team practice. From there it was straight to Sweden. Now that the Sens are back in Ottawa, Duchene will finally get a chance to get used to his new city.
The Senators newest forward was held off the scoresheet in both games against his former team, but it wasn't for a lack of trying. Duchene was all over the ice on Friday and Saturday, getting a fair amount of chances and making some big defensive plays in his own end. In these two games, Duchene had 10 shots on goal and won 64.29% of his faceoffs.
Duchene started his first game as a Senator on the second line with Hoffman and Zack Smith but spent time on a line with Alex Burrows in the next game after Smith dislocated his thumb. Since Boucher has been rolling 11 forwards and seven defencemen recently, it's going to be more difficult for Duchene to find a consistent set of wingers to develop chemistry.
However, now that Bobby Ryan has been removed from the long-term injury list, Duchene may have just found his next linemate.
Expect Bobby Ryan to start with Matt Duchene. My belief is Boucher wants to see if there's a fit there. #Sens

— Bruce Garrioch (@SunGarrioch) November 13, 2017
If Duchene and Ryan can develop some chemistry, the Sens have a chance to ice a really strong top six. Even though the line of Ryan-Brassard-Stone was very successful before Ryan broke his finger, Boucher seems keen on trying out some different line combinations to determine where Duchene is the best fit.
Up next for the Senators is a rematch of the 2017 Eastern Conference Finals, with the Pittsburgh Penguins coming to Ottawa on Thursday, November 16.