In this series, we debate the merits of players who may have been overlooked for induction into the Hockey Hall of Fame using the Hall's criteria of judging a player based on their "playing ability, sportsmanship, character and contributions to his or her team or teams and to the game of hockey in general." Today we look at the case for Mark Recchi.
Ranking Mark Recchi
1,652 games played (4th all-time)
577 goals (20th all-time)
956 assists (14th all-time)
1,533 points (12th all-time)
200 power play goals (17th all-time)
18 shorthanded goals (84th all-time)
91 game-winning goals (15th all-time)
2,820 shots (26th all-time)
0.928 points per game (95th all-time)
189 playoff games played (26th all-time)
61 playoff goals (25th all-time)
86 playoff assists (35th all-time)
147 playoff points (29th all-time)
Why Recchi Should Be In the HHoF
Recchi's career totals are impressive. He's consistently among the highest ranked Hockey Hall of Fame eligible players who aren't already in the Hall. He has the most games played of anyone not in the Hall of Fame, he's first in assists, points, and even strength goals. He's second in goals and game-winning goals, third in power play goals, shots and playoff assists, fourth in playoff points and fifth in playoff goals.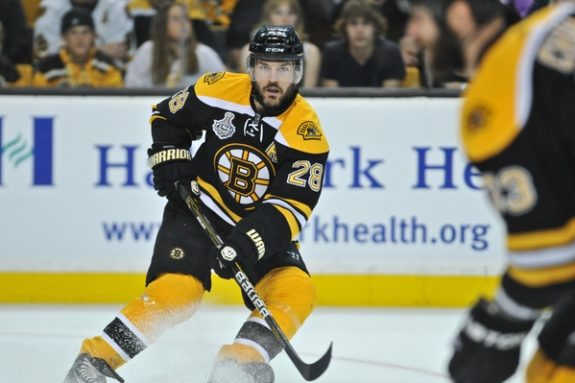 The points are particularly convincing for a Hall of Fame case. Everyone who is in the top 25 in points is either in the Hall already or will be a lock for a first ballot induction (Teemu Selanne and Jaromir Jagr).
A lot of players who are overlooked for inclusion are missing their name on the Stanley Cup. Mark Recchi doesn't have that problem. He won three Stanley Cups in his career, including championships with the Penguins in 1990-91 (putting up 10 goals and 34 points in 24 games), the Hurricanes in 2005-06 and as an alternate captain of the 2010-11 the Boston Bruins. Only a handful of players have ever won three Stanley Cups with three different teams.
He made his way around the league, ultimately playing for seven teams, but he was a leader, serving as alternate captain for four different clubs, totaling 13 seasons with a letter on his chest.
While he doesn't hold any individual trophies, he was voted a NHL Second-Team All-Star in 1992 and played in seven All-Star games. He got Hart Trophy votes four times, including finishing ninth in 1991. Additionally, he had Selke Trophy votes three times and Lady Byng votes 12 times.
Though they aren't individual trophies, he has a couple of honors that aid his case, including being inducted into the British Columbia Hockey Hall of Fame in 2013 and being named a part of the Trib Total Media Penguins All-Time Team.
Non-NHL Accomplishments
From early in his career, he was accumulating championships, winning a gold medal at the 1988 World Junior Championship with Team Canada. That came in the same year he was a WHL All-Star for the Kamloops Chiefs.
The following season he went pro, playing just 15 games with the Penguins and spending most of the season with the Muskegon Lumberjacks of the IHL, where he was an All-Star by year's end, scoring 50 goals and 99 points in 63 games.
He was not only an IHL All-Star that year, but led the team to a Turner Cup Championship.
Internationally, he continued to represent Canada playing in two World Championships and one Olympics. He won gold with Canada at the 1997 World Championship, where he put up three goals and three assists in nine games.
Why Mark Recchi Shouldn't Get In
The case against him largely hinges on his not having any personal hardware and what that means. It aids the argument that his impressive point totals are at least in part a result of his having played a ton of games throughout his very long career.
It paints a picture of a player who was good, but never elite and may have benefitted from playing on some strong teams in his career, including playing on the Pens with Mario Lemieux and Jaromir Jagr, some strong Philadelphia rosters and two other Stanley Cup winners.
Also working against him is that his international career isn't highly decorated. He played for Canada relatively few times and during his World Junior Championship gold he didn't score a goal, posting five assists in seven games.
Verdict
Yet, he was very good for a very long time and that's worth quite a bit.
There's some merit to the argument against him, but some of it is a bait and switch. He wasn't elite, but at his peak his top-end skill was hidden behind playing on a team with two of the most dynamic players in the history of the game.
He broke 100 points three times, cracked 50 goals once and crossed 40 goals another two times.
Not only was he a strong player, he was never a passenger. He was a key piece of his team's playoff runs. He scored 34 points in 24 games during the Penguins Stanley Cup run. Then put up 24 points in 21 games for Montreal over the course of three playoff appearances. He scored 18 points in 18 games in Philadelphia's strong run in 2000.
At age 37 he had seven goals and 16 points in 25 games to help the 'Canes win the Cup and at age 42 (!) had 14 points in 25 games to help the Bruins capture the Cup.
He played until 42 and was never a drag on his teams, continuing to be a productive player despite the game getting bigger and bigger around the 5-foot-10 winger. His point totals should be enough in a voting process that puts a lot of emphasis on points. While he was a point producer for 22 years, he was also a player who mucked it up and agitated, so the stats don't tell the entire story of his utility. Recchi has earned his place in the Hall.
It makes some sense that he wasn't a first ballot induction, but now eligible for the third time, he should be finding his way in shortly.
RELATED: 7 Hall of Fame Snubs to Rectify
More Hockey Hall of Fame Debates:
Dave Andreychuk
Curtis Joseph
Paul Kariya
Steve Larmer
Eric Lindros
Sergei Makarov
Alexander Mogilny
Jeremy Roenick
Keith Tkachuk
Dustin Nelson writes about news and the Minnesota Wild for The Hockey Writers.