Sometimes injuries can be a blessing in disguise. With Tomas Hertl a last minute scratch in Montreal on Tuesday night, San Jose Sharks 37-year-old veteran forward Dainius Zubrus jumped up from his usual fourth line spot to play alongside the Joes. Not only did Zubrus contribute on two Sharks goals (including scoring one himself) but his line with Joe Thornton and Joe Pavelski played a strong, heavy game along the boards. The Sharks would end the night as 3-1 winners over the Canadiens.
Certainly Zubrus playing on the top line was unexpected in more ways than one. Not only did Hertl skate on that left wing spot in the morning skate but it is rare when any consistent fourth line player gets a shot playing with the team's best forwards. Since signing on mid-season as a pro-tryout, Zubrus has started every game on the fourth line prior to Tuesday. In his eight previous games as a Shark Zubrus had picked up just one point (an assist) with an average ice time around 11 minutes. His previous high in ice time was 13:15 and his low was 5:49 before skating 17:22 against the Canadiens. Granted San Jose didn't have a single power play opportunity which would have taken minutes away from Zubrus but still impressive to eclipse his previous high by four minutes.
Now Dainius Zubrus is no stranger to playing a top-six role. The native of Lithuania is about a half point per game player over his career, one that has spanned 1,252 games with six different NHL clubs. Twice he scored over 20 goals and 50 points with the Capitals and even just a few years ago scored 17 goals and 44 points for the New Jersey Devils in their 2011-12 Stanley Cup run. The majority of his career has been as a top-nine player with frequent top-six minutes. During that season with the Pete DeBoer led Devils in 11-12, Zubrus averaged 18:41 per game, fourth among Devils forwards, clearly a top-six player. Certainly Zubrus is older now, twilight of his career but he might just have found himself a home on that top line.
Dainius Zubrus Brings Size to the Line Like Burns Did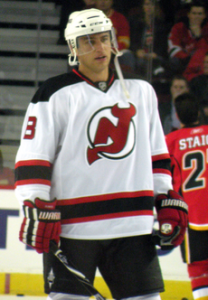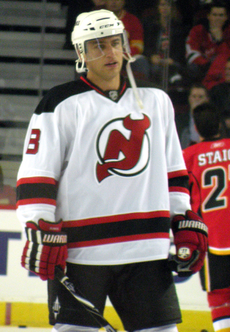 Few Sharks fans have forgotten how well Thornton and Pavelski played with Brent Burns two seasons ago. While Zubrus obviously isn't the same caliber of player as Burns, he does have some similar traits. Burns is a giant on the ice and Zubrus is likewise listed at six-foot-five. The former Devil checks in at 225 pounds, just five pounds lighter than Burns. While not as fast a skater, Zubrus brings decent speed and similar long reach on the forecheck. That physical power-forward type body is hard for opposing defenders to handle. When you pair Zubrus with another big body like Thornton (six-foot-four, 220 pounds), it helps keep possession of the puck below the opponents goal line. Zubrus and Thornton can wear down the opposing defense and wait until the opportune moment to feed Pavelski, one of the best goal scorers in the league.
With Burns having moved back to defense the past two seasons, the left wing spot next to the Joes has been a bit of a revolving door. Since Zubrus went all offseason unsigned and only recently joined the Sharks, he wouldn't have been anybody's first guess to lock down a role with the Joes but he very well could stick in that spot. Other options like Hertl and Patrick Marleau have looked better in second line minutes with Joel Ward. Melker Karlsson and Joonas Donskoi have both shown flashes on the Thornton and Pavelski line but both those guys are smaller players. Pairing Thornton with another big body like Zubrus may end up being the best way to go.  It worked for 1.3 seasons with Burns, maybe having a similar power-forward type player opposite Pavelski will get Thornton out of his slump.