Beginning June 1, NWHL teams can re-sign players from their 2017-18 roster and their draft picks. Additionally, for those players who have completed their college eligibility and want to continue their hockey careers, NWHL Free Agency provides the best opportunity to continue playing at the highest level of professional women's hockey. Players who were not drafted by an NWHL team, or who have previously played in a different league, in Europe or otherwise, are unrestricted free agents and may sign with any team that offers them a contract.
The fourth season of the NWHL will begin in October as the Metropolitan Riveters defend their Isobel Cup championship, and with the addition of a fifth team – the Minnesota Whitecaps – this will be the most competitive season yet.
My colleague Dan Rice will keep THW readers up-to-date on Metropolitan and Connecticut's signings throughout the summer, while I post updates on Buffalo and Boston. Together we will be keeping readers informed of all of Minnesota's signings. 
Stecklein Signs With Minnesota Whitecaps
Gold Medalist Brandt Joins NWHL, Whitecaps
Leveille First Player to Sign with Whitecaps
While there has been a dramatic influx of big names and new faces to the Buffalo Beauts organization, the team brought back some familiarity with their most recent signings. On Jun. 21, 2018 word was released that goaltender Julia DiTondo, defender Jacquie Greco, and forward Jordan Juron would all be returning as Beauts for the 2018-19 NWHL season.
The @BuffaloBeauts have re-signed Jacquie Greco, Jordan Juron and Julia DiTondo.

MORE: https://t.co/sj3Sw94Zaw pic.twitter.com/MGx0RPiFwO

— NWHL (@NWHL) June 21, 2018
For Greco it will be her third straight year with the team. In the cases of DiTondo and Juron, the upcoming season should be more of an opportunity for the league and for Buffalonians to become better acquainted with both of them. It is clear that General Manager Nik Fattey is sculpting this team to be an ideal blend of both veterans and newcomers alike. With Greco, DiTondo, and Juron on board, that makes a current total of seven returning players from the the team's 2017-18 roster.
THW takes a closer look at each of the three returning players and what they will bring to the Beauts.
Greco One of NWHL's Most Underrated Players
There is everything to like about Greco's game. Her versatility lends the option of playing her at either defense or forward, although this past season saw her primarily utilized on the back end. In 14 regular season games Greco picked up a pair of assists and fired 11 shots on net. She finished the season strong as a plus-seven for plus/minus as well.
"I'm thrilled to be back playing for my hometown, Buffalo, in year three," Greco said in an NWHL press release. "I know our team will feed off of the momentum from last season and finish with the outcome we want in 2019. I'm excited to play in front of the best fans in the league and to continue to inspire the next generations for our sport."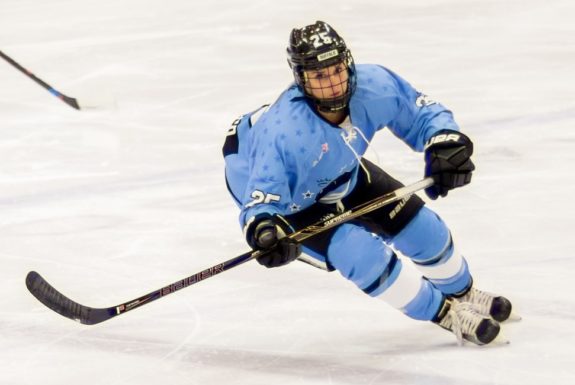 One of the most enjoyable sights at a Beauts game is the opportunity to see Greco lugging the puck up ice. She gets a full head of steam, and seems to make herself larger and more dangerous as she comes to- full speed. A powerful skater who never shies away from the play.
For her involvement in the community and with youngsters, Greco was the Beauts' recipient of the 2017-18 NWHL Foundation Award. The award is given annually to players most actively applying the core values of hockey to their community. Separately, Greco is now one of four players signed to the team who were members of the Beauts' 2016-17 Isobel Cup championship squad. In 29 career NWHL regular season games, she has tallied a goal and an a pair of assists. Greco has also played in each of the Beauts' postseason games during her two previous seasons with the team.
Juron's Physicality and Scoring Will Be Unleashed
Buffalo fans should prime themselves for having a full season's worth of Juron in a Beauts uniform. The 5-foot-8 forward had a point in each of her two regular season games this past year, including her first NWHL goal against Connecticut in the final game of the regular season. Considered widely as more of a power-forward, Juron is very capable of reaching double digits in points now that she will be playing a full year.
At the recent Beauts Free Agent Camp, she distinguished herself as a presence on the ice. Juron was easily the most vocal player during drills and scrimmages, and exuded an energy truly indicative of her excitement over the upcoming season. She fits in quite nicely with Buffalo's modus operandi of coming at teams with a multitude of sizable forwards who can put the puck home. Now you can add one more to the list. Given her unbridled enthusiasm and the drive she has shown this much ahead of the regular season, Juron is like a stick of dynamite anxiously waiting to be lit.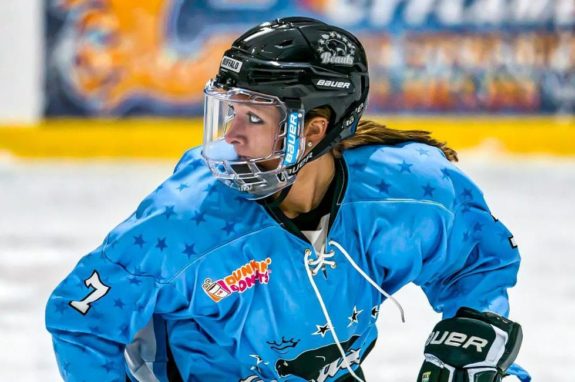 "'I am so excited to be back on the ice for the Beauts for a full season," Juron said in the same press release. "Buffalo is my new home and I can't wait to make the fans proud."
Juron played in 141 games during her four seasons of college hockey at Boston University. In that stretch she scored 15 goals and 25 assists for 40 points. Her finest output offensively came during her senior year when she put forth five goals and nine assists in 39 games.
DiTondo Narrows Down the Goaltending Situation
First came the big news that Olympic netminder Nicole Hensley signed with Beauts. Then the announcement that reigning NWHL Best Goaltender Amanda Leveille inked with the Minnesota Whitecaps after two years in Buffalo and a championship. Speculation over who Buffalo's other two goalies were to be was immediately ramped up shortly thereafter. One of them is now known and she is a returnee.
DiTondo is the Beaut whom the media and the public know the least about. Assuming more of a tertiary role last year behind Leveille and Kelsey Neumann, DiTondo did not see any playing time during the regular season or playoffs. She did however have an admirable showing in a preseason contest in which she turned aside all 13 shots she faced. This came during a 4-2 victory on Oct. 9, 2017 against Team China. THW was at the game and DiTondo indeed looked solid in her showing, though we do recognize that it was exhibition contest.
Another hometown pro! It's all about the #Buffalove for Julia DiTondo! pic.twitter.com/uJJ2SOQu1h

— Buffalo Beauts (@BuffaloBeauts) June 21, 2018
DiTondo definitely has some size to her at 5-foot-10. The native of Kenmore, New York played her college hockey at Merychurst University where she finished with a record of 5-2-0. That record included numbers of .937 save percentage and a 1.33 goals-against average in 13 career games.
It is difficult to say how much of a chance we will have to see DiTondo in action this season, especially with the Hensley signing. Separately, we also need to see who the third goaltender will be so that an understanding can be reached of how all three will fulfill their roles. For DiTondo's sake, one hopes that she gets some regular season action. It would be nice to see an opportunity for her to showcase her skills and have a chance to shine.
The Beauts have made the most signings of the five NWHL teams thus far. Here is a look at how their roster is currently shaping out as of Jun. 21:
Goalie: Nicole Hensley, Julia DiTondo.
Defense: Lisa Chesson, Savannah Harmon, Jacquie Greco.
Forward: Hayley Scamurra, Corinne Buie, Maddie Elia, Dani Cameranesi, Annika Zalewski, Julianna Iafallo, Kelly Babstock, Jordan Juron. 
General Manager of the Buffalo Beauts (NWHL). Hockey history writer "The Hockey Writers". Credentialed media for the NHL Combine and 2018 IIHF World Junior Championships in Buffalo, NY, USA. Born and raised in Buffalo, NY. Lifelong hockey fan for over 40 years. Proponent of the women's game.