Ron Hextall was introduced as the Philadelphia Flyers' general manager on May 7, 2014. In his introductory press conference, he announced, "it's not a vision of mine to trade young players for older players."
Hexy: "It's not a vision of mine to trade young players for older players." Talking development, drafting and building the team that way.

— Broad Street Hockey (@BroadStHockey) May 7, 2014
Since that statement, he has drafted 34 players over the course of four drafts. Five of them have already played in the NHL, nine have played at the AHL level and only four players are not in the system anymore.
The next crop of prospects is on its way with the 2018 NHL Draft being held on Friday in Dallas. Before we can look ahead, let's look back at how Hextall fared in his first four drafts as the Flyers GM.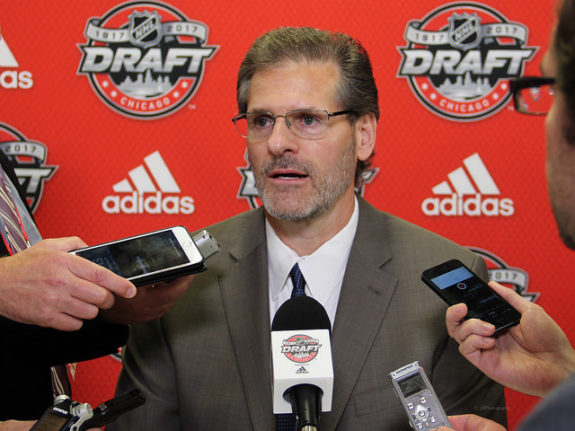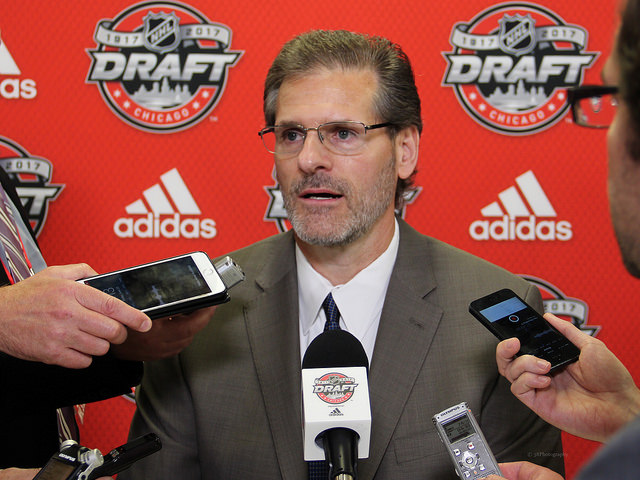 Hextall's First NHL Draft in 2014
D Travis Sanheim, No. 17
F Nicolas Aube-Kubel, No. 48
D Mark Friedman, No. 86
F Oskar Lindblom, No. 138
F Radel Fazleev, No. 168
D Jesper Pettersson, No. 198
Talk about pressure in your first draft. The 2014 NHL Draft was hosted by Philadelphia, and Hextall proudly selected Travis Sanheim as the 17th overall pick, even though his final NHL Central Scouting ranking was 53rd. Rumors swirled on the draft floor that Hextall was trying to get the first overall pick to select Aaron Eklbad, but the trade was not made. Some argued the Flyers should have taken local boy Anthony DeAngelo, who went 19th to the Tampa Bay Lightning, but now DeAngelo is already on his third NHL team. Sanheim was the right defenseman pick, but David Pastrnak was the best value pick of this draft by the Boston Bruins at 25th overall.
The Flyers' best value pick of this draft was Oskar Lindblom, who, this coming season, looks like he's ready to be a part of the top-six. All six players of this draft class played sometime in the AHL. Jesper Pettersson is the only player not still with the organization.
The Flyers traded their third-round pick (78th overall) to the New York Islanders for Andrew MacDonald. That pick was KHL super goalie Ilya Sorokin, and one pick after was Brayden Point by the Tampa Bay Lightning. The Islanders also acquired the Flyers' fourth-round selection (108th overall) in the Mark Streit deal, and New York selected Devon Toews. The ultimate steal of this draft was four picks later by the Nashville Predators, who took Viktor Arvidsson (112th overall.) The Flyers did gain back a third-round pick with the trade of Andrej Meszaros to the Bruins, in which they selected Mark Friedman.
The Follow-up in 2015
D Ivan Provorov, No. 7
F Travis Konecny, No. 24
G Felix Sandstrom, No. 70
G Matej Tomek, No. 90
F Samuel Dove-McFalls, No. 98
F Mikhail Vorobyov, No. 104
F David Kase, No. 122
F Cooper Marody, No. 158
G Ivan Fedotov, No. 188
The Connor McDavid draft saw Hextall really stockpile picks, with nine total and five in the first 100 players selected. The Ivan Provorov (seventh overall) versus Zach Werenski (picked eighth overall by the Columbus Blue Jackets) debate will continue, as both players have shown the ability to be their team's top defender.
This has created an interesting Werenski vs. Provorov debate, so let's test the waters. Who would you take in a re-draft?

— Scott Wheeler (@scottcwheeler) May 15, 2018
Hextall already had an extra first-round pick (29th overall) thanks to the Braydon Coburn deal with the Tampa Bay Lightning. He then packaged that with the second-round pick (61st overall) acquired from the Chicago Blackhawks for Kimmo Timonen to move up to 24th to select Travis Konecny. This draft was deep, as it already produced two Calder Trophy winners, McDavid and Mathew Barzal) Visit HockeyDB to check out the talent taken in the first round. Konecny belongs in that conversation of talent since his 35 goals are the sixth most of his draft class while his 75 points are ninth most.
Having two first-round picks in 2015 offset not having any second round picks, thanks to the aforementioned Andrew MacDonald trade. The Islanders moved that pick (37th overall) to the Bruins, who selected Brandon Carlo. The Maple Leafs selected Jeremy Bracco with the aforementioned 61st overall pick.
They lost their original third-round pick (68th overall) in the Steve Mason trade but somehow tricked the San Jose Sharks into giving them a third-round pick for Tye McGinn, where they took possible goalie of the future, Felix Sandstrom, with the 70th overall pick. Sandstrom is already in North America, ready to battle another goalie of the future, Carter Hart, for an AHL job next season.
They will be joined by fellow draft class members Mikhail Vorobyov, who will be in his second season with the Lehigh Valley Phantoms, and David Kase, who signed his entry-level contract in May.
Two players are no longer with the organization from the 2015 draft class. Samuel Dove-McFalls was signed to an ELC after his four-year run in the QMJHL. Cooper Marody, who had a successful three-year run with Michigan, was traded to the Edmonton Oilers for a 2019 third-round draft pick.
Trading Down in 2016
F German Rubtsov, No. 22
F Pascal Laberge, No. 36
G Carter Hart, No. 48
F Wade Allison, No. 52
F Carsen Twarynski, No. 82
F Connor Bunnaman, No. 109
D Linus Hogberg, No. 139
F Tanner Laczynski, No. 169
F Anthony Salinitri, No. 172
D David Bernhardt, No. 199
A year after having nine selections in the 2015 NHL Draft, Hextall added a pick and had ten in 2016. He originally held onto the 18th overall pick but on draft night flipped that to Winnipeg Jets with the 79th overall pick for the 22nd and 36th picks. With that first pick, they selected German Rubtsov. The Russian recently helped Acadie-Bathurst win the Memorial Cup Title, which was the franchise's first. The 20-year-old signed his entry-level deal on March 2 and should play in the AHL next season. This season, Flyers fans will also keep an eye on New York Islanders first-year pro Kieffer Bellows, who was selected at 19.
Even though they moved down, the Flyers did receive a top second-round pick (36th overall), where they selected Pascal Laberge. The 20-year-old has battled injuries but made his AHL debut in April after his QMJHL season ended. The better pick would have been Alex Debrincat, who was selected 39th by the Chicago Blackhawks and just finished a 28-goal rookie campaign.
The next pick, at 48th overall, could be the one that changes the franchise. Carter Hart is the first goaltender in CHL history to win the Goaltender of the Year award twice, and he also won a silver and gold medal in his two World Junior Championship runs with Canada. Hart turns 20 in August and will embark in his first pro season which will have Flyers fans and Hextall salivating to see him in the crease for the Orange and Black. This was the most important draft pick Hextall made.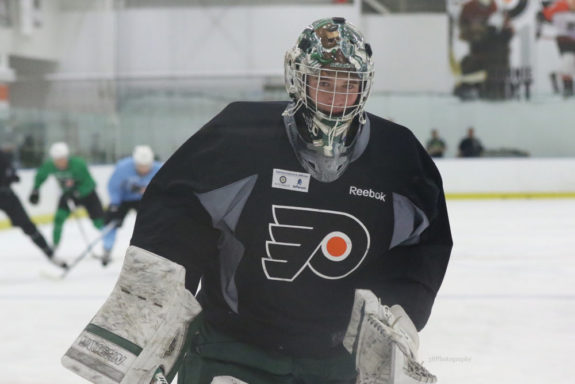 Kimmo Timonen winning the Stanley Cup with the Blackhawks and gave the Flyers another second-round pick (52nd overall), and they took scoring winger Wade Allison. The 20-year-old is returning to Western Michigan for his junior year after last season ended with an injury. He is a top scoring prospect for the Flyers with 27 goals and 32 assists in 58 collegiate games.
Another college prospect, who also is staying in school for another year, is Tanner Laczynski, and he seems like a steal at 169th overall. He won a gold medal with Team USA at the 2017 World Junior Championship and has 79 points (27 goals, 52 assists) in 75 NCAA games.
The only prospect not still in the organization is sixth-round pick Anthony Salinitri. The Flyers lost his draft rights at the beginning of the month.
Winning the Lottery in 2017
F Nolan Patrick, No. 2
F Morgan Frost, No. 27
F Isaac Ratcliffe, No. 35
G Kirill Ustimenko, No. 80
F Matthew Strome, No. 106
F Maksim Sushko, No. 107
F Noah Cates, No. 137
F Olle Lycksell, No. 168
D Wyatt Kalynuk, No. 196
The Flyers held a 2.4-percent chance of receiving the 2nd overall pick in the 2017 NHL Draft through the weighted lottery after finishing 19th among all NHL teams that season. They defied the odds and jumped over 11 teams to select Nolan Patrick. From this draft class, only Nico Hischier, the top overall pick of the draft, had a bigger impact than Nolan in his rookie season. He was the consensus top player until injuries cost him most of his draft season, and was a real win for the organization.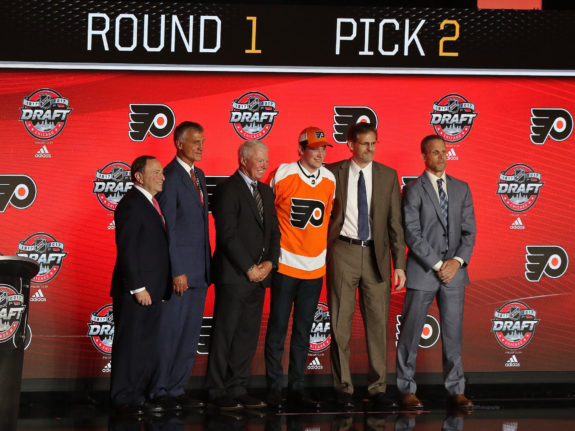 This win allowed the Flyers to trade Brayden Schenn for two first-round picks (27th overall in 2017 and 14th overall in 2018). With the 27th overall pick, they picked Morgan Frost, who scored 42 goals and 112 points last season for the Sault Ste. Marie Greyhounds. This seems like another great late first-round steal by Hextall, though keep an eye on the Nashville Predators' Eeli Tolvanen, who was picked at 30th.
Hextall made another bold move at the top of the second round, trading the 44th, 75th and 108th pick for the 35th overall pick. With that pick, he took 6-foot-6 forward Isaac Ratcliffe of the Guelph Storm. The 19-year-old had 41 goals in the OHL this season and even got into two AHL games with the Phantoms, scoring his first professional goal.
This draft is hard to judge one year later, but a prospect to keep your eye on is fifth-round pick Noah Cates. He was recently named one of the 42 players to be invited to the 2018 World Junior Summer Showcase. The 19-year-old finished a successful USHL career with 63 points in 73 games and will attend the University of Minnesota-Duluth in the fall.