Beginning June 1, NWHL teams can sign players. Additionally, for those players who have completed their college eligibility and want to continue their hockey careers, NWHL Free Agency provides the best opportunity to continue playing at the highest level of professional women's hockey. Players who were not drafted by an NWHL team, or who have previously played in a different league, in Europe or otherwise, are free agents and may sign with any team that offers them a contract.
The fourth season of the NWHL will begin in October as the Metropolitan Riveters defend their Isobel Cup championship, and with the addition of a fifth team – the Minnesota Whitecaps – this will be the most competitive season yet. My colleague Nathaniel Oliver will keep THW readers up-to-date on Boston and Buffalo's signings throughout the summer, while I post updates on Connecticut and the Riveters. Together we will collaborate to keep readers informed of all of Minnesota's signings.
Stecklein Signs with Whitecaps
Gold Medalist Brandt Joins NWHL, Whitecaps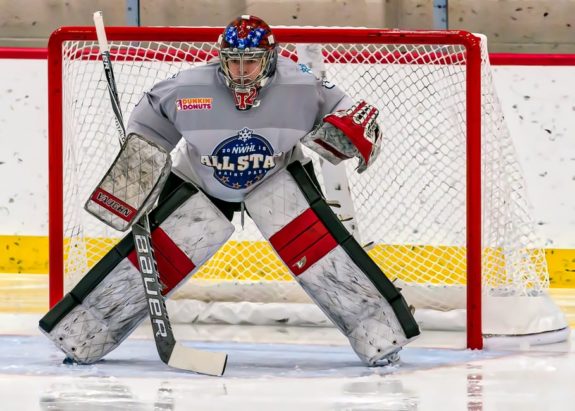 On June 22 the Metropolitan Riveters re-signed all three goalies that were a part of their championship team, ensuring that for the first time in franchise history that there will be no changes in the crease from one season to the next. Katie Fitzgerald was the MVP of the playoffs, not allowing a goal in either playoff game and was named to the NWHL All-Star Game for the second straight season. Fitzgerald also won Goaltender of the Year in 2017 and she is second all-time in wins for an NWHL goalie with 19.
"We have such an amazing group and I can't wait to get back on the ice," Fitzgerald, who also played for Team NWHL in a two-game series against Team USA in January, said through the league's press release. "The NWHL is always a place with incredible talent and competition. I'm excited to continue to learn and grow with these amazing people, and happy to be a Riveter again in season 4!"
https://twitter.com/kfitzy94/status/1010181676578803717
Sarah Bryant only saw action in two games a season ago in relief of Fitzgerald and is the consummate teammate who always shows up to the rink – whether it be for a practice or game – with a smile on her face. "It's a privilege to have another season with the Rivs as part of such a supportive and hard-working goaltending crew," Bryant said in the press release announcing the signings.
Kimberly Sass joined the Rivs at the start of the season after sitting out the previous season and playing with Buffalo in the inaugural NWHL season. She picked up a win in her lone start, a 3-2 overtime triumph on the road in Connecticut in late January. "Since the first day I stepped into the locker room of the Riveters, I knew the organization was where I wanted to remain," Sass said. "The atmosphere of the team and the attitude of the players and staff were unmatched. I'm absolutely thrilled that we were able to keep our goalie roster the same, as consistency is key in building a successful team."
Some signature @matthewraney shots of my new mask than fans contributed to🔥🔥🔥#sassmask #staysassy #watertower #fdny #rivets #len #rosie #pigeon #fireescape #greenpoint pic.twitter.com/PHRuBW2kqe

— Kimberly Sass (@_thedailysass) April 29, 2018
Sass quickly became a fan favorite in Newark with her persona, and they even chipped in to help her get a new mask that represented the Riveters colors, and logos – replacing her old Beauts bucket. "Sarah, Katie, and I have a competitive yet supportive relationship and I cannot wait to see it continue. As always, I look forward to competing at a very high level for playing time. We cannot wait to face the challenges of the 2018-19 season and to defend the Isobel Cup!"
Dan Rice is in his 9th year of reporting for THW & has covered NJ Devils home games for 15+ years at various websites. He began his journey working for legendary broadcaster/writer Stan Fischler from 2002-04 & completed an internship at the ECHL; he also has been writing features for the NWHL (nwhl.zone) website since 2016.