The rumors are rampant that a trade involving Carolina Hurricanes forward Jeff Skinner is imminent. One of the best players on the team, who has been an alternate captain and perennial team points leader is on the block. The questions that arise are "Why?" and "For who?"
Skinner for Who?
Brian LeBlanc wrote on Friday at Canes Country that Pierre Lebrun saw a couple of general managers chatting it up at the draft. LeBlanc wrote, "It was previously reported this morning by The Athletic's Pierre LeBrun that Hurricanes GM Don Waddell and his counterpart with the Los Angeles Kings, Rob Blake, were seen having a "friendly chat" on their way out of the GM meetings last night in Dallas, and the Kings have been long connected in the Skinner rumor mill." Again the question is, "For who?"
The Kings are not likely going to send back to the Hurricanes a player of his caliber. They are not sending Drew Doughty or Anze Kopitar to the Hurricanes. One might say, "That's absurd, they are two of the Kings' best players." They might send Adrian Kempe, who is several years younger and a whole lot cheaper. But, with only one full season under his belt, is it possible to even speculate on how he would play in the Hurricanes organization?
That is the point. The Hurricanes are dangling one of their best players out to the NHL universe, and are almost certain not to get an equivalent or better player in return.
Sounds like Carolina is inching closer to moving Jeff Skinner. 3 teams believed to be in the mix in the late stages of discussions.

— Darren Dreger (@DarrenDreger) June 22, 2018
Darren Dreger also threw gas on the "Skinner is being traded" fire on Friday. The three teams are the Los Angeles Kings, the Pittsburgh Penguins, and the St. Louis Blues. Penguins general manager Jim Rutherford drafted Skinner seventh overall in the first round of the 2010 NHL Entry Draft. No doubt he'd love to have Skinner's scoring ability to go along with Sidney Crosby and Evgeni Malkin. With rumors swirling around Phil Kessel, perhaps Rutherford is looking at Skinner.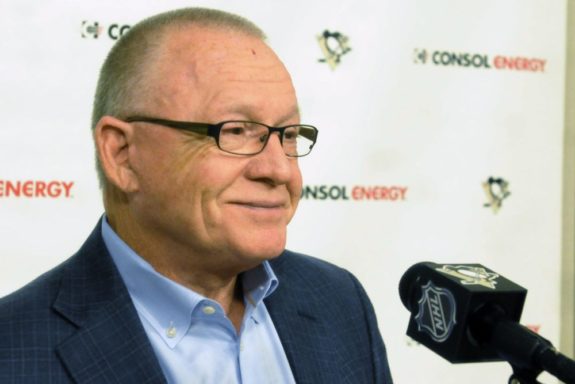 The question is still loud and clear: "For who?" Who will the Penguins or the Blues or any other NHL team send to the Hurricanes in return for Skinner that would make a trade worthwhile for them? Oh, there might be a couple of "prospects" or a "second and third-round draft pick, but it is highly unlikely that the Hurricanes will come out on top in a trade involving Skinner – at least not in the short-term.
Dan Kingerski of Pittsburgh Hockey Now wrote on Friday,
Skinner is a 20-goal scoring, defensively soft left wing. Unless the Penguins intend to give up 300 goals next season or wrap Matt Murray in rolls of bubble wrap to absorb a ridiculous amount of shots, the Penguins would need to balance their lineup by giving up a defensively soft right wing.
Not everyone is excited about Skinner possibly going to the Penguins.
Hurricanes owner Tom Dundon said at the end of season media availability that the team is going to do deals that make sense, that add value to the team. It is difficult to see at this juncture who the Hurricanes could get in exchange for Skinner that would fit that criterion.
Why Trade Skinner?
It still does not make sense to trade Skinner at this point. He has averaged around 50 points a season, on a team that has had great dysfunction since he was drafted. His career has been paused on three separate occasions due to concussions, each taking longer than the previous from which to recover.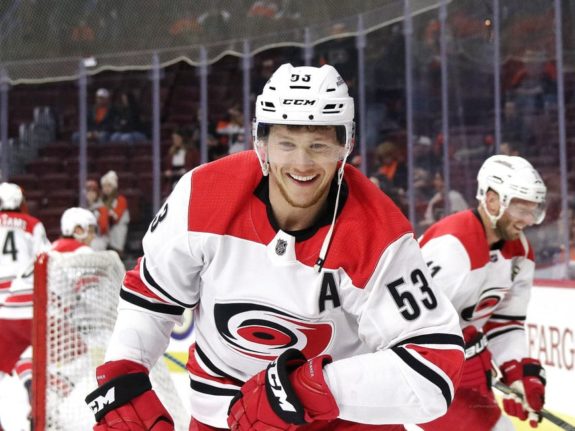 Last season Skinner somehow got on the bad side of coach Bill Peters. Peters moved him down to the third line, ostensibly because he could not play defense against the top lines of other teams. Unless and until we see how new Hurricanes head coach Rod Brind'Amour handles Skinner, it is premature to trade him.
Skinner has immeasurable talent. It is worth the Hurricanes' while to see if Brind'Amour can motivate him to dig down and reach the next level. Skinner could score 40 goals next season. Then again, he could lob 25 or so. But, at least it would be known if keeping him another year was a wise move. With Sebastian Aho and their second overall pick in last night's NHL Entry Draft, Andrei Svechnikov likely to be a scoring threat, keeping Skinner could round out what could be a vigorous offense.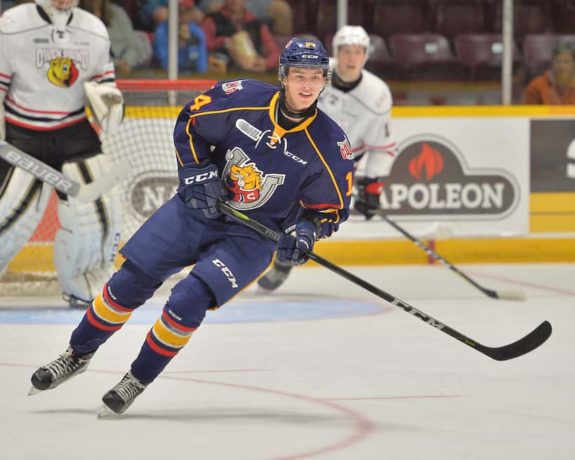 Back in May, Zach Leach of  Pro Hockey Rumors made this point about trading Skinner:
What the 'Canes need more than anything is a star forward, preferably a center, to lead the offense and bring the forward group together in a cohesive unit. A top center like this is almost certainly not going to be the return on a deal for Skinner's expiring contract.
Leach went to add, "Where they may land such a player is in dealing away one of their top defensemen. Skinner may be more valuable to the Hurricanes this season, and may even consider an extension if the Hurricanes are able to add that top player that the team is greatly in need of."
Luke DeCock of the Raleigh News & Observer is in Dallas for the draft and posted this tweet late Friday evening:
Just to follow up from this afternoon, Don Waddell on any potential Skinner trade: "Not close. It won't happen here (in Dallas), if it ever happens."

— Luke DeCock (@LukeDeCock) June 23, 2018
Hurricanes general manager Don Waddell sounded like perhaps the rumors were ill-fated. Or, if one believes in hockey cynicism, Skinner is on the verge of being shipped out at any minute. For the good of the team this season, keeping Skinner is a good idea.