The Carolina Hurricanes should not trade Jeff Skinner in the near future. In the midst of myriad speculation and hyperbole suggesting that the team should trade him, the Hurricanes need to recommit to Skinner and not look to unload him.
Skinner had what most would agree was a down year by his standards. His 24 goals and 25 assists dropped him to fourth overall in total points on the team. Last season he led the team with 63 points, 37 of which were goals.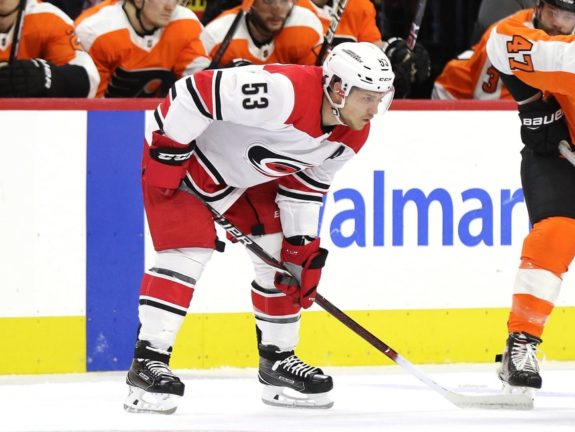 With one year remaining on his contract at $5.725 million, Skinner is getting attention. That is normal, as is the likelihood that he is currently thinking about his future. If he does nothing, at this time next year he will be in the throes of decision-making regarding his future.
Skinner Here or There for This or That
In the latest edition of 31 Thoughts: The Podcast which features Jeff Marek and Elliotte Friedman, this was said:
Word on the team is that Carolina feels it needs some edge — that they're too easy to play against. Jeff Skinner is one year away from unrestricted free agency, and they're going to test his value. You know who could be interested? The Los Angeles Kings.
And so it goes, with trading Skinner the latest topic du jour in the Hurricanes' offseason. The question immediately surfaces, "Trade Skinner too the Kings for who in return?"
Adrian Kempe had similar numbers playing for the Kings last season and is also a left winger. Skinner will be 26 in May and Kempe is 21 and currently making $894,167. Like Skinner, he has one year remaining on his deal before becoming a free agent. Unlike Skinner, he will be a restricted free agent as opposed to unrestricted.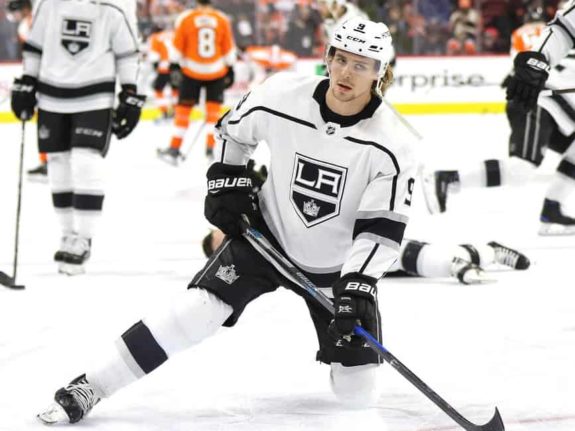 Realistically this would be a trade that would make any sense. The Hurricanes would get a younger player who put up similar numbers last season, but there is no other NHL body of work to bolster such a trade. Of course, if Ron Francis were still the general manager, any trade involving Skinner would very likely include getting several good draft picks in addition to a player like Kempe. But, Francis is no longer the GM, and apparently is working from home according to Marek and Friedman.
Hurricanes and Oilers and Skinner
Larry Fisher of The Hockey Writers wrote this week that the Edmonton Oilers and the Hurricanes could be perfect trade partners. Fisher starts with this scenario:
"The Carolina Hurricanes have a couple players of interest to the Edmonton Oilers — namely, Justin Faulk and Jeff Skinner. A right-shooting, puck-moving, power-play quarterback and a strong-skating sniper, respectively. Likewise, the Oilers have a couple assets that the Hurricanes would covet in budding power forward Jesse Puljujarvi and this year's first-round pick — projected to be ninth overall, dependent on this weekend's draft lottery. Make it a 2-for-2, done deal, end of story."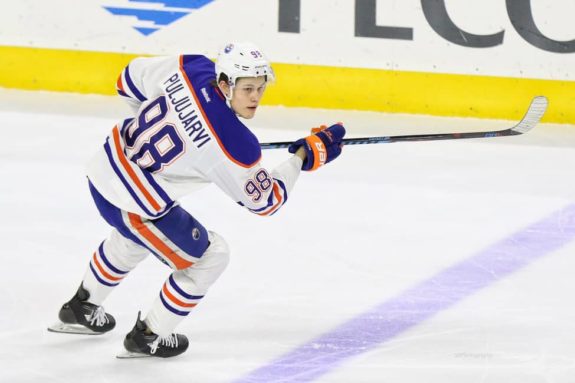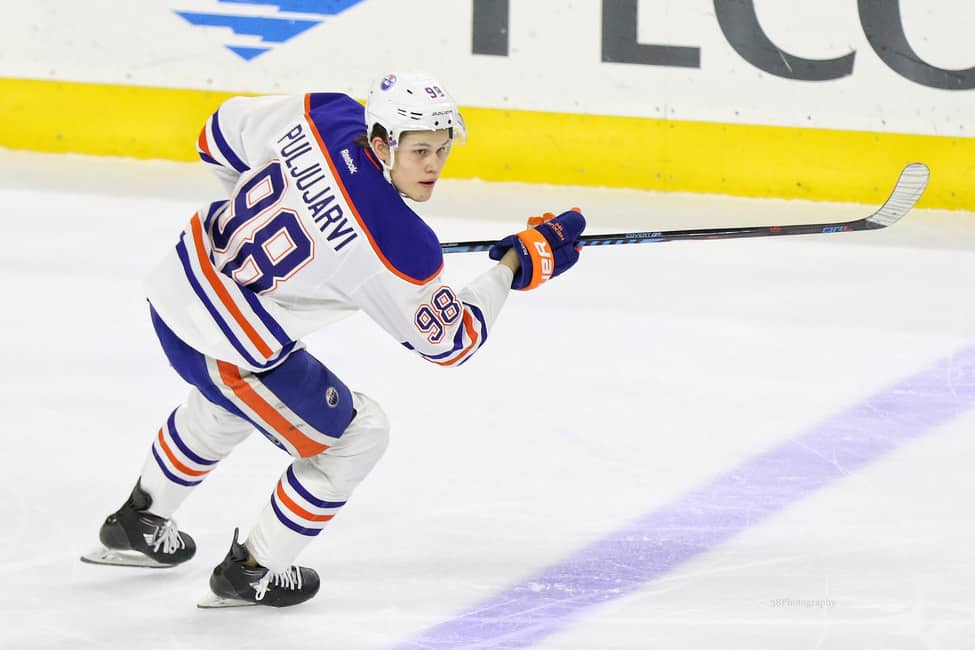 This is another scenario that Hurricanes fans hope does not materialize. A new general manager hopefully would not trade the player who has been the primary offensive force on the team for a 19-year old who has one year of experience and 12 goals last season. Puljujarvi may be "budding" but Skinner has bloomed and is not ready to be plucked from the Hurricanes vine for such a weak return.
Faulk, a three-time all-star has been the backbone of the Hurricanes' defense and power play for the past four years. Admittedly he had an off season this time around, and the calls for trading him have been loud. A ninth overall draft pick for an all-star is not something at face value gives the 'Canes equal value in return.
Skinner the Diplomat
There was plenty of talk during this past season when Hurricanes fans were blasting former head coach Bill Peters, that Skinner was being essentially punished for his poor play on defense. Peters had Skinner on the third line for much of the year because he just was not cutting it defensively.
I asked Skinner about any tension between Peters and himself regarding where Peters was playing him. Skinner said, "I don't know if there's a tension, I think that my goal is to win games and his goal is to win games. That's really the bottom line. You try to do your best as a player to try and help your team win and keep the team together in the way he thinks is best suited towards winning games. As for me, there is no tension. Our goals are the same. We're on the same page there."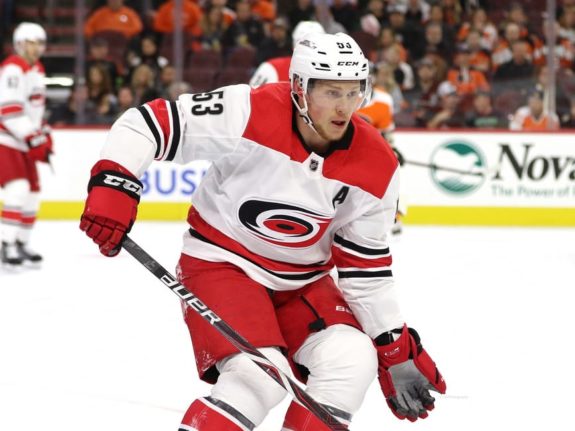 Whether Skinner has mastered the art of the diplomatic answer or really felt last season that he and Peters were on the same page is something only he knows for sure. But, something affected his normal scoring output and his line assignments seem the only difference between a typical Skinner season and one with far fewer goals.
This is the point, however to why Skinner does not need to be traded now. The Hurricanes would be well-served to keep him and show that they believe in his ability to carry the team offensively. Let Skinner work with a new coach and see if there is a chemistry that was lacking between him and Peters.
Give Skinner Another Year
Skinner only has one year left on his contract. He has endured three concussions in his still short career and has come back strong and more aggressive. In a climate that is already somewhat chaotic with no general manager and no head coach, keeping Skinner should be an assumption that is questioned only if another team comes calling with real value in return.
Andrew Miller of cardiaccane.com wrote a similar thought a week ago, saying, "There's a few players that most fans hope are gone this summer, and Faulk is one of them. Skinner should be on the opposite list of talented forwards that the Canes should bring back next season. Anything else (again unless a huge return is in store) is a massive disappointment on the part of Dundon, the front office, and coaching staff."
Skinner had an off year and has one year left on his rather robust contract. The Hurricanes should keep him and see if he will explode this season and then decide what to do as far as his contract is concerned. Absent enormous value in return, trading him now would not be a move that is in their best interest.