The Carolina Hurricanes have a couple players of interest to the Edmonton Oilers — namely, Justin Faulk and Jeff Skinner.
A right-shooting, puck-moving, power-play quarterback and a strong-skating sniper, respectively.
Likewise, the Oilers have a couple assets that the Hurricanes would covet in budding power forward Jesse Puljujarvi and this year's first-round pick — projected to be ninth overall, dependent on this weekend's draft lottery.
Make it a 2-for-2, done deal, end of story.
Unfortunately, it's not that easy for either side.
Too Expensive for Edmonton
Sure, it's fair enough value-wise, but Edmonton can't do it for salary-cap reasons with Connor McDavid's megadeal kicking in next season and making money tight for the Oilers, who would have to send back another contract. More on that in a moment.
Carolina isn't in a position to be making any moves as of today since the Hurricanes are currently without a general manager, a head coach and, really, a game plan going forward.
Once those hires are made, Peter Chiarelli could come calling.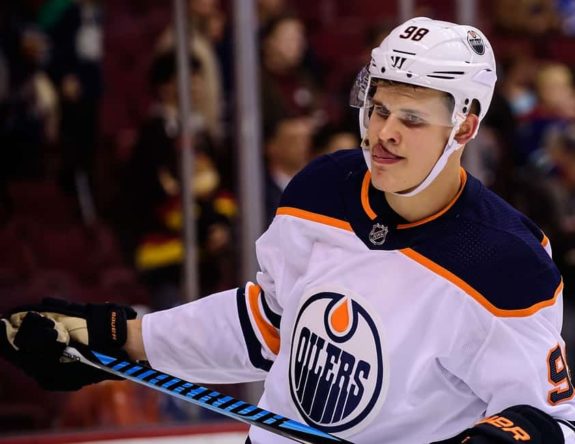 There has been no indication out of Edmonton that Puljujarvi is available, but his deployment down the stretch by Todd McLellan opened the door for that speculation.
The Oilers are absolutely in win-now mode and if they don't feel Puljujarvi can progress enough over the summer to be a difference-maker next season, Chiarelli may shop him for more of an immediate impact player. Somebody like Faulk or Skinner, or both.
Chiarelli has a long history of trading away top prospects and high draft picks — for better or worse — in an attempt to push his teams forward in the present. That track record will have other teams inquiring about Puljujarvi and testing the Oilers' patience.
Carolina's Owner Calling the Shots
Ron Francis surely would have been interested, looking to reunite Puljujarvi with fellow Finnish forward Sebastian Aho, who has made a much smoother transition to North America in leading the Hurricanes in scoring as a sophomore with 65 points this past season.
The search for Francis' replacement as Carolina's GM is dragging on, with new owner Tom Dundon taking a very hands-on approach and perhaps waiting to interview a few candidates who are employed by teams still competing in the playoffs.
Whoever gets that gig would be wise to target Puljujarvi, assuming they will be staying the course and not trying to accelerate that rebuild. It would be a great way to put their stamp on the team while putting another piece in place for the Hurricanes' future.
Puljujarvi for Faulk, as a 1-for-1, makes the most sense.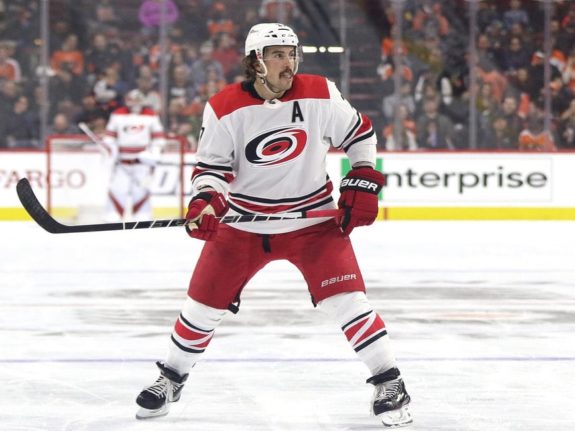 Edmonton could make it work financially, with Faulk signed for two more seasons at a team-friendly $4.83 million. He'd be a nice partner for Darnell Nurse, with the Swedish pairing of Oscar Klefbom and Adam Larsson rounding out the Oilers' top four. That's a solid group.
Hurricanes Trading From Strength
Carolina is deep enough on defence to make Faulk expendable, with Haydn Fleury ready for a bigger role and Jake Bean looking NHL-ready as a dominant force in the WHL playoffs. Bean has developed his 200-foot game and is looking more and more like Winnipeg's Josh Morrissey.
Fleury and Bean could join Noah Hanifin, Jaccob Slavin and Brett Pesce as permanent fixtures on the Hurricanes' blue line without skipping much of a beat.
Getting Puljujarvi, with the potential for an all-Finnish top line with Aho and Teuvo Teravainen, has to be a tantalizing proposition.
Oilers Addressing Another Need
Expanding that idea to a bigger deal, involving Skinner and Edmonton's first-round pick, would be easier said than done.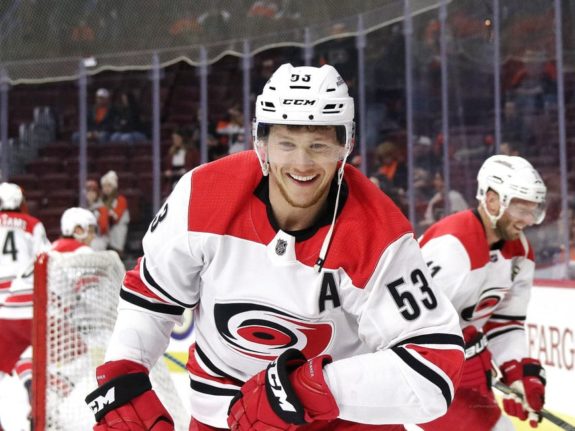 Skinner is a left-winger and the Oilers more so need a right-winger — especially if Puljujarvi is part of the package going the other way — but talent is talent.
Ryan Nugent-Hopkins had an impressive late-season run on the left side of Connor McDavid, but Skinner is more of a finisher with three 30-goal seasons on his NHL resume. Nugent-Hopkins was on pace for 32 goals this season had he played the full 82 games but managed to match his previous career-high of 24 goals.
Getting Skinner would give the Oilers two elite pairs in their top-six forwards, allowing McLellan to mix-and-match with McDavid, Nugent-Hopkins, Skinner and Leon Draisaitl. That would be similar to what McLellan had to work with in San Jose when he had Joe Thornton, Joe Pavelski, Patrick Marleau and Logan Couture.
Who Plays Right Wing for Edmonton?
The right side would be a bit of a black hole, unless Draisaitl shifted over again, but the expectation is he'll be a centre from start to finish next season. That would leave Ty Rattie, who caught lightning in a bottle with McDavid and Nugent-Hopkins in a limited sample size, and Kailer Yamamoto, who didn't score a goal in his initial nine-game audition but has all kinds of offensive upside, as the leading candidates to fill top-six roles.
Dicey but possibly decent with this type of configuration:
| Nugent-Hopkins/Skinner | McDavid | Rattie |
| --- | --- | --- |
| Nugent-Hopkins/Skinner | Draisaitl | Yamamoto |
| Lucic | Strome | Slepyshev/Caggiula/Aberg |
| Slepyshev/Caggiula/Aberg | Khaira | Kassian/Slepyshev/Caggiula/Aberg |
That's definitely better than having Milan Lucic in the top-six as an anchor next to Draisaitl. If Rattie and/or Yamamoto were struggling to stay afloat, Drake Caggiula, Anton Slepyshev and/or Pontus Aberg could take turns in either of those spots. Not ideal, but the left side would be pretty stacked and the Oilers are obviously in good shape down the middle.
Skinner Could Be Short-Term Fix
Skinner wouldn't come cheap, with a $5.73-million salary in the final year of his contract before becoming eligible for unrestricted free agency. If he scored 40 goals with better linemates — entirely possible, especially if paired with McDavid — then he'd presumably price himself out of town and be one-and-done in Edmonton. Or the Oilers would certainly have to choose between Skinner and Nugent-Hopkins after next season since the latter still has three years left at $6 million.
That is somewhat erroneous, though, when it comes to a win-now mentality. If Skinner makes Edmonton a better team, with a better chance at winning the Stanley Cup — even for only one season — that's a trade Chiarelli has to consider. And it's the type of trade he's made in the past, without hesitation. If Chiarelli is no longer a believer in Puljujarvi, chances are he pulls the trigger.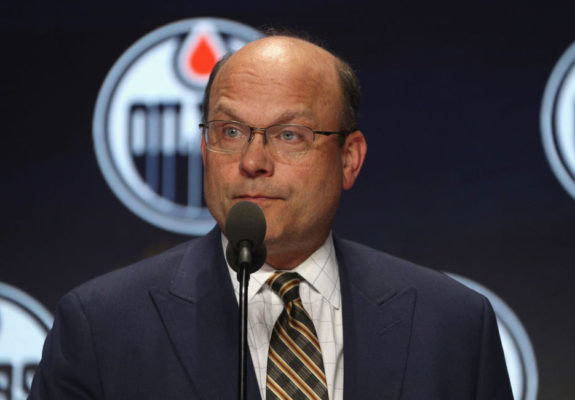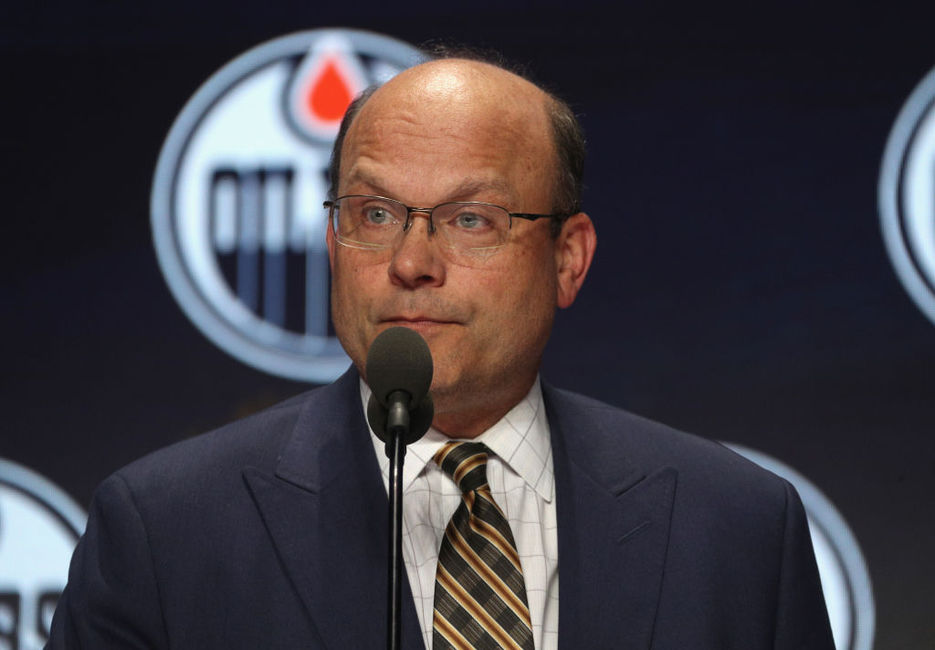 However, as mentioned, the Oilers would need to send a significant salary back to Carolina if they were taking on both Faulk and Skinner at a combined $10.56 million.
Puljujarvi only dings the cap at $925,000 before any performance bonuses next season, with the ability to earn up to $3.425 million with a breakout year.
Finding Right Fit for Carolina
The Hurricanes would no doubt ask for Nugent-Hopkins in addition to Puljujarvi for Faulk and Skinner, but that seems like a slight overpayment on Edmonton's part and kind of defeats the purpose for the Oilers.
Carolina wouldn't have any interest in a $6-million lumbering bodychecker like Lucic or a $4-million third-pairing, shot-blocker like Kris Russell, both of whom will be immovable objects for the duration of their contracts in Edmonton — with Lucic having five years left and Russell three.
Nurse could be enticing to the Hurricanes, but he wouldn't be in play from an Oilers' perspective unless contract negotiations on his new deal went haywire this offseason. Even then, it wouldn't be enough outgoing salary for Edmonton to absorb both Faulk and Skinner, so Nurse is a no-go and the Oilers will have every intention of keeping him in the fold as a top-four mainstay.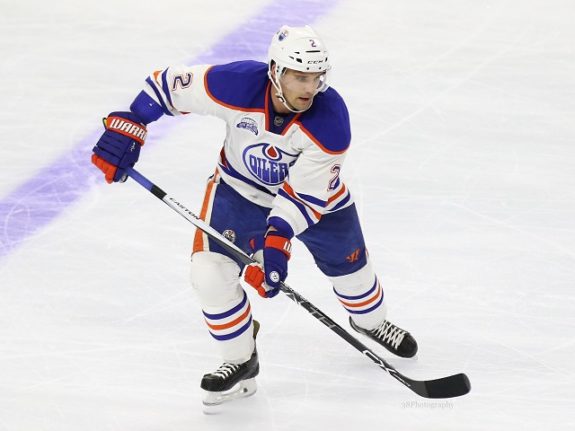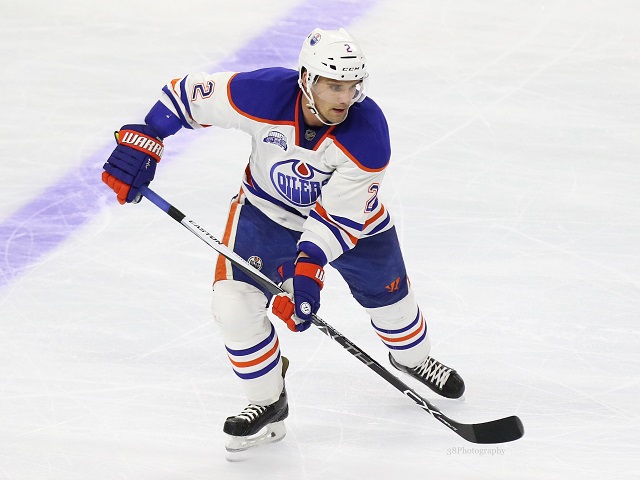 That leaves Andrej Sekera as the logical trade chip. He makes $5.5 million for three more seasons and has a no-move clause in his contract but had his most career success in Carolina and may welcome a return, while being welcomed back with open arms based on his reputation as more of a steady defender than Faulk over the years.
Edmonton could afford to part with Sekera, plugging in Matt Benning or Ethan Bear alongside Russell on the third pairing and balancing the left-right alignment.
| Nurse | Faulk |
| --- | --- |
| Klefbom | Larsson |
| Russell | Benning/Bear |
Sekera should have some good hockey left in him, but that deal doesn't work for Carolina unless Edmonton's first-round pick is part of the package.
Providing the Oilers don't win the draft lottery (again) or one of the draws for the top-three selections — in which case Edmonton probably keeps the pick — that would be the finishing touch.
The Hurricanes would be getting another quality prospect anywhere in that 9-13 range, to go along with their own top-15 pick — projected at 11th overall.
Hurricanes' Draft Options
Carolina could draft a defenceman like Noah Dobson, Ty Smith, Evan Bouchard or Bode Wilde to replace Faulk's presence long-term. Finnish forwards Jesperi Kotkaniemi and Rasmus Kupari could be tempting, as could Canadian centres Joe Veleno and Barrett Hayton, or American winger Joel Farabee, maybe even Russian wild-cards Vitali Kravtsov and Grigori Denisenko or a safer Swede in Isac Lundestrom.
There's a dozen blue-chip options and Carolina would be guaranteed two of them, along with Puljujarvi, if the new GM pulled off this blockbuster. The Hurricanes are going to be good eventually — potentially really good — and this trade could bolster that future in following the Winnipeg model.
Happiness All Around
Edmonton would come away equally happy with the addition of two more much-needed win-now players that should be able to squeeze under the salary cap.
This could be a win-win situation, be it as a 1-for-1 with Puljujarvi swapped for Faulk, or as a 3-for-2 with Puljujarvi, Sekera and Edmonton's first-round pick fetching Faulk and Skinner.
---
Well, what do you think — are the Oilers and Hurricanes the perfect trade partners? Would you do either of those deals from either side?