The play of Tuukka Rask is the most highly debated topic on Twitter amongst Boston Bruins fans. It seems that a new argument pops up on my feed every single day. Even over the offseason, his haters argue he should be traded and his fans defend his status as Boston's last line of defense. There seem to be two choices: you love him, or you hate him.
I'm choosing to take the middle ground – he's been good this postseason, but not great.
Rask Meeting Expectations
So far Rask has done what fans and analysts can expect which is to keep the Bruins in games. He is the only reason Boston had a fighting chance to win in every loss they had to the Toronto Maple Leafs during the first round. He made the Game 7 comeback possible, allowing just four goals in a game that saw a total of 11, including Brad Marchand's empty-netter.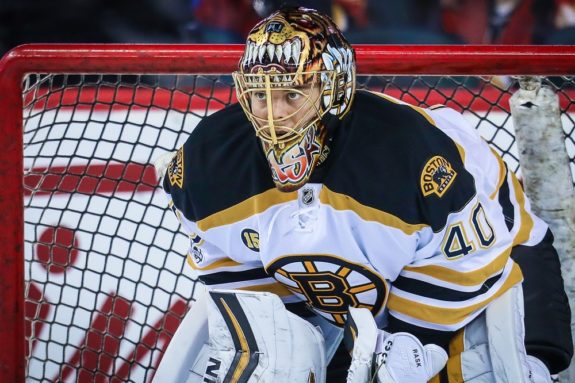 So far this postseason, Rask has given up 19 goals in seven games. While that number can be startling, they must come with an asterisk – the vast majority of them were not the goaltender's fault. He was left hanging out to dry on countless occasions during the Toronto series including a plethora of breakaways, too many odd-man rushes, far too many turnovers, and an abundance of time in the defensive zone. You can't blame a man for letting in a goal when he's seen six shots in the span of a minute.
We seemed to see two very different Boston teams in terms of offensive and defensive play so far this postseason, but Rask has been consistent nonetheless. He has kept the Bruins in every single game they have played these playoffs. The only subpar game Rask had was when he was replaced by Anton Khudobin in Game 5. The move was about as indicative of the team's play as a whole as it was Rask's – he was again being left to fend for himself. Cassidy's move certainly had its desired effect seeing as though it woke up the skaters allowing Boston to slowly creep back into the game, though it was too little too late.
During the 2017-18 campaign, Rask sported a 34-14-5 record while maintaining a 2.36 goals-against average (GAA) and a .917 save percentage (SV%). This postseason he is 4-3 with a 2.94 GAA and .899 SV%. While his playoff stats could certainly use some improvement, it must be noted that they heir from a series against a team that has had the goaltender's number in recent years.
Where Rask Can Improve
Rask has made nearly every save that can be expected of him, which is what a successful goaltender must do in the NHL. But he's going to have to find another gear if the Bruins are to skate by the Tampa Bay Lightning in round two.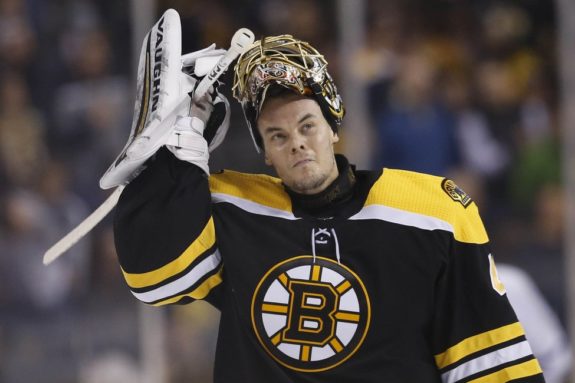 So far, it seems that Boston's goalie has not been able to steal many goals. A perfect example came in Game 7 when Kasperi Kapanen scored on a short-handed breakaway in the second period. A tired Marchand let the puck sneak past him and Kapanen was simply able to out-hustle and muscle him to get the opportunity.
Of course, you can't expect a goalie to make a save against a skilled forward coming down Main Street on a breakaway, but you want and in some cases may need him to do so. This is especially the case considering the Bruins will only be competing with high-powered offenses the rest of these playoffs: their remaining potential opponents are the Washington Capitals, Pittsburgh Penguins, Nashville Predators, Winnipeg Jets, San Jose Sharks, and Vegas Golden Knights – and that's only if they can shut down the Lightning.
In addition, all of these teams have gotten to where they are not only due to their offense but their defense as well. This means that Bruins may have trouble scoring. It is extremely unlikely that we'll see them put up a pair of seven spots against any of their remaining foes.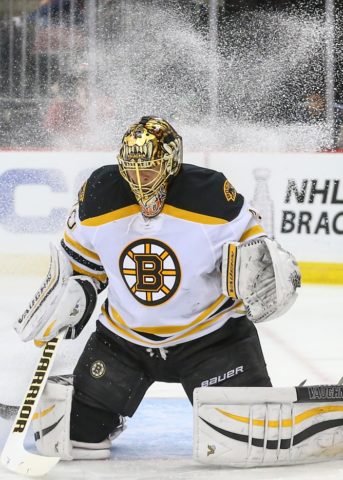 To account for this, Rask won't just have to bring his A-game but his A-plus game. He'll need to make stops on breakaways, odd man rushes, and cross-crease passes. Obviously, it is unrealistic for Rask to sport 12 shutouts en route to the Stanley Cup, but if the Bruins are going to continue their quest they are going to need their goalie to steal some goals and potentially some games.
Granted, Rask has played like this before in his career and even this season. His regular season stats in the New Year, including a 21-6-2 record and .913 SV%, are no laughing matter. Rask is an elite goaltender in the NHL and needs to get back to playing at his full potential for the remainder of the postseason.
The battle in the crease between Rask and Tampa Bay goaltender Andrei Vasilevskiy ought to be a compelling one. On Saturday during Game 1, we will see if Rask has been able to step up his game and if the Bruins can move into Game 2 with a lead in the series.