Tuukka Rask is one of the best goaltenders in the National Hockey League.
As you might expect, he's been successful against nearly every team in the circuit throughout his career, including the Toronto Maple Leafs.
But now, as Rask and his Boston Bruins prepare for their first-round series against the Leafs, it's worth mentioning that, for the past two seasons (i.e. ever since the Leafs got good), the Finnish phenom has struggled mightily against the Blue and White.
Which begs the question: Have the Leafs solved Tuukka Rask?
Rask's Overall Statistics Simply Sensational
Since becoming a full-time NHL netminder in 2009-10, Rask is second in save percentage (.922) amongst all NHL goalies with 100 or more regular-season starts during that time, only a single digit behind John Gibson. He can lock it down with the best of them, too, ranking fourth in shutouts (40), and even posting the best goals against average (2.25), if you're into that sort of thing.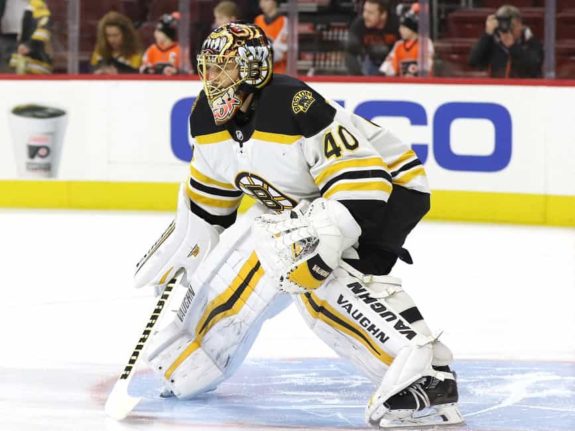 Furthermore, he's a certified winner, ranking seventh in both regular-season (235) and playoff (30) victories over that time span, statistics especially incredible considering he shared the crease with Tim Thomas for his first three seasons.
Rask Excels at Crunch Time
On the topic of the playoffs, Rask has been no slouch in the postseason, either; his .928 SV% is tied for eighth amongst goalies with 10 or more playoff starts since 2009-10, with his 2.12 GAA ranking 11th. His five playoff shutouts are tied for fourth.
NHL aside, Rask seems to be a big-time 'tender in general.
In the 2006 World Juniors, he backstopped a hopelessly overmatched Finland team to a bronze medal – including a 1-0 shutout of arch-rival Sweden in the quarter-final, posting a .940 SV%, while taking home Best Goaltender and tournament All-Star honours.
In the 2014 Winter Olympics in Sochi, Rask again came through for his country, going 3-1 with a .937 SV%, backstopping the Finns to the bronze medal – including a shutout of the United States in the deciding game.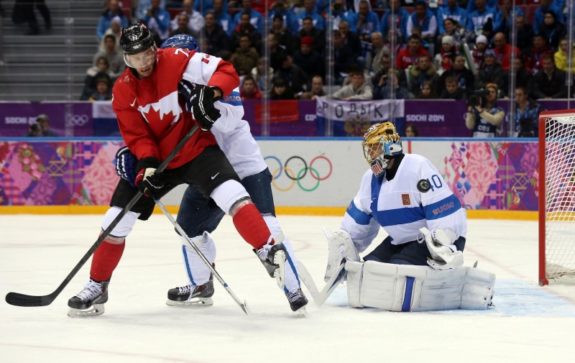 So, don't get me wrong; Rask can play, period.
Rask's Recent Record Against Leafs
However, Rask's record against the Leafs the past two seasons suggests the Torontonians may have figured out the fiery Finn.
Rask has started six games against the Leafs the past two years, going just 1-4-0. If you're wondering where the missing game is, Rask was pulled Feb. 4 of last season against Toronto, after giving up four goals on 14 shots. Fortunately for him, the Bruins roared back to tie the game and, though they would eventually lose, Rask's replacement, Zane McIntyre, was the one saddled with the loss.
In these six games, Rask, despite facing only 145 shots (about 24 per game), he managed just an .883 SV%. To put that into context, were that statistic to be Rask's actual save percentage for the entirety of the past two seasons, it would place him third-last of the 74 goaltenders with 10 or more starts, just ahead of Jared Coreau of the Detroit Red Wings, and behind such puckstopping luminaries as Eddie Lack (.894), Antti Niemi (.901) and Cam Ward (.905).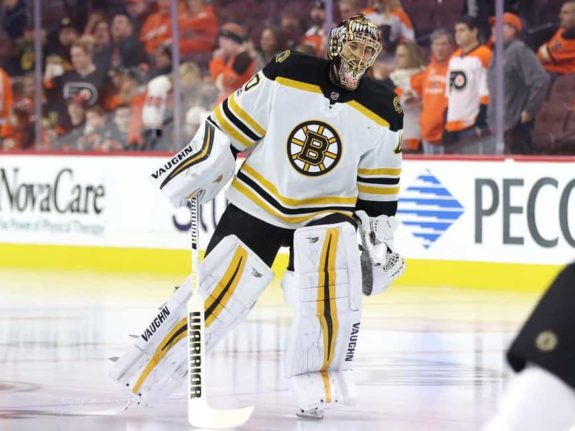 Yes, yes; small sample size. But playoff series are small sample sizes, too – seven games, at most. If the Leafs really have figured Rask out, there might not be enough time for him to adjust.
Team Statistics Suggest Goaltending to Blame
A look at the numbers suggests Boston has actually played Toronto quite well the past two seasons. The Bruins hold heavy advantages in shots, shot attempts (including high-danger attempts) and scoring chances, consistent with their averages against the NHL in general.
One difference is in their shooting percentage (6.1% against the Leafs versus 7.3% against the entire NHL), suggesting Toronto's goaltending has played them sturdily.
Most notably, however, is the difference in the Bruins' team save percentage (.897 against the Leafs versus .918 against the entire NHL). Much of that difference has to do with Rask, who started six of the eight matchups and registered just a .903 SV%.
Bruins Penalty Kill Lacking Against Leafs
Yet more discrepencies are evident on the penalty kill, this season in particular. During the regular season, the Bruins held the league's third-best penalty kill, at 83.7%. Against the Leafs? Just 68.8%, thanks to allowing five goals on 16 opportunities. Yikes.
Rask, otherwise one of the best penalty-killing goaltenders in the NHL (his .900 SV% is tied for eighth amongst goalies with 100 or more shorthanded minutes played), stopped just 11 of 15 power-play shots against the Leafs in 2017-18. That's an 0.733 SV%, for those of you counting at home.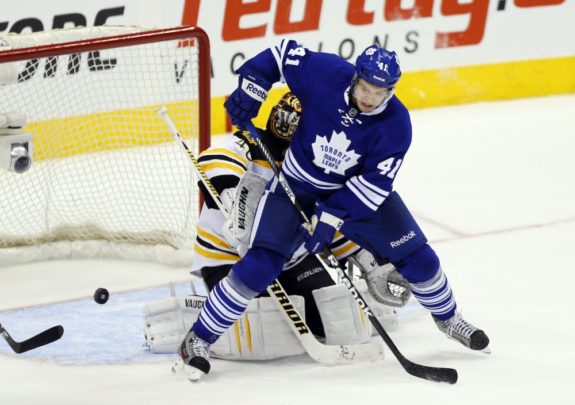 Now, 15 shots is, again, a very small sample size, and goaltenders' statistics on the penalty kill are even harder to judge than those at even strength (which can be challenging themselves), given how much shorthanded success has to do with a team's structure and strategy. That said, the goaltender is unequivocally a team's most important penalty-killer, and Rask simply did not perform very well against the Leafs during the regular season.
Rask's Struggles Bad Luck or Bruin Ruin?
Small sample sizes or not, these numbers are of interest, especially for a goaltender who, prior to his recent struggles, was an incredible 15-3-2 against the Leafs in his career, with a sparkling .935 SV%. Admittedly, most of the Leafs teams he would have faced were subpar at best, but those are the numbers of a true superstar, mediocre opponent or not.
Rask is still one of the NHL's best goaltenders, there's no question about that. And he's done nothing but excel throughout his entire career, no matter the quality of the teams he faces.
So, what's happened the past two years with the Leafs? Is Toronto's offense really that overpowering? Do the Bruins really lack the ability to keep up with the Leafs? Is Toronto's power play really the ice-borne equivalent of the Harlem Globetrotters?
Or maybe, just maybe, the Leafs have solved the riddle of Tuukka Rask.
(All advanced stats are thanks to Corsica and Natural Stat Trick. All metrics are at five-on-five, unless otherwise specified.)