The Carolina Hurricanes drafted left-winger Jeff Skinner in 2010. He was their first-round pick, 7th overall in that year's NHL Entry Draft. He was drafted in large part for his skating skills and to play forward. Nowhere in anyone's mind was he deemed to have a future playing as a defenseman. Yet, in 2018, Skinner's awful defensive play has contributed to his lack of scoring.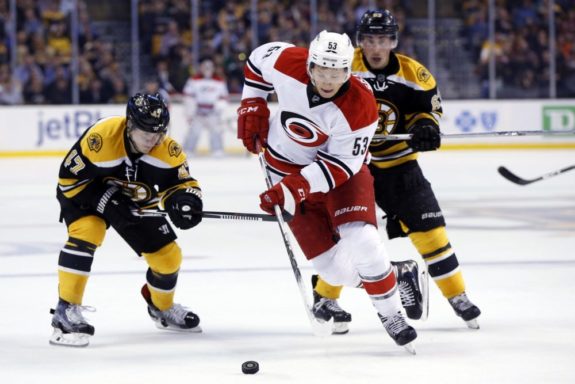 Hurricanes television play-by-play voice, John Forslund said on the "Aftermath" radio postgame show last week that Skinner was in a catch-22 situation. Head coach Bill Peters has not been playing him on one of the top two lines because his defense is so bad. But, Skinner needs the type of passing that those on the top two lines can give him in order for him to be a consistent scoring threat. His scoring drought lasted seven games, his last goal in Montreal against the Canadiens on Jan. 25.
Why Jeff Skinner was Drafted
Skinner's prospect profile from 2010 shows that he was thought of highly and that his offensive scoring ability was glaringly evident. A profile by Christopher Ralph at The Hockey Writers included this quote about Skinner from Kitchener Rangers coach Steve Spott:
I've had the good fortune of coaching a lot of the kids in this draft, and I believe Jeff is the best natural scorer in this draft, and that includes Hall and Seguin. Jeff doesn't have the speed of Tyler and Taylor, but he's a threat offensively every time he's on the ice. He is hands down the purest goal scorer.
The young prospect was not drafted as to play defense but, even as a prospect, scouts noted that his defensive play was not the best. Ralph had this quote from Chris Edwards, Central Scouting's chief OHL scout in his profile:
Everything about his offensive game is very good. I think he'll have to work on his defensive side a little more," he said. "Obviously his skating and his first step he needs to continue to work on, speed, and all that.
The Hurricanes drafted Skinner knowing that he had unlimited offensive potential, but lacked a two-way game. They took a chance and were richly rewarded. In the 2010-11 season, Skinner played in 82 games scoring 31 goals and 32 assists. His 63 points were enough to win him the Calder Memorial Trophy for rookie of the year.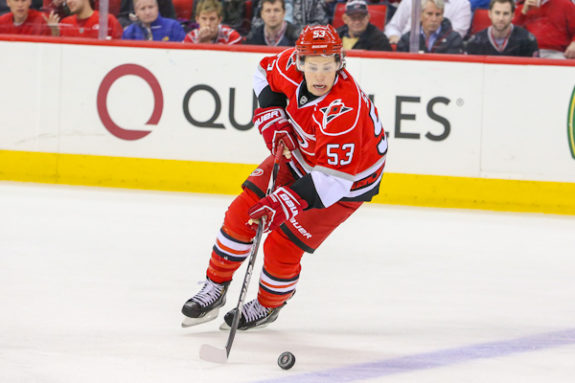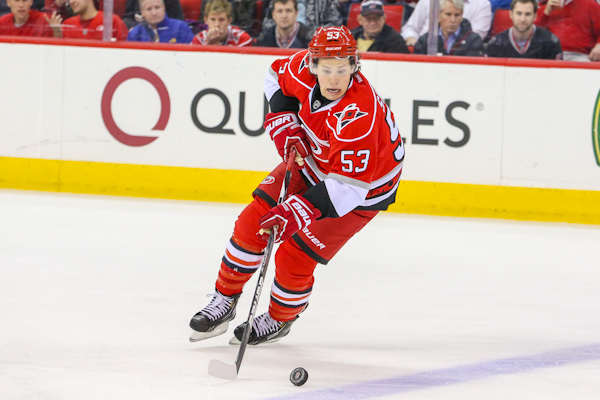 With the Hurricanes, Skinner scored 30+ goals in a season two more times. He had 33 goals in the 2013-14 season and 37 goals last season. He has shown such brilliance that 40 or 50 goals should be nothing for him to score in a season. But, this season, Skinner has not been lighting the lamp regularly and some folks are concerned.
It's His Defense We Can't Stand
In spite of having a literal scoring machine in their lineup at times, the Hurricanes have not put Skinner in the best position to score of late. If he is on the top line, he will have to play defense against the opponent's top which hasn't worked out. Cody Hagen wrote this about Skinner a few days ago at Canes Country:
Mr. Skinner, what has happened to you since November came around? You were one of the top goal scorers in the NHL last year and a serious candidate to be the captain of the team. You seem to be catching a case of the Eric Staal woes which is very contagious in these parts. We all know you have raw scoring ability and when you show up to play are very dangerous. But your defense is…um, subpar might be a polite way of putting it! At this point you may be playing your way out of Carolina.
I think that "playing his way out of Carolina" is a mistake. The team should find an answer that will help him get back to scoring in bunches. He can be lethal and should not be traded.
Andrew Miller pointed out a couple of months ago at Cardiac Cane that Skinner has a history of being a streaky scorer. This is true and he did score on Saturday night against the Colorado Avalanche. Perhaps the streaky scoring has started after the recent scoring drought.
Put Skinner in the best place possible for him to score. If that is on the top line or on the 4th line, so be it. Don't let his defensive weakness keep him off the top two lines. If he can get hot it won't matter what his defense looks like. He scored against the Avalanche playing with Sebastian Aho and Lee Stempniak. The point is for him to score. Period.
Remember, Skinner is only 25 years old. He's already 6th on the all-time franchise goals list. Sure, he is a minus-21, which is awful. But, if he gets 30+ goals again this season will anyone care? Bringing him back to greatness will go a long way toward helping the team make the playoffs.
Mark lives in the Raleigh, NC area and covers the Carolina Hurricanes.