In the Washington Capitals' win over the Columbus Blue Jackets, the team finished with just 17 shots on goal. However, it was a shot from Jay Beagle – his only shot of the game – that would give the Capitals a 3-2 lead in the second period, eventually paving them to a 4-2 win against Columbus Friday.
Not only was the go-ahead huge for the Capitals, but it was a big personal milestone for the 32-year-old center. That tally was his sixth goal of the season and the 50th of his career.
"I've never been a stats guy," Beagle said following the victory. "But the guys made a big deal about it."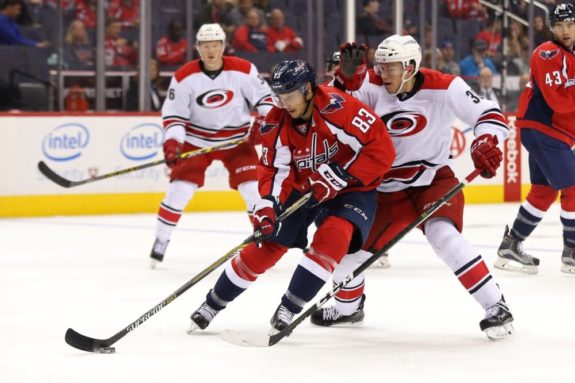 He laughed after that he couldn't repeat what his teammates were "chirping" on the bench after his goal, but said he wished that he could.
Beagle's Play of Late
Not only does Beagle now have 50 career goals, he also recorded his 100th career point earlier this season in a Nov. 24 game against the Tampa Bay Lightning. In addition, he's been a huge asset for the Capitals on the bottom six, while also reaching many different milestones this season.
In 54 games this season, Beagle has six goals and 19 points and is on a normal scoring pace for a fourth liner. However, of late, his line has been buzzing, and Beagle himself has recorded a point in three of his last four games.
"I think we talked about it a little bit as a line, just creating a little more havoc and throwing [the puck]," Beagle said. "You see more goals from bounces… we have to keep crashing the net and keep trying to cause havoc."
In addition, Beagle has come in clutch for Washington this season on multiple occasions, including netting a buzzer-beater that won a game for the Capitals not long ago.
A Dynamic Jack of All Trades
Washington's fourth line has not remained a constant this season, with a lot of players competing constantly for a roster spot. From the start of the season, Nathan Walker, Tyler Graovac, Devante-Smith Pelly, Andre Burakovsky, Jakub Vrana, Alex Chiasson and Chandler Stephenson have all made appearances on Beagle's wing, with the 10-year Capital remaining a constant.
"You start to build the chemistry and I've been fortunate enough the last two years to have the same linemates and that doesn't really happen as a fourth line," Beagle said of playing with a variety of different linemates. "It's nice to have some chemistry going and just being able to read off some of the guys makes it a little bit easier."
Not only has Beagle been generating more production of late, but he's also been one of the Capitals' top centermen, winning over half his faceoff. He has also established his role as a top penalty killer and leads all Washington forwards in shorthanded ice time per game.
"Penalty kill is my main role, that's what I do," Beagle said. "I want to be the go-to guy for penalty killing and do a job."
Sammi Silber covers the Capitals beat for The Hockey Writers and is an NHL contributor with Sporting News. She has also contributed to USA TODAY College, Huffington Post, FanSided and the Nation Network. Silber has written four books and recently worked on graphics for the film, The California Golden Seals Movie.