After not having a first-round pick and making just five selections overall in last year's NHL Entry Draft, the Anaheim Ducks got to be a bit more active in 2018. The club made seven selections, including four in the first three rounds.
Round 1 – Isac Lundestrom, C, Luleå HF (SHL)
With the 23rd overall selection, the Ducks added another Swede to their organization in center Isac Lundestrom.  Lundestrom performed admirably as an 18-year-old in the Swedish Hockey League in 2017-18, notching six goals and nine assists in 42 contests against mostly older competition.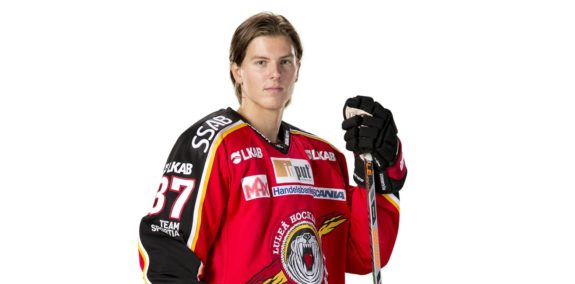 While it's always a good sign when a teenage player can hold his own against fully grown men, Lundestrom does not project to be a game-breaking dynamo; rather, he is a player with a reasonably high floor but modest ceiling who is very good at most aspects of the game but not spectacular at anything. That said, his best attributes might be the maturity and intelligence he consistently demonstrates in his game. He has a good chance to become a reliable third-line center who can help eat up some difficult matchups and deployments.
Lundestrom is probably at least two years away from making an impact at the NHL level, but with a late first-round pick, the Ducks came out fairly well with a safe bet that helps bolster their organizational depth.
Round 2 – Benoit-Olivier (Bo) Groulx, C, Halifax Mooseheads (QMJHL)
The Ducks' Round 2 pick was No. 54 overall, and they took another pivot, selecting Benoit-Olivier (who likes to go by 'Bo') Groulx out of the QMJHL. Groulx was actually born in France but spent most of his formative years in Quebec.
At 54th overall, Groulx is a great value pick for the Ducks. He's still somewhat raw and needs to improve his skating, but he has decent size and is already fairly well-developed physically (6-foot-1, 190 pounds). He also has an excellent shot to go along with strong vision and playmaking ability that doesn't come at the expense of his defensive zone play. Groulx has second-line two-way center upside, so taking a chance on a potential first-round-level talent late in the second round offers a good risk/reward ratio for Anaheim.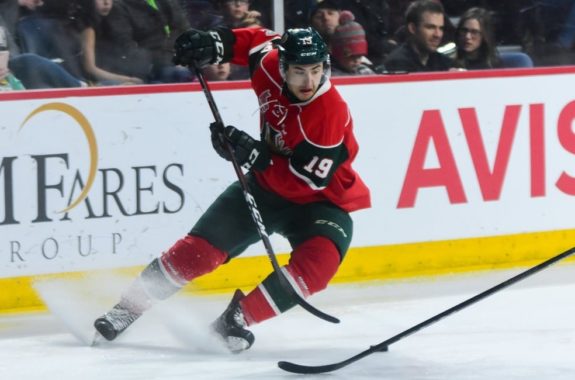 From futureconsiderations.ca:
"High motor, always keeps his feet moving, rarely caught out of position, provides a lot of grit, determination and skill. Excellent ability to maintain puck control in high traffic areas. Uses his strength, skilled hands and agility to be very difficult to defend. Provides good pressure on the back check. Displays a strong effort in his own zone as well as his ability to create scoring chances."
Groulx had a scoring line of 28-27-55 to go along with 100 penalty minutes in 68 games for Halifax in 2017-18, demonstrating his all-around abilities that could go a long way if he's able to continue to develop and hone them.
Round 3 Draft Picks
Blake McLaughlin, LW, Chicago Steel (USHL)
With their first of two third-round selections, the Ducks stayed on the forward train and took winger Blake McLaughlin from the USHL 79th overall. Known for employing big, physical players over the years, the Ducks took a chance here with a smaller, skilled player.
McLaughlin stands at 5-foot-11 and a sure-to-increase 161 pounds. The Minnesota native is set to attend the University of Minnesota. Prior to that, he demonstrated flashes of high-end skill and scoring ability for the Chicago Steel in the USHL. He was nearly a point-per-game player, scoring 23 goals and 29 assists in 54 games before adding 3-4-7 in seven playoff games.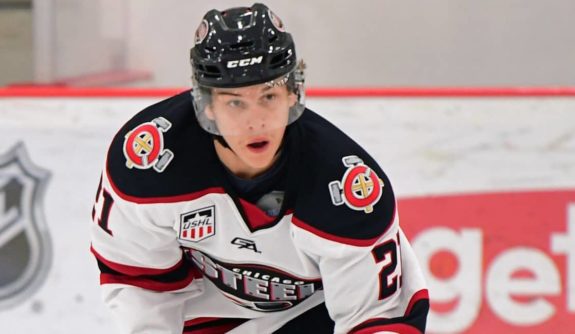 McLaughlin is a very good skater and playmaker, and if he can play at a high level with consistency and add a bit more weight to his diminutive frame, his skills should more than compensate for his stature (especially in today's NHL). He provides the Ducks with a different look and could very well turn out to be a steal from this draft.
Lukas Dostal, G, Trebic (Czech-2)
Just six picks later, the Ducks shook things up and took Czech goaltender Lukas Dostal at No. 85 overall. Dostal represents another high-upside pick for Anaheim, as he was the top-ranked European goalie per NHL Central Scouting.
Dostal compiled a solid .921 save percentage and 2.43 goals-against average in 20 games in the Czech-2 league. While not playing at the highest level of Czech hockey (which is the Extraliga), Dostal has a good deal of potential, though goaltending is probably the most difficult position when it comes to projecting future success at higher/professional levels of play.
Goalie man! @AnaheimDucks take goaltender Lukas Dostal with the 85th overall pick.#NHLDraft pic.twitter.com/GQCUiYiH6K

— San Diego Gulls (@SDGullsAHL) June 23, 2018
In any event, Dostal is known for his quickness and athleticism. Per The Draft Analyst:
"Dostal stays quite low in his butterfly and is willing to leave a good chunk of the net open when challenging shooters on the power play or during odd-man rushes. This tactic seems to lull forwards into thinking the young goalie is over-committing and susceptible to a backdoor or cross-crease pass, which gives off the impression that he causes more forced passes than medium or high-danger shots against. Dostal's glove and blocker hands are very quick."
Later Draft Picks
The Ducks rounded out their draft with three more selections—one in each of the next three rounds. In the fourth round, Anaheim selected winger Jackson Perbix 116th overall. Perbix is on the younger side of this year's draft-eligible players, as he does not turn 18 until September. 
Perbix, an American from Minnesota, put up big numbers in high school this past season, to the tune of 61 points (19 goals and 42 assists) in just 25 games. He of course still has much to prove at higher levels of competition, but it's usually not a bad idea to swing for offensive talent in the mid-to-late rounds.
In the sixth round, the Ducks went with another goalie at pick No. 147, selecting over-age Slovakian netminder Roman Durny. The 20-year-old Durny played for the Des Moines Buccaneers of the USHL last season (having come over from Slovakia), posting a 2.38 GAA and .920 save percentage in 25 games. At age 20, he is someone who could turn pro for next season and add more depth for Anaheim in the minor leagues. Durny was the ninth-ranked European goaltender in the draft, per NHL Central Scouting.
Lastly, the Ducks' final pick was in the sixth round, where they took their first defenseman of the draft in Ontario native Hunter Drew. The right-shooting Drew is another over-ager, as he'll turn 20 in October. He put up 39 points (eight goals and 31 assists) in 64 games this past season with the Charlottetown Islanders of the QMJHL.
Hunter Drew is an overage junior. Known more for his defensive skills, but working on offense. 17-18 stats: 8-31-39 +12 64GP. 11 points in 18 playoff games.

— Ducks Prospects (@DucksProspects) June 23, 2018
The Ducks appear to have had a solid draft, particularly in the early rounds, by taking a safe pick in Lundestrom before rolling the dice a bit on higher risk/reward-type players in Groulx and McLaughlin. Don't expect to see these players at the NHL level anytime soon, but with continued development, they could become meaningful cogs as the Ducks slowly transition towards becoming a younger, faster team.